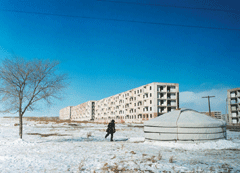 [Editor's note: This the first of a two-part preview of this year's Vancouver International Film Festival. The second part runs next week.]
If you really wanted to save the world, you'd sit in a hole in the ground and stare at nothing for the next 40 years. Or you could take your eco-consciousness to the movies, courtesy of the Vancouver International Film Festival's new series Climate for Change. Sponsored by Kyoto Planet and offering one of the largest cash prizes of any North American film festival, the initiative focuses on films with a green bent. The VIFF programmers have corralled a fine collection of dramatic features, documentaries and experimental films for your erudition and delectation. It's a noble effort, and worthy of support, but it is the films themselves, sometimes thrilling, occasionally horrifying and more often profound, that stick with you. If they motivate you to crawl out of your hole in the ground and plant a tree or kick a politician, so much the better.
The Planet
Directors Johan Soderberg, Michael Stenberg, Linus Torell's documentary The Planet picks up where Al Gore left off, with a few key differences, namely, style and substance. The directors visited over 25 different countries to build a remarkable portrait of a world in crisis. As it ticks through a laundry list of incipient catastrophes, The Planet sometimes takes on oddly cheery tone. It isn't simply climate change that's at issue but an exploding human population, collapsing fishing stocks, mass extinction, staggering levels of pollution and increased desertification.
One of the most surprising points the film makes is the belief that large untamed expanses of wilderness still remain in the world is just untrue. There are very few places that haven't had some form of human contact, as evidenced by nature documentaries that film zebras and antelopes right next to large cities and carefully edit out any evidence of human civilization. As the Koyaanisqatsi-like soundtrack plays over endless tracking shots of grocery aisles, factories and swarming cities, the film almost starts to seem a little too slick. (If the end of human society is in sight, we may as well go down to a techno beat).
But in its quieter moments it has many intelligent things to say and some great people to say them, including George Monbiot and Jared Diamond. Personally, I think George Monbiot ought to be a candidate for sainthood; he's one of the few environmentalists who puts his money where his mouth is. (Unlike Al Gore and his private jet, Monbiot has given up air travel.) Eminently sensible author Jared Diamond (Guns, Germs and Steel: The Fates of Human Societies) provides a nice analogy between Easter Islanders and the current global situation. A host of other voices, both expert and ordinary, give their own experiences, whether it's a story about adopting an orphan chimpanzee or working at an e-waste site in Nigeria.
Another pertinent point the film makes is the role of human denial in our current situation. Psychologists explain how the human mind protects itself when faced with something too terrible to process. In order to keep getting up and going to work every day, you build layers of denial over the abyss to try and pretend it isn't there. A recent feature in Orion Magazine about the nature of work kept coming to mind while watching The Planet. The systematic need not just to do things differently, but to remake our entire moral understanding of the world is what is needed, but I don't know if such a thing is really possible.
Garbage Warrior
But before you lapse into a coma of despair, go see Oliver Hodge's documentary Garbage Warrior. This is perhaps my favorite film in the entire festival, simply because it says, "You want to do something? Okay, do this!"
Michael Reynolds started working as an architect almost 30 years ago, and even back then he saw the writing on the wall, quite literally. He states that conventional "architecture was worthless" because it had nothing to do with the environment and barely anything to do with people. Reynolds set out to build a different type of human habitation and ended up with something called an "Earthship." Earthships are entirely self-sustaining buildings that generate their own heat, electricity and water. Each is a tiny biosphere, complete unto itself and often wondrously beautiful, which is notable, since Earthships are often built entirely out of garbage (old tires and empty beer bottles).
Many of the ideas that Reynolds incorporates into his structures aren't new. The practice of capturing rainwater to irrigate gardens or orienting houses to the south in order to utilize solar gain has been used for centuries. Much of Reynolds' work has been shaped by happenstance and accident. He figured out the idea of trapping heat after leaving a case of beer in the sun. When he brought it inside and discovered that it radiated warmth for hours afterwards, the idea for solar gain was born.
Reynolds' experiments with new models of sustainable architecture in a remote part of New Mexico eventually attracted the attention of the state government. After being served with a number of building code violations, sued innumerable times, and having his architectural license revoked, any normal person might have given up. But instead of backing down, Michael Reynolds set out to change the law, arguing that a research site for new models of sustainable housing was both necessary and critical. In his own words, "I think we have to devise ways to demonstrate change. Fast!" Whether he's pounding old tires full of sand or attempting to get a bill passed in the State legislature, there is something quintessentially American about Michael Reynolds, and I mean that in the best sense of the word -- ornery, stubborn, filled with crazy energy and wild notions, he's a man who simply refuses to slink quietly away.
In this, he is almost a perfect subject for a documentary, but the filmmaking gods also supplied a bountiful supply of drama in the form of a couple of natural disasters. While Hurricane Katrina and the tsunami in South East Asia demonstrated the necessity of building houses differently, they also proved Reynolds' maxim that it takes a disaster to get people to change. A great deal of environmental documentaries simply present the dire state of the planet, and then end, but Garbage Warrior goes further, it makes you want to go out, grab a sledgehammer and get busy.
Man on Land
Director Ariane Michel's film Man on Land is one in which you must immerse yourself. Time moves slowly, and not much really happens. Still, there is so much beauty here that it's worth really looking at what the filmmaker is showing you. From the opening shot of sky and water, a vast expanse of space undifferentiated by any recognizable landmark, the film disorients you. It takes a moment to understand where you are, and what exactly is happening.
The film was shot in a remote corner of Northern Greenland, home to musk ox, walrus and polar bears. Into this barren windswept place, the sudden entry of men is almost like a lunar landing. In their bulky gear, a team of scientists bumbles about taking samples, collecting bits of bird's nest, counting eggs. There is no explanation given for their actions. In fact, there is barely any dialogue at all, the only sounds are those intrinsic to the environment, the call of birds and the constant buffeting roar of the wind. When one of the scientists gives a lecture, it comes almost as a shock to hear a human voice. The sheer oddness of the men is initially striking, but gradually they too become a part of the environment, sitting and staring off into the distance, becoming just one part of the larger world. Anyone who has ever spent much time in real wilderness will immediately recognize the feeling of nature's great, grand indifference to human hubris. We're not the centre of the universe, and this can come as a great relief, once you get past the initial shock.
The Big Sellout
If you'd like to see the blunt forces of global capitalism at work, then The Big Sellout is your film. Director Florian Opitz follows four different people around the world to capture how privatization has impacted on their lives, their work and their world. In Brighton, a train conductor named Simon talks about what happened when British Rail was divided up and offered for sale. One hundred and fifty different private companies now run what was once the pride of England. In the ensuing race to generate more profit and cut costs, accidents, death and derailments have been the result. In a particularly telling sequence, Simon goes through the piles of different uniforms that he's been made to wear, as each time his company is bought and sold the first thing the new owners do is attempt to re-brand by issuing new uniforms.
In Soweto, South Africa, a young firebrand named Bongani reconnects people who've been cut off by the electric company. Bongani's team of electro-guerillas plays a running game with the police and the power companies, often masquerading as company workers to evade detection. This is literally power to the people, as the aged and poor families they help get no aid from the authorities that are often in the pockets of the corporations. In the Philippines, the situation is even more dire. A single mother named Minda must find the money every week to pay for her son's dialysis. Wizened as a stick, Minda and her son live as squatters in a slum where the power regularly cuts out. As she makes the rounds of hospitals and government offices to try and scrape together enough money to keep her son alive, the inhumanity of privatized medical care becomes brutally apparent.
Michael Moore might well have taken a page from this film because in the Philippines no money means no healthcare. While gleaming new hospitals that resemble high-end spas are built for the wealthy, the poor must rely on family and friends. The sight of a doctor wearily describing the system's many failures, while behind him a family uses a hand-held ventilator to keep an elderly relative alive is stunning. Doctors and nurses leaving en masse for more lucrative jobs overseas compound the problem. Meanwhile the poor suffer and die, like they have always done. Nobel Prize winning economist Joseph Stiglitz, filmed in the back seat of a cab, explains how policies set by the World Bank in Washington, DC, impact around the world. As governments side with corporations, often to the great detriment of their people, avarice, greed and financial bungling simply get worse. Still this is not a film without hope; witness the story of Cochabamba, a tiny Bolivian city that fought back when an American corporation tried to buy up the water rights for the entire city. After the company raised costs upwards of 300 per cent, and even tried to privatize the rain, the people took to the streets and succeeded in running the corporation out of town.
Khadak
For sheer visual excitement, it's difficult to top Peter Brosens and Jessica Woodworth's film Khadak. The film picked up "The Lion of the Future Award" at the Venice Film Festival, as well as honourable mention at the Toronto Film Festival. Khadak is the story of a young herder named Bagi, who lives with his mother and grandfather on the Mongol steppes. Bagi's life is simple; he has his horse, his herd and his family. But all that changes one day when he goes looking for a missing sheep and is struck down by a vision of a burning yurt. It seems it is Bagi's destiny to be a shaman, a future he wants no part of. Even before he can begin his training with the local witch, his entire family is forcibly removed from their ancestral land and stuck in a bleak mining town. Destiny will not be thwarted, however, and it reaches out to claim the boy. Just when you think you know where this film is going, it swerves wildly into uncharted territory where magical realism meets environmentalism making magical environmentalism. Whether it's a gargantuan shovel digging into the guts of the earth or blue ancestor scarves (that give the film its title) floating down like rain, Khadak is utterly ravishing in its sheer visual splendor.
Nömadak Tx
People around the world are united in sound, and no where is this more evident than in Raúl De la Fuente's wonderful new documentary Nömadak Tx. The "Tx" of the title is a txalaparta, a Basque instrument constructed out of planks of wood and played like a xylophone. Musicians Igor Otxoa and Harkaitz Martínez take their ancient percussion instrument around the world, from India to the Arctic Circle, much to the bemusement of the people they encounter. In each location, they reconstruct their instrument anew from materials close at hand, whether it's rock or ice or wood. The universality of music, much cited for its ability to surpass all cultural barriers, is well evidenced. But breaking down such barriers is sometimes easier said than done. A visit to the Sami people of Northern Finland is a case in point. The musicians set up outside of a church, while the locals walk by without so much as blinking at the sight of two shaggy young men playing the hell out of a series of shining planks of ice. In the Saharan Desert, the welcome is much more enthusiastic. Part travelogue and part ethnographic musical odyssey, the deep charm of the txalaparta is such that it unites disparate musical cultures around the globe into one grand song of celebration. The film's final coda will make you stand up and cheer.
Sound of Sand
Landscape plays a central role in Marion Hänsel's Sound of Sand, a film that dramatizes how something as fundamental as water, or a lack thereof, can create an unholy state of deprivation. The film tells the story of a Djibouti schoolteacher and his family who set out into the desert in search of water when their village well goes dry. Rahne, his wife Mouna, their three young children and their goats and camel wander across an unbearably bleak landscape, simply trying to stay alive. Along the way, the slow forces of attrition gradually take their toll. This is not an easy film to watch, so be forewarned. The personal costs paid by one family bring home the abstract idea of climate refugees. It's always the smallest, the poorest and the most vulnerable who bear the brunt of a lack of resources.
There are plenty of other very fine films on offer in the series including The Tyee's own Mark Leiren-Young's new film The Green Chain, Laura Dunn's debut documentary The Unforeseen, James Benning's Casting a Glance (about Robert Smithson's seminal earthwork Spiral Jetty), and Salif Traoré's Faro: Goddess of the Waters. All are worth seeing and each will leave you with something -- some small piece of insight or bit of insurrection to help fight the despair that can overcome one when thinking about the current state of world. If it feels like there is a dark shadow lurking under everything we do lately, it's not an unfamiliar sensation. The end of the world always gives me a long-remembered feeling of fatalism, common to most people who grew up in the '70s and '80s. The notion that life on earth will end, whether from a nuclear war, a hole in the ozone layer or global warming, makes whatever you're doing seem irrelevant, frivolous even. But even if the current global crisis results in human society coming to a screeching halt, life, in whatever capacity, will go on. Be it microbes or cockroaches, something will rise again from this scorched earth.
Related Tyee stories:
Trees and Us
Severn Cullis-Suzuki: audio interview. Our new podcast series asks: what does the forest mean to you? First up, Severn Cullis-Suzuki.
Why Humans and Nature Collid
A 'Trees and Us' Tyee podcast with John Vaillant.
Must-See Bad News
Best of the Vancouver International Film Fest. Part One.