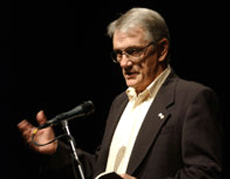 Novelist, poet, editor, professor and the first Poet Laureate of Canada, George Bowering is famous for his words. But he first started working in the woods, and his family works in the forest industry.
So while those words have an international profile, they are inescapably rooted in B.C.'s trees, with stories of growing up in the Okanagan, haunting poems of urban Vancouver, and his innovative treatment of historical B.C. events.
In today's podcast, internationally-renowned poet George Bowering talks about those forests and sings about chainsaws.
Click the Listen to This! link to hear Mark Leiren-Young talk to him about risking his life on logging roads, "tree murder" and cruising for the B.C. government.
Or listen and subscribe to Tyee podcasts on iTunes.
George Bowering will be appearing at this year's Vancouver International Readers' and Writers' Festival on Friday, Oct. 19 at 10 a.m. at "The Mini Poetry Bash" with Tim Bowling, Janice Kulyk Keefer, Richard Siken, Priscila Uppal and Benjamin Zephaniah; and on Sunday, Oct. 20 at 2 p.m. at "Poets Laureate" with Carla Funk, George McWhirter and Agnes Walsh.
Other stories in the Trees and Us series