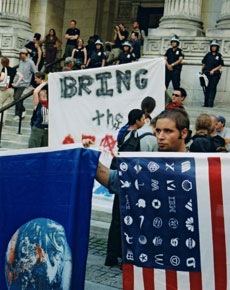 George W. Bush and John Kerry finally confronted each other last night in a close-quarters debate, after months of lobbing criticisms and slogans through the media. It should have been a climactic moment in the election campaign. According to a poll by the Pew Research Center, 61 percent of adults said they would likely tune in. This morning the media is fingering the pulse of the electorate to see which candidate "won".
But, after a three-week tour through the United States, I doubt whether the candidates' words made a difference.
When I arrived in New York, the city appeared to be transformed into a science fiction movie with the following premise: that Republicans and Democrats had separated into two different species.
'We've become a police state'
The Republican National Convention was underway at Madison Square Gardens. Occasionally a participant would stray onto the city streets, where they were as easily recognizable as alien lifeforms, their identities revealed by dated outfits, by security tags that hung from their necks, and by the wake of angry looks that followed them. I watched two middle-aged delegates stride down Sixth Avenue. Both were thick-bodied fellows, wearing ties and white dress shirts, and their faces seemed to glow faintly, as if still warm from the hot sun of a southern state. These two confident men, successful Republican fundraisers, likely kingmakers in their hometowns, tried not to flinch when a crowd of protesters across the street booed. A couple young New Yorkers turned as the men passed and yelled, "Go back to the South, you hicks."
Most convention attendees avoided this unwanted attention: they travelled en masse to the convention, to Republican soirees, to a few pre-selected Broadway shows, and then back to their hotel. You could see their curious faces peering from the windows of their shuttle buses, high above the pedestrians on the sidewalks.
Down below, thousands of police secured the streets. On nearly every corner there were small groups of New York's finest, men in blue who casually chatted amongst themselves. There were also more ominous figures, wearing black flak jackets and black helmets, holding assault rifles. Motorcades of police cruised through mid-Manhattan. "This is sick, it's like we've become a police state," a bartender told me. "Who invited these people?"
Editing the flag
The protestors who convened in New York seemed to revel in the increased security. On the steps of the New York Public Library, I watched as a handful of protestors decided that it was time to get arrested. One man pulled banners out of a plastic bag and started to hand them out. "What do they say?" one protestor shouted. "It doesn't matter, they're all good," the ringleader replied.
Once unfurled, the banners revealed permutations of the words "peace," "war," "Bush," and "oil," as well as the Adbusters version of the American flag, in which the 50 stars have been replaced by corporate logos.
Large banners had been banned as a security risk, a fact that the protestors knew well. Within minutes a battalion of riot police arrived. They subdued any protestors holding banners and they pushed the rest of the crowd off the library steps and onto the sidewalks. One young protestor held her hands up to the masked cops in a gesture of peace, a pose that would look right on the front page of the New York Times or on an Indymedia website. Her face was in an ecstasy of self-righteousness, and the crowd chanted "This is what democracy looks like" as the cameras flashed and videotapes rolled.
Post-9/11 beehive
Every night of the convention, the Republicans mourned the September 11th attacks. When I went down to the World Trade Centre site I found that a new subterranean plaza had been built, a transport hub for trains to New York's outer boroughs. It was the end of the day and workers streamed through these concrete vaults without glancing at the ravaged landscape above and around them. In one of the office buildings overlooking the construction site, someone had spelt out "No War" in story-high lettering. Several other windows held peace messages. For many citizens in this city, it had taken less than three years - after the September 11th attacks - to go from "vengeance shall be ours" to "No War." Meanwhile, at the Republican convention downtown, delegates from cities like Wichita and Houston discussed which desert nation to bomb next.
"George Bush doesn't have an agenda, he just really cares about people," I was told by an undergraduate student, a history major at Georgetown University in Washington, D.C. Anyone who supported John Kerry was naïve, she said, because the senator has a secret agenda. "If John Kerry wins," she concluded, "I'll just scream."
But "agenda" wasn't the word that most people associated with Kerry. In Virginia and North Carolina, the words "John Kerry" were inevitably followed by "flip-flop." The epithet was endlessly repeated on radio and television shows. A young fundraiser for the Democrats told me that she wished "that word" had never been invented. "As soon as I hear someone say 'flip-flop, I know the conversation's over," she said.
Rock hard convictions
But Bush, too, seemed to flip back and forth. Look at him one way - through his supporters' eyes - and he was a straight-shooter bolstered by faith and common sense. Looked at through the eyes of critics he was a raving hypocrite, a smirking buffoon who talks like a populist but walks like a corporate stooge. Of course, it's not surprising that Republicans and Democrats perceive Bush differently. What was surprising was that each group seemed to find the other incomprehensible, if not insane.
Outside Durham, N.C., a gas station manager asked me how anyone would possibly vote for Kerry. "What would you be voting for? Even Democrats don't know. That guy flip-flops on everything."
In Charlottesville I met Laramie Crocker, a Californian who had quit his programming job to travel from swing state to swing state, singing anti-Bush folk tunes. (A sample lyric: "Nothing spells Freedom / Like the good old U.S.A. / And nothing says peace and love / like 6000 bombs a day.")
I asked him how Republicans responded to his songs. "The only Republicans I run into, it almost feels like it's impossible to have a conversation with them, because their fact set and belief basis is so different," Laramie said. However, he admits, he hasn't talked to very many Republicans.
"I'm surrounded by people who think the way I do," he said, "which is a good thing."
Tornado nation
In Richmond, Virginia, I ducked into a diner to wait out a series of tornado warnings. The waitresses pulled down the blinds - in case the tornado blew out the windows - then sat down. When I asked which candidate they were going to vote for, they shrugged noncommittally.
"They're all the same, aren't they?" one said as she dipped french-fries into a puddle of ketchup.
"I'm really not sure whether I'll bother," said her co-worker. "D'you know if the election's on a weekday?"
Of course, not every American is a rabid partisan. But the "undecideds" I met, like the two waitresses, tended to be woefully apathetic rather than fair-minded moderates.
Weather or not
According to Princeton political scientists Christopher Achen and Larry Bartels, as many as "2.8 million people voted against Al Gore in 2000 because their states were too dry or too wet," as a result of the weather patterns that year. Needless to say, in an election where a few hundred votes in Florida proved decisive, the weather may have cost Gore the presidency.
Back in my car - after the tornado warnings expired - I drove through tropical storms that lashed the Virginian countryside. On the radio, A Boston Globe editor described new evidence that Bush had failed to meet his obligations as a pilot in the Texas Air National Guard. In another story, Vice President Cheney predicted that the United States might be hit by a "devastating" terrorist attack should Kerry win the election. Meanwhile, Florida was preparing itself for yet another hurricane.
I can imagine that, come November 2nd, the weather might play a role in the presidential election. But, barring a disastrous misstep by Bush or Kerry, I have trouble imagining that any voters will be swayed by rational debate.
Vancouver-based Chris Tenove is a contributing editor to The Tyee.
---
'Outfoxed', a documentary about Fox News media bias, shows in Vancouver Friday, Oct. 1 at 7:30, at the main branch of the Vancouver Public Library, 350 West Georgia. A panel discussion will follow, including Tyee contributors Deborah Campbell and Elaine Briere, as well as former Adbusters editor James MacKinnon. The Tyee is co-sponsoring the screening as part of Media Democracy Day.