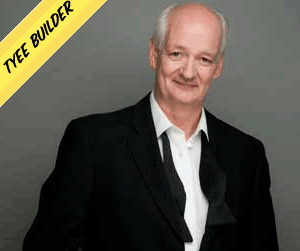 "What hooks me is passionate artistry. Writers, dancers, actors, comedians, singers, and painters who share their talent with us, not for fame or fortune, but because they have to." -- Colin Mochrie
We think that's brilliant. And you know what? The Tyee's journalists are exactly the type of creative people Colin is talking about. Our writers share their talent for producing hard-hitting, investigative journalism far and wide, and they don't ask for a thing in return. Colin believes in this kind of passion, which is why he's supporting our writers through our Tyee Builder program. As he puts it on his website: "What we want is a place for Canadian storytellers and our stories. We want to share our talents with Canadians and with global audiences. We need to get it right now. Tomorrow is too late." Agreed, Colin.
Click on the yellow button below to learn more about how to join Colin and the rest of the Builders who are working together to help ensure that independent voices (like The Tyee and our writers) are part of Canada's media conversation.

If you support Tyee journalism with $15 a month or more, we'll send you a signed copy of a modern Can-Lit classic as a token of our thanks. Any level of support will get you listed on our Builder Bulletin and earn you a custom made Tyee Builder lapel pin. Sign up quick -- quantities are limited!
About this Tyee Builder: Colin Mochrie is a Canadian actor and improvisational comedian. He's best known for his hilarious performances on the television show, Whose Line is it Anyway?, but has starred and appeared in dozens of other programs. For his work on This Hour has 22 Minutes, Colin won a Writers Guild of Canada award.
About the Tyee Builder Program: Want to give independent Canadian journalism a boost? You've come to the right place. The Tyee is trying to become fully sustainable. In order to do so, we've launched the Tyee Builders program to allows readers who love The Tyee's work to help fund more of it. Every penny you support us with will go directly to pay Tyee writers and editors. And besides the warm, fuzzy feelings you'll get knowing you're helping dial up the volume on an independent voice in Canadian media, we've come up with a few other ways to thank you. Click on "Hammertime" above to learn more and start Building!