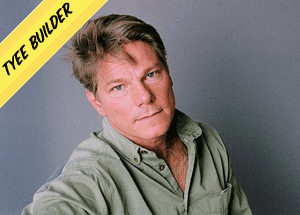 "What hooks me about The Tyee? That it's authentic news written by dedicated journalists and citizens who are not beholden to corporate interests. What else hooks me? The BBC show, 'Father Ted.'" -- John Vaillant
Good news. While we can't promise you any new episodes of "Father Ted," we can assure you that The Tyee will remain on-air, or rather, online, for the foreseeable future. What we'd really like to do is increase our coverage of the news and issues that matter to our readers. John has already signed on to help us: he has become a Tyee Builder, and is supporting The Tyee as we try to become more sustainable. So have a group of other recognizable Canadians.
If you'd like to learn more about how to join them and ensure that The Tyee keeps producing the award-winning, story-breaking, investigative journalism you know and love, click on the yellow button below. If you sign up and support us with $15 a month or more, you can have a signed copy of John's book, The Tiger, or one of these other books by Canadian literary icons.

About this Tyee Builder: John Vaillant is a freelance writer in Vancouver, BC. He won the Governor General's Award for Non-Fiction in 2005 and the Writers' Trust Non-Fiction Prize for his first book, The Golden Spruce, a "tale of obsession so fierce that a man kills the thing he loves most." His second book, The Tiger, also garnered high praise: it won BC's National Award for Canadian Non-Fiction. John has also written for various publications including The New Yorker, National Geographic, The Atlantic, and The Tyee.
About the Tyee Builder Program: Want to give independent Canadian journalism a boost? You've come to the right place. The Tyee is trying to become fully sustainable. In order to do so, we've launched the Tyee Builders program to allow readers who love The Tyee's work to help fund more of it.
Every penny you support us with will go directly to pay Tyee writers and editors. And besides the warm, fuzzy feelings you'll get knowing you're helping dial up the volume on an independent voice in Canadian media, we've come up with a few other ways to thank you. Click on "Hammertime" above to learn more and start Building!