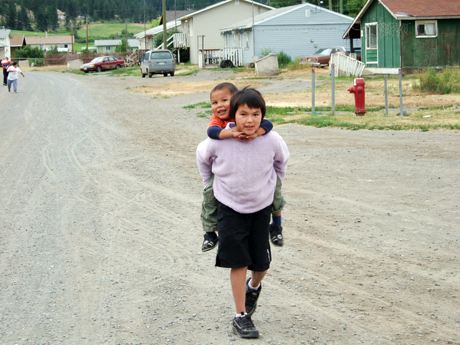 The face of Canada changed for Marie Wadden when she first visited the Innu community of Sheshatshiu, Labrador in 1970. "I thought I knew everything there was," she says, "but I was blown away by the language, the diversity of the culture. I wondered how I'd never heard of them. It was my first realization that there was another, unknown reality in this country."
Since then, Wadden has felt closely linked to the struggle of Canada's Aboriginal people -- a struggle she believes they are on the verge of losing.
In the introduction to her stunning new book, Where the Pavement Ends, Wadden writes, "The situation could not be more urgent...I have come to believe that the very survival of the first peoples of this country is at risk." Aboriginal communities have suffered profound psychological trauma due to the abuses of residential schooling, resulting in generations haunted by violence, alcohol addiction and suicide.
Yet a healing process has risen from the grassroots in many Aboriginal communities. In 2006, having received the Atkinson Fellowship in Public Policy, Wadden travelled across Canada, seeking community leaders with viable solutions to these urgent issues. The journey brought her to Inuit communities in the Arctic to First Nations and Metis communities from coast to coast. "Few of the communities I visited were marked on road maps," she writes. "Often, I knew I'd come to the reserve because I had reached the end of the pavement."
(You can see photographs from her travels in this story's photo gallery.)
Through 21 short essays, Where the Pavement Ends paints a panoramic portrait of the Aboriginal situation in Canada. A network producer for CBC Radio in St. John's, and winner of the Edna Staebler Award for Creative Non-Fiction, Wadden writes with the eye of an investigative journalist and the control of a novelist. Her prose is calm and informed, making Where the Pavement Ends an ideal entry-point for those interested in learning about Aboriginal issues for the first time.
Where the Pavement Ends concludes with a 12-step action plan, aimed to shape future government policy. In an effort to get these recommendations heard, Douglas & McIntyre, the publisher, has mailed complimentary copies to Aboriginal affairs bureaus across Canada.
With the advent of the Residential Schools Truth and Reconciliation Commission, and Prime Minister Harper's formal apology on June 1, Canada has a tremendous opportunity to stimulate the healing process. "I truly believe that this is the make-or-break point for so many communities, families, people," says Wadden. "If there's going to be healing, now is the time. There's some momentum, and Canadians have got to support it."
Here are some of the comments and stories Wadden shared during our conversation.
On the failure of the Department of Indian and Northern Affairs:
"Non-Aboriginal citizens need to understand how both the Department of Indian and Northern Affairs and the Indian Act work, or rather, don't work. Most Canadians can't understand why something isn't being done to help Aboriginals. They're constantly told how much money is spent on Aboriginal communities -- it's up to something like $8 billion a year. Then we come to blame Aboriginal people for the persistence of the problems. We need to examine the big bureaucracy. With all the money that's being spent, where's the economic development? Where's the community development? All the money goes into the bureaucracy.
"Many decisions are made in Ottawa about native lands, but all those decisions are made without consultation with Aboriginals. This is very disrespectful, and it's morally and emotionally debilitating. We need to show some faith. Aboriginals want to work out and operate under their own plan. They don't want to be told by Ottawa that they can apply for funding. They want to tell Ottawa what their needs are, and be given long-term funding, not just funding for one year. We don't need top-down bureaucracy, we need to let them tell us what their vision is."
On the horrors of youth suicide:
"The youth suicide rate in Aboriginal communities is just appalling. No one is really keeping track of the numbers, but my experience over just a few days raised my antenna to the problem.
"I went to a First Nations reserve called Wanipigow ('Hollow Water') on the eastern edge of Lake Winnipeg. This community had done some pretty amazing things for social healing. They had lowered alcohol consumption considerably, so much so that the local bar owner told me that he was going to try to sell his business and move away.
"In Hollow Water there are a lot of foster children from neighbouring reserves. I met one young man who was living at Hollow Water because he could not go home. He had found the body of his sister's boyfriend, who had killed himself there, and he was having nightmares. I drove this young man to the store, and as we went along, he pointed to a house and said, 'A 15-year-old girl is under suicide watch there.' Then another house, 'Someone committed suicide there two weeks ago.' I stopped to take pictures of some young men, and one of them had rope burn marks around his neck.
"Later I went to visit Marcel Hardisty, who is a local leader there. He was fixing his car, it was a beautiful day, and I told him about the encounters I'd had. Marcel just welled up, and I could feel the sorrow and grief. He said, 'My wife and I are raising a boy now. Both of his parents committed suicide.' I shared this moment with this man, and I could just feel the sorrow that pervades the community.
"A few days later I drove to Kenora, and I'd chosen that area because I wanted to focus on the problem of suicide. I was going out to a reserve that day, but a message left at my hotel said we'd have to cancel, because there was a suicide the day before. I then opened my e-mail, and there was a message from a reserve in New Brunswick that read, 'Another suicide here today.'
"How typical is this? I wondered. Just three days, and this is what I see. What happens when I'm not there to see? You cannot meet a First Nations person who has not had a relative or friend die of suicide. There is a federal suicide strategy, but nothing has been done. Time is ticking by."
On what non-Aboriginals can do to help:
"The first and most important thing we can do is have conversations with Aboriginals. Respectfully listen to what Aboriginals have to say. We've done such a lot of talking at them, but we've done such a poor job of listening. I've found that once we start to listen, once we have meaningful relationships with their communities, everything becomes so much clearer. I'd like to see large turnouts at these Truth and Reconciliation hearings by people who are willing to hear how past policy has done terrible damage. Raising your awareness goes a really long way. I'd also like to see people stop being afraid of going to reserves. So much mutual suspicion exists. The more we understand and listen, the more we build relationships, Aboriginal social healing will be made a government priority."
On the need to share British Columbia's wealth:
"The prosperity and wealth in British Columbia just blows me away, all those yachts in Vancouver harbour that never seem to move. It's going to be very hard for British Columbia to stall any longer. The smallest reserves in Canada were granted to natives in B.C., so now all around them this great prosperity has grown up. Yet still we cling to this pretence, that Aboriginals have to prove their land claim. So much has been written about them, from Jacques Cartier on up. How can we dispute that these people ought to occupy their land? And yet, for years, young native leaders have been striving to prove their land claims. This is not a problem non-Aboriginals have to face. For example, I found a ranch in British Columbia near the Alkali Lake reserve that miners had been given by "right of occupation" in the 19th century. Our arrogance is just stupefying! And here these people are considered squatters on their own land.
"We have to better share the wealth of this country with the people who were here before, the people whose land we stole, whose languages we tried to destroy, whose children we took, whose rituals we outlawed. That's where all the trauma and social chaos comes from."
On B.C.'s treatment of an Aboriginal hero:
"I stayed with the Chelsea family at Alkali Lake, about six hours from Vancouver. Phyllis Chelsea has the Order of British Columbia. Among Aboriginals in North America, these people are saints. They're held in such high esteem. Even in Sheshatshiu, on the other side of the country, a young man told me to bring back sage and sweetgrass and autographs from them. So I knew I was going to meet some very important, very influential healers. I couldn't believe the state of the house. I couldn't believe that Phyllis had been diagnosed with osteoporosis, but had no money to buy calcium products. I couldn't believe they had to scrounge around to find $60 to get their son's lights put back on. I just couldn't believe it.
"Yet what proud, dignified people. Thanks to them, and others, Alkali Lake has successfully lowered its alcohol rate, but it remains impoverished. As Andy Chelsea told me, living on the reserve is like being back in residential school, except the principal is Indian and Northern Affairs Canada, and the priests and nuns are the band council."
On Gordon Campbell's goal to raise Aboriginals to the provincial standard by 2016:
"I think it's realistic, because he didn't say he'll do it by 2010. It's still a long way off. A lot of hardship will be endured by people before that time. But I like the way Campbell is going about it, it's non-confrontational. It's maybe too slow for many people's tastes, but I think there's a lot of dignity being restored, a lot of healing going on. There's still a long way to go, but Campbell is showing an example that is having an influence on other provinces. When he came to Newfoundland, for example, he got Premier Danny Williams to sign the Kelowna Accord, and that is not a premier who is hugely knowledgeable when it comes to First Nations. Campbell is encouraging the premiers to do something, to share the wealth of this country."
On the dismantling of the Kelowna Accord:
"The Kelowna Accord was a true act of reconciliation. It was all the provinces and territories and ministers saying, 'We will make a concerted effort to improve your lives, and we're going to do it together.' The Accord was a document of hope, everywhere I travelled in Canada. When it was ruined, how personally everyone took it was just tragic.
"I think the Conservatives dismantled it because it was a Liberal initiative, and it flew in the face of what many Conservatives think about Aboriginal issues, which is that too much money is being spent already. I have a big fear that this government's policy is not to support reserves, but to get Aboriginals into urban communities. I think that would be their preferred way, because a lot of Conservatives find the cost of providing services to reserves untenable.
"But we have these treaty obligations, and unresolved land claims, and a history of land and resource theft that needs to be resolved. Healing has to take place on the reserves, in the communities. A new initiative like the Kelowna Accord is urgently needed. I would like to see it arise out of the Truth and Reconciliation Commission. When I travelled through Hope, British Columbia, I thought it was the perfect place for this new accord. I'd like to see Mr. Harper write a new initiative, make it a document that no other government can overturn, bring Aboriginal leaders to Hope, B.C., and create the Hope Accord."
On Stephen Harper's upcoming apology:
"Its significance will depend on how it's made, how it's said. My experience with Aboriginal people is that they're very perceptive about sincerity. Mr. Harper's sincerity will depend on whether he's ever had any significant experience in an Aboriginal community, whether he's ever been in a position of listening with an open heart to what is being said by Aboriginals. Only that will give him what he needs to make a sincere apology. If it's just words on a paper that someone has written for him, then it's not going to have the same impact as if it really came from the heart."
Related Tyee stories: