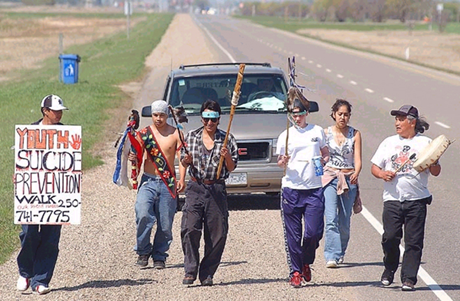 A young aboriginal man, bent on ending his life, conjured a dark, final vision. He would head out in his truck and roar headlong off a cliff. As he drove to the site, he realized that he hadn't said goodbye to his mother and father, so he turned the truck around. He pulled up to the family's home. His sister emerged, saw that he was upset and called to her mother.
The young man's mother came out, and with no questions asked, engulfed him with a hug. This, says suicide researcher Rod McCormick, was a critical moment that saved the man's life.
Suicide is the second leading cause of death among Canadian youth ages 13 to 19 and the leading cause for those between 25 and 34.
Aboriginal youth, according to Health Canada, are five to six times more likely to die by suicide than their non-aboriginal peers.
While researchers around the world theorize about the learned and genetic traits that cause people to take their own lives, McCormick has consulted some real experts on suicide -- aboriginal youth who had tried to kill themselves, but survived.
McCormick, a professor of counselling psychology at UBC, asked his subjects, "What was the instant that stopped you and the critical steps that got you to where you are now?"
He made this question the focus of 25 interviews he conducted with young aboriginal adults for an article that is soon to be published in the Journal of Cultural Diversity and Ethnic Minority Psychology.
Many of those he interviewed said they survived because they got help from others, were able to express their emotions and managed to gather up their self esteem. These themes are familiar themes among young people of various backgrounds who have battled suicidal impulses.
But among aboriginals, one other factor came up far more often than among other youth. "They made a spiritual connection," McCormick said.
Flow of life
The young man in the story above told McCormick that his parents sent him to sit by the creek behind the house where he spent time as a child and that became another point that shifted him away from suicide.
"He said he watched the water and how it flowed and when it came up to a snag, the water would just flow around it," says McCormick. The man related this to his own life and realized he might be able to flow around the difficulty in his life too.
McCormick said many of the young people he talked to point to cultural turning points as well.
"Getting an Indian name was a critical point for several of them," he said. McCormick is Mohawk, from the village of Kahnawake, although he's never lived there. He doesn't have an Indian name and says a lot of communities no longer practice the tradition, but he understands how powerful a naming ceremony can be.
"People get up and talk about the importance of the name and what they are going to do to ensure the young person lives up to the name," he says.
McCormick concludes that suicide prevention programs for aboriginals should connect young people with their culture through ceremony, cultural events and time spent with elders and relatives.
Crisis in the Hazeltons
In mid-November, seven suicide attempts in one week rocked the B.C. news. The area in Northern B.C. known as the Hazeltons encompasses six Gitxsan and one Wet'suwet'en reserve, two municipalities (Old Hazelton and New Hazelton) and the unincorporated areas known as Two Mile and South Hazelton. The local hospital, Wrinch Memorial, recorded 111 suicide attempts since January 2007 and local police say getting one or two suicide attempt calls a day is not unusual.
With little resources, few jobs and almost no recreational facilities for youth, the community went into crisis mode and put out a plea for help. Area chiefs, community leaders, mental health workers, doctors, police and more are gearing up for a meeting tomorrow, Dec. 6, to discuss the crisis in their midst.
Sharon Robertson, the chief executive officer at Wrinch Memorial Hospital, says many of the suicide attempts are drug and alcohol related, often involving overdose, self-inflicted wounds and threats to jump off a single-lane suspension bridge high above the Hagwilget canyon. Two recent completed suicides, including one by a 16-year-old boy in Kitwanga, were by hanging.
She says the statistics for suicide attempts in the area are vague because there isn't one agency in the varied communities that collects them. She can only say there were 111 attempts since Jan. 1, because that is how they presented when admitted through the emergency room. She has no idea how many other attempts were made by people who never made it to hospital.
Neal Belanger at the Gitxsan Health Society says the agencies are all working together to coordinate an approach to address the high suicide attempt rates in the communities.
Working to raise awareness
One program about to get underway is called the Four Nation Action and Support Team. Belanger says four First Nations, including the Gitxsan, Wet'suwet'en, Nisga'a and Tsimshian have come together to train local community people to work within the communities to address crises and raise awareness of suicide as an issue. The program is funded through the National Aboriginal Youth Suicide Prevention Strategy, a five-year, $65 million federal strategy, which rolled out in 2005.
Belanger is not aware of any plans for cultural or traditional healing events planned in the near future, but the FNAST program contains a cultural component.
McCormick is now expanding on the work he did 10 years ago as part of a larger national study on suicide. The sample for the first study was mostly students at the University of British Columbia. For the national study, researchers will interview people at 12 sites across the country including with tribal groups in British Columbia, Manitoba, Quebec, Nova Scotia and Nunavut.
Research done by UBC Psychology professor Michael Chandler and University of Victoria professor Christopher Lalonde also concludes that cultural empowerment correlates to a lower risk of suicide in aboriginal communities.
Their research suggests that national averages don't tell the whole story about suicide rates in aboriginal communities. They acquired suicide statistics from 196 bands across British Columbia and discovered that some communities had rates 800 times the national average, while others had no incidents of suicide at all.
"Communities that have taken active steps to preserve and rehabilitate their own cultures are shown to be those in which youth suicide rates are dramatically lower," the authors wrote in their 1998 report, which will be a chapter in a book, The Mental Health of Canadian Aboriginal Peoples: Transformations, Identity, and Community, soon to be published by University of British Columbia Press.
Community ties are key
McCormick knows there are no magic solutions and he sympathizes with communities in crisis who plead for help. Certainly, money for programs can make a difference, he says. But more importantly communities need to feel what he calls "response-able". He says those who feel able to respond will accept more responsibility. If too much money and outside help comes in a short time, it can make a community feel even more helpless.
McCormick isn't even sure that funded suicide prevention programs are the cure. He believes community people should be trained to recognize suicidal behavior and calls for help, but once a program becomes formalized, he says, it stands to lose community involvement. If someone is paid to be in charge of suicide prevention programs, the all-important volunteers opt out.
He says successful solutions require involvement of all members of the community, parents and youth. He concludes from his research that solutions to prevent more suicides from happening already exist in communities. He suggests community brainstorming sessions to tease them out.
Cpl. Warren Brown of the Hazelton RCMP agrees that solutions must come from the community itself. The RCMP was one of the first agencies to call out for help to the larger community. But an initial step is to acknowledge the problem in the first place.
He says officers take a lot of flak from the community for broadcasting on the radio that they are responding to a call about an attempted suicide. "There is a lot of shame with it and people are hesitant to report it," he says, although it isn't unusual to be called out to one or two attempts a day.
Solutions can't come from outsiders, like police and other professionals who come and go, he says. He's hoping the momentum that's built out of these recent widely publicized suicide incidents will lead the community closer to the root cause -- be it addictions, family violence, residential school impacts and the overarching shift to Western culture itself.
"There are so many factors and issues," he says. "Suicide is the side bar to the main issue."
Related Tyee stories: