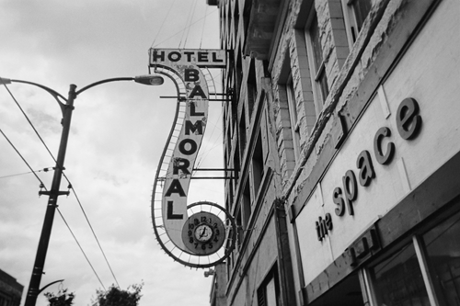 Paul Levesque has spent 40 years in Vancouver's Downtown Eastside, and he sees the neighbourhood as a sole reminder of the way this city used to be.
"It's the last of an era, of Vancouver built in the 1950s, '60s, '70s," he says, standing in the pouring rain at Hastings and Dunlevy. "It's unique. It's not fictional; it's reality. The east end community is not like any other community, because it's not plastic. It's not like keeping up with the Joneses, because we can't afford to keep up with the Joneses. It's a poverty-stricken area. It's painful. But it's also reality."
To Levesque, the photographs taken by area residents for Pivot Legal Society's Hope in Shadows project are "a collector's item, because what's down here, in the next 10 years, it's going to totally change."
Hope in Shadows began five years ago as a fund-raiser for Pivot. The premise was simple: distribute disposable cameras to Downtown Eastside residents for an annual photography contest. The winning images were published in a calendar, which residents could sell, and displayed in local galleries. Now, some of those pictures, along with the stories of their photographers, have been compiled by Geist magazine contributing editors Brad Cran and Gillian Jerome in the book Hope in Shadows: Stories and Photographs of Vancouver's Downtown Eastside (Arsenal Pulp Press.)
Working in collaboration with Pivot, Cran and Jerome hoped to continue the project's mandate of accurately representing the reality of the Downtown Eastside, which is most often seen through the perfunctory lens of a mainstream media eager to perpetuate the worst possible stereotypes about Canada's poorest postal code.
'Pictures of humanity'
"People in this neighbourhood are people who, in many ways, have had all kinds of things that are theirs taken from them," says Laurel Dykstra, women's group facilitator for VANDU, the Vancouver Area Network of Drug Users. "And the final indignity is people who come to this neighbourhood and take away images and stories without good communication; without clear consent. The typical picture of the Downtown Eastside is a shot of alleys and dumpsters. There are some of those in [Hope in Shadows] and not all of those are pictures of despair or pictures of degradation. They are pictures of humanity and compassion and people's lives, doing the best that they can. There's great things about this neighbourhood -- there's hope and resiliency and vibrancy in this community."
In fact, Dykstra sees the Downtown Eastside as the ideal place to teach her two young daughters about what community means. "They know a lot of people with experiences that are really different from theirs," she says, "so they know that to be a member of a community isn't to have a monolithic experience. The things that people are afraid of in this neighbourhood are things that people should be afraid of in every neighbourhood."
"There's a huge sense of community -- more than I've found anywhere else that I've ever lived, and I've lived in a lot of places," notes VANDU president Richard Utendale. "People look after each other, because by the time you get to this neighbourhood, all the things that you may have had to hide behind, or buffer yourself with in your life are gone. What you've got is, 'This is me; this is who I am, take it or leave it.' And so people kind of look out for each other and look after each other, because you have to -- it's survival."
A girl's eye view
We're rounding the corner of Cordova and Gore in filthy weather and, as if on cue, a man opens his shopping bag and offers Kathy Walker a bun. She has no umbrella and he thinks maybe she's hungry. In fact, Walker has a home and a job with a livable wage -- but part of the reason she and her family moved to the Downtown Eastside 15 years ago was to become part of a community like this -- and she's touched by the man's gesture.
Like Dykstra, Walker is raising her daughters in the Downtown Eastside. It turns out that the photographs taken by Walker's girls are among the loveliest in the book. Somehow, they have created a visual oasis out of what most Vancouverites view as a blight.
"People have all these ideas about the neighbourhood," says Walker, "and I just think, 'Wow, that's not my experience.' Don't get me wrong, there's challenges, but it's been by and large a very good place to raise kids. To me, kids being in a neighbourhood like this make it safer for everybody. The more you have kids and families around, the more it kind of normalizes things a bit. People say they like hearing the kids, that background compared to the hotels -- with the fighting and carrying on and the threats. It mediates the stuff that goes on. By and large, that's how I encourage people to co-operate, with basic, decent behaviour -- by appealing to their concern for kids."
Lattice of stories
One of things that surprised Cran the most was the diversity of experience among those he and Jerome interviewed. "There is no typical 'Downtown Eastside person,'" he says. "On any given day, the stories could take us from the residential school system in small-town B.C., to Damascus, to the battle of Hamburger Hill or on a steam liner sailing through Asia."
Hendrik Beune does not fit the standard paradigm of a Downtown Eastside resident. Raised in the Netherlands, he holds a degree in biology and zoology from UBC and is an advocate for social housing. He ran an oyster farm in Theodosia Inlet for 12 years, until the business failed, and then his marriage, and then his mental health. Beune has never injected drugs -- but he's kept an eye out for those around him who wrestle with addiction -- and when he slept on the street, he often agreed to let women he knew share his spot for security.
"There's some amazing stories in [the book] of courage and togetherness," he reflects. "The Downtown Eastside really is unique in that regard. There are people from all walks of life down here. People over here, they're often looked at like, 'It's your own fault you're here.' I say it can happen to anybody."
'I try to stay positive'
Wilda is tiny. She's wearing a baseball cap and huge headphones. Pink and green fingerless gloves. Her teeth are brown and chipped in front -- and she doesn't know how to react when she finds out that her photo is on the cover of Hope and Shadows. "It freaks me," she says, turning it over in her lap with a nervous laugh. "Oh, my God, I can't look at it. There's no words to describe it." Maybe, she says, her sister in Victoria -- a schizophrenic whose address she lost two years ago -- will see it in a bookstore.
"I try to stay positive about most things," says Wilda, "and then I look at this picture, and . . . ." She tears up, remembering some of the worst of what she's been through down here -- the rape; the crystal meth addiction. She reckons that, with the Olympics coming, there will be more and more people on the streets. "People have nowhere to bloody go," she says. "And they don't want to go anywhere else because this is their home. It's the people -- it's the people that you meet all the time. I don't know all the names, but I know the faces. That's what I like about a tight community. Everybody's different; everybody has a different upbringing, you know? OK, I ended up here, and I'm living with it. We do the best we can do and that's all we can do."
The picture Wilda took is of a man named Al Tardif. She didn't really know him, she says -- he was just a guy who was around. In the book, Al talks about growing up on the North Shore with a dog named Skipper. "I would walk down to the Dairy Queen with my dog and pay a quarter for an ice cream cone," he recalls.
Tardif died just a few weeks ago, of complications from pneumonia.
Related Tyee stories: