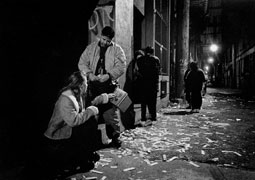 Documentary photographer Duane Prentice spent five years chronicling the lives of addicts, dealers, parents, children, the elderly, activists, sex workers, and others in Vancouver's Downtown Eastside. In the Crucible, opened May 28 at The Interurban Galley at 9 East Hastings (open Wednesdays to Saturdays 10 AM to 6 PM).
"The Downtown Eastside is a microcosm where nothing conjured by the imagination is as awesome or baffling as reality," says Victoria-based Prentice. "Obscured by the rhetoric of the war on drugs are individual people's lives and these images demand of us the courage to see things as they are and to not forget."
Here are some thoughts Prentice shared with The Tyee about life in Vancouver's much-photographed poorest neighbourhood. (To view a sampling of Prentice's images click the gallery button on this page.)
On why the exhibit is named 'The Crucible':
First, I was spending time with people shooting speedballs - a mix of cocaine and heroin and they prepared their solution by melting it in spoons over their butane lighters. Obviously the image of a vessel made of material that does not melt easily and is used in melting other substances came to mind. Plus the crucible of their addiction led them to a hollow place.
Over years of following the trials and tribulations in the same peoples' lives I was witness to their struggles and their addictions, a secondary definition for crucible came to be of importance; that of a severe test of the most decisive kind; a severe trial or situation in which conventional forces interact to come and influence change to produce something new.
In addition to reflecting the struggle of individual lives, the crisis in Vancouver of missing women and overdose deaths represented its own crucible on a larger scale: How were we going to respond to this challenge which would effect not only the destiny of those among us who are struggling with substance abuse, mental health issues and the condition of poverty but also our destiny as a society.
We currently live in a crucible.
On documenting the lives of marginalized people:
In my work, I long ago realized I had to choose between being an activist and being a photographer. Walking that line, is a very delicate one because obviously the work that challenges me and sparks my creative fires is witnessing and documenting the lives of people that mainstream media so often overlook.
[Famous war photographer] Robert Capa's now famous remark, "If your images are not strong enough, then you are not close enough to your subject," remains true. I am extremely grateful to the access that Earl, Brian, Victoria, Morris, Leanne, Al, Kathy and her family, and so many others gave me to sharing in their lives. Although this is my eye, this is their story. It is very much a cooperative endeavour and could never have been accomplished without their dedication to seeing this story to fruition.
On searching for hope in a harsh place:
Don't forget, the issues of substance abuse, mental health, access to medical care, homelessness and poverty, are not the Downtown Eastside's alone; I find them in every city I visit and it does not take long to figure out where it is in Victoria, Winnipeg, Toronto or Halifax.
There are 180 images at the show, thirty-five 16 x 20 prints and a 145 image DVD presentation, and let's say I shoot at 1/60 sec for arguments sake, that means that we are witnessing 3 seconds of life in the DTES. What's that? Yet the still photo today remains an invitation to pay attention, to reflect and learn, and to examine the reasons we excuse such suffering.
We can choose to speed by it or we can stop and see what is happening. It is normal to turn away from something that disturbs us - we know these things are happening and we should be bothered by it - but not shocked nor anaesthetized by it.
My images are not going to change the situation in the DTES. There are a great many wonderful photographers who built their careers in the Middle East and the problem there is no closer to resolution. There is simply too much injustice in the world to imagine photos really changing it. It doesn't mean that our work should not be done. On the contrary, the need for great reportage in a sea of consumer pulp is critical. Wouldn't that be wonderful though, can you imagine, if that, upon realizing of some injustice somewhere, documentation of it would make it go away.
Looking into the lives of people like Victoria and Leanne is witnessing survivors; their strengths are so much more formidable when we realize the steps they walk in everyday.
Duane Prentice has been a full time documentary photographer since 1996. His assignments have taken him throughout the Americas, East Timor, Sudan and the Middle East as well as India and Mongolia. His work includes projects for Médecins Sans Frontières and Orbis International Flying Doctors. In the Crucible won a 2001 National Press Photographer's Association Honourable Mention in the Magazine Feature Story Category. Visit his website at: http://www.nomadicvisions.com/

Amy Walker is at-large editor for The Tyee's Fisheye gallery section.