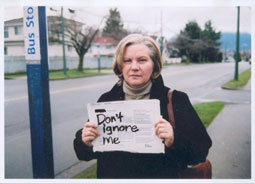 TheTyee.ca
"Is it your birthday today?" the woman asked the first passenger she came across boarding the Number 20 bus at Main & Hastings in Vancouver. She waited patiently for an answer, then, without receiving one, continued to the next passenger. Again she was ignored. The woman looked as if she might have been in her late 40s. As the bus jerked farther towards downtown, she could barely keep her balance. She continued her mission. "Is it your birthday today?" she asked Arthur Orsini, who was reading a book. He looked up and replied, "No, but is it yours?" Her eyes glazed over for a moment. Then, with sadness, "No. But it is my daughter's."
Orsini couldn't stop thinking about the experience and that evening decided to start a photography project that forces interactions between strangers on the transit system.
"We talked until I reached my stop. We did not exchange names, we did not become friends. We were just strangers, sharing the space of the bus without ignoring each other for a short time," Orsini explains. "She told me about her daughter, who had worked the streets of downtown eastside and had been murdered years before."
Orsini asked all his subjects to hold an envelope bearing the words Don't ignore me. He then snapped a quick photo capturing their expressions. After three months and shooting over 170 portraits, Orsini was thrown off a bus only once.
Orsini says his portraits aren't meant only as pieces of art, but to create a human connection. They succeed in their aim as it is very hard for people to ignore them. "This project is amazing in the attention it directs to the disappearance and neglect of a common public space and the questions it asks about our social interactions and responsibilities," wrote one person who encountered the pictures hanging in a Commercial Drive coffee shop.
Arthur Orsini's 'Shared Space' project is showing until mid-June at Turks Coffee Shop, 1276 Commercial Drive.

Tamar Haytayan Armen last wrote for The Tyee on the Armenian genocide.