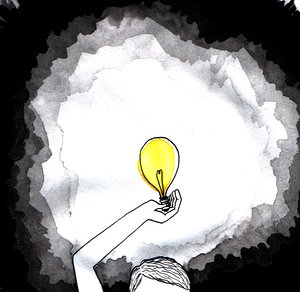 [Editor's note: This is the ninth of The Tyee's Inspiring Ideas for 2013 series, running weekdays through Jan. 1 and collected here.]
Smartphones are changing how businesses reach out to consumers. This is beginning to affect the physical shape of the cities we live in. Need proof? Take a look around your city.
These days, owning a smartphone is increasingly becoming an expectation. A recent study by J.D. Power and Associates shows that 54 per cent of wireless customers in Canada use smartphones, a market share that continues to grow. Logging on to the Internet anywhere, anytime, has never been easier.
The implications of this reach far and wide. The advent of the automobile resulted in sprawling cities and big box stores. Smartphone users, too, enjoy unparalleled freedom and connectivity. But they demand much less physical infrastructure. Quite the opposite: the rise of the smartphone is making cities more dense and accessible. Here are some examples:
1. Food trucks
Food trucks inject more commercial density into our urban areas by turning city streets into food vendor marketplaces. While some think the booming food truck industry is a fad, its growth shows no signs of relenting. The food truck manufacturing company Armenco, based out of Spring Valley, California, expects to double its annual production next year as demand constantly increases.
The food truck industry has never been more appealing to upstart entrepreneurs. When the City of Vancouver opened a lottery for 17 new food trucks in 2010, nearly 800 people applied. Compared to opening a storefront restaurant, starting up and maintaining a food truck is a fraction of the cost.
While warming public perception and a growing variety of ethnic and gourmet food options are making food trucks more popular, smartphones have had a huge impact on the movement's continued success. It has never been easier for food trucks to connect to consumers over online platforms like Facebook, Twitter or Tumblr that can update people on promotions and on exactly when and where they will be. This online access helps small-scale mobile vendors better compete with storefront operations. In fact, successful food trucks often open up their own restaurants, as Tacofino did earlier this summer in Vancouver's Hastings-Sunrise neighbourhood.
2. Car co-ops
In a recent article from the Atlantic, Derek Thomson and Jordan Heissman point out how smartphones are contributing to the rise of a "sharing economy," where connecting to a web browser service allows people to access and share idle goods. This in part, they argue, has contributed to the rise of car-sharing companies like Zipcar. Smartphones allow people to find, book and use a vehicle, all while conveniently on-the-go. Rather than relying on a traditional car lot, car-sharing companies can sprinkle their vehicles throughout the city's streets, which are then locatable on maps from your smartphone.
As the need to house rental cars under one lot is removed, this frees up the space for new industries to move in, adding more commercial, residential, industrial or creative density. This is the case in downtown Vancouver, where a former Budget car rental lot has been replaced by The Nines, a "slow food and culture club."
3. Virtual supermarkets
Supermarket chains are seeing opportunities for commuters to shop for groceries while waiting at transit hubs. Digital billboards that resemble supermarket aisles with replica-scale images of grocery products can be scanned with a smartphone, purchased online and delivered to your door at a convenient time. This innovation has popped up in South Korea, the U.S., the U.K., Australia and New Zealand, and is likely to spread further. A poll conducted by CIBC showed that almost half of Canadians are receptive to the idea of using their smartphone as a credit card.
As supermarkets physically and digitally spread their aisles across the city, it brings into question the future necessity of big box stores. If big box stores can be scaled back, what other opportunities exist to fill that space?
These few examples of how the smartphone is changing our urban environment are only the first signs of what's to come. As smartphone users proliferate and businesses create new innovations to reach consumers, a larger narrative is yet to unfold. Based on the direction it's moved so far, a denser, more accessible city has exciting promise.
Dear readers and commenters, you may notice that comments are not enabled for this story. In what has become a Tyee holiday tradition, we're closing the commenting system for the holidays to allow our hardworking team a brief respite and chance to recharge. Thanks for all the insightful, informative comments in 2012. We look forward with happy anticipation to more of the same in 2013.