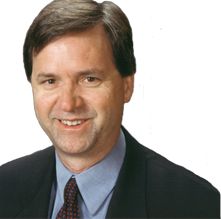 [Editor's note: This is the last of three articles in which Tyee contributing editor Will McMartin profiles the top Liberal leadership candidates and handicaps their chances of winning. He's given Christy Clark odds of 4-1 and Kevin Falcon 3-1. Today he offers his betting line on George Abbott.]
One of the sillier accusations leveled against former NDP leader Carole James during the 2009 general election campaign was that she didn't have sufficient "business experience" to become the Premier of British Columbia.
It was a puzzling denunciation. After all, the entrepreneurial career of Gordon Campbell, B.C.'s soon-to-be ex-premier, was little more than a brief (and, for his investors, disastrous) turn as a hotel developer in the early 1980s. And that didn't seem to bother the province's business interests.
Still, it might be germane today to ask: what, exactly, are the private-sector credentials of the six candidates now seeking to replace Campbell?
Has any one among them ever run a large corporation? Can one or more be described as a "captain of industry"?
Are there any entrepreneurs among the bunch? At a minimum, have any of the candidates, to use that hoary phrase, ever met a payroll?
Not really. Surprisingly, business experience seems to count for little in the BC Liberal leadership contest now underway. (Could it be a prerequisite the private sector demands only from left-of-centre politicians?)
Kevin Falcon and Christy Clark both very briefly operated their own one-person consulting firms -- to do political organizing for the provincial Liberal party -- before winning election to the Legislative Assembly and becoming full-time politicians. (Clark, of course, in 2005 quit practicing politics to talk on the radio.)
Mike de Jong, a lawyer, once had a one-man practice in Abbotsford, and Moira Stilwell, a physician, worked at the taxpayer-funded BC Women's Hospital.
Interestingly, the candidate with the most impressive curriculum vitae, business wise, is Ed Mayne, the former Parksville mayor who toiled at a major bank before becoming a restaurant executive at Tim Horton's and Wendy's. His odds of being elected party leader, however, are about the same as for a three-legged horse to win the Kentucky Derby.
Abbott's farming pedigree
That leaves George Abbott as arguably the most entrepreneurial candidate on the roster of BC Liberal leadership contenders. For two decades before he won a seat in the legislative assembly, Abbott operated an agricultural enterprise based in Sicamous.
Well, actually he was a partner with his father in a family-owned blueberry and strawberry farm. And while the business may have been marginally profitable (as is the case with nearly all small farms in B.C.), it doesn't seem to have provided Abbott with a significant income.
For that he relied on taxpayers, because one way or another, as a college instructor and an elected politician, Abbott has been on the public payroll for more than three decades. So, while he can plausibly claim to having been an entrepreneurial risk-taker, he's also a well-seasoned public servant.
Above all, Abbott is the only candidate that hails from rural (or Interior) B.C. That, plus his reputation as a "moderate," makes him the narrow favourite to succeed Campbell as BC Liberal leader on February 26.
Politics called from early age
A third-generation Shuswap resident, George Abbott was born in Enderby in November 1952. His grandparents had moved to the area after losing their farm in Manitoba during the Great Depression, and his parents got married and settled in Sicamous after the Second World War.
Fascinated by politics from an early age, Abbott later recalled discussing with his mother, when he was a child, the relative merits of such luminaries as Lester Pearson, John Diefenbaker, and U.S. President John F. Kennedy. He also witnessed the charisma of Pierre Elliot Trudeau in 1968 as the federal Liberal leader toured the Okanagan and recorded a sweeping general election victory.
Two years after Trudeau's ascension to power, following graduation from the local high school, the budding Liberal enrolled at the Salmon Arm campus of Okanagan College. He transferred the following year to the University of British Columbia in Vancouver and obtained a bachelor's degree, and then took his post-graduate studies at the University of Victoria.
In January 1976, Abbott was accepted into a then-new legislative intern program, a five (now six) month initiative offering as many as 10 university students real-life work experience with bureaucrats in government departments and politicians in the Parliament Buildings.
(Other notable alumni of B.C.'s intern program include Barry Penner, currently attorney general and minister of aboriginal relations; Martyn Brown, Campbell's former chief of staff; and Dave Basi of BC Railgate infamy.)
It was an exciting time in B.C. politics for on Dec. 11, 1975, mere weeks before Abbott started his internship, Bill Bennett's Social Credit party had overthrown Dave Barrett's New Democratic Party government. The right-left polarization marking B.C. politics since the early 1930s was at a fever pitch.
Yet, active politics seems to have held little appeal for the 24-year-old Abbott. He completed the intern program, collected his MA from UVic, and returned to Sicamous to join his father in running the family's blueberry operation.
Is it reasonable to assume that Abbott was one of a few farmers in British Columbia who could boast of having a master's degree in political science?
Scholar of Duff Pattullo
He may have fled Victoria, but the budding berry businessman hadn't lost his love of politics. And one may speculate that like nearly all B.C. farmers (see here), Abbott found agriculture to be a financially challenging vocation.
Just two short years after he had become a full-time farmer, Abbott, then 26, won election to the board of the Columbia-Shuswap Regional District. And not long afterward he put his MA to good use, getting a job teaching political science at his old alma mater, the Salmon Arm campus of Okanagan College.
Abbott taught for 15 years, and near the end of his tenure he published two articles in the scholarly journal BC Studies. Both focused on British Columbia's last Liberal premier (before Gordon Campbell).
"Duff Pattullo and the Coalition Controversy of 1941," was the title of his initial effort (which appeared in the summer of 1994), and it was followed by "Pattullo, The Press, and the Dominion-Provincial Conference of 1941" (published in autumn, 1996).
On the former Abbott was identified as a political science instructor at Okanagan College; the latter noted that he had been a teacher "...until his recent election as MLA for Shuswap."
It was true: Abbott himself had made history, squeaking into the legislative assembly with a laughably-small sliver of the popular vote.
"I did have the distinction of having the lowest winning percentage in the 1996 election, at 34.7 per cent," he informed the house after being re-elected in 2001 (with a considerably higher 56.3 per cent).
"I've always said that I feel remarkably better than the guy who had the highest losing percentage, because I did get to spend some time here."
Era of slashed tax revenues
Abbott was named minister of community, aboriginal and women's services in June 2001, where he pronounced "commitments" he proved unable to keep (see sidebar), and then shuffled over to sustainable resource management in Jan. 2004.
A year and a half later, following the Campbell government's re-election, he was elevated to the health services portfolio.
Eight full pages were devoted to health issues in the 2001 BC Liberal New Era platform, and one of many (see pages 18-25 here) pledges on the topic was to "Increase future health care funding as economic growth increases government revenues."
Except, well, it's hard -- and probably impossible -- to increase government revenues when the party in power is constantly slashing its income sources.
In fiscal 2000/01, just before the Campbell Liberals began their tax-whacking efforts, Victoria's annual receipts represented 22.6 per cent of B.C.'s gross domestic product. By 2009/10 that figure was down to an even 20.0 per cent.
Put another way, the BC Liberals' incessant tax-cutting over the last decade has caused Victoria's revenues to fail to keep pace with economic growth.
Expenditures followed revenues in their downward trajectory. From 21.7 per cent of GDP in 2000/01, public spending fell to a low of 18.8 per cent in 2006/07, before rising slightly to 20.9 per cent in the recession-plagued year of 2009/10.
Measured as a proportion of B.C.'s economy -- which surely is what the Campbell Liberals meant in their New Era platform when they combined "health care funding" with "economic growth" -- health outlays over the last decade stayed virtually static.
(Rather than recite all of the figures behind that last statement, readers can look at Table A2.8 on page 75 for health spending under GAAP, and Table A2.18 on page 85 for the same in the Consolidated Revenue Fund, here.)
What the numbers show is that the BC Liberals actually have kept their 2001 promise. Health expenditures have grown (in real terms) in concert with economic growth.
Joining the chorus of health spending doom
Except, that's not how the Campbell Liberals portrayed health care costs. Instead, they attempted to spark a public outcry over allegedly out-of-control, shooting-to-the-moon, oh-my-God-we're-doomed, health spending.
The "spin" campaign got into high gear in September 2006 when Carole Taylor, the then-finance minister, released the province's first quarterly report for 2006/07. With a straight face, Taylor unveiled a chart showing B.C.'s health expenditures were exploding at such a phenomenal rate that by 2017/18 they would consume 71.3 per cent of the provincial budget. (See slide 15, here.)
A few sycophantic press gallery denizens swallowed Taylor's scare tactics whole, but more level-headed observers hooted with laughter at the absurdity of her claims. (See here, here, and here.
Undeterred, Gordon Campbell then launched a multi-million dollar public relations campaign -- the "Conversation on Health" -- that pretended to solicit opinion from ordinary British Columbians on how to address the non-existent "crisis".
For a time, Abbott let Taylor and Campbell do the heavy lifting before the public with their Chicken Little refrains of "health costs are a tsunami," while he quietly wooed starry-eyed journalists with a glass of red wine in his office and a friendly chat with his deputy minister.
Bad day in the Leg
By the spring of 2008, however, Abbott decided to take centre-stage -- and promptly fell flat on his face.
The occasion was second reading of the Medicare Protection Amendment Act, 2008, a silly, useless bill, which -- following hot on the heels of the Conversation on Health -- purported to add a sixth principle, sustainability, to the Canada Health Act. (The original five principles are public administration, comprehensiveness, universality, portability and accessibility.)
"We have some serious challenges to sustainability." Abbott intoned when he opened the second reading on the bill. "Health expenditures have grown at more than twice the rate of GDP over the last 20 years. They are growing at nearly quadruple the rate of inflation in this past decade."
And then he blundered into one of the saddest, silliest performances ever seen in the provincial legislature.
It seems that the opposition New Democrats earlier had issued a news release stating that -- and Abbott read this into Hansard -- "Health spending as a percentage of B.C.'s gross domestic product was 7.4 per cent in 2001-2002 and decreased to 6.9 per cent in 2006-2007."
He quickly accelerated into high dudgeon. The NDP, Abbott fumed, were "saying that the percentage of GDP occupied by health care actually declined over those five years. That would be very interesting, were it the case. . .
"Unfortunately, the claim. . . is entirely specious. It is entirely without basis. It is utter nonsense."
And what or who was the source for the New Democrats' allegedly erroneous information? Why, none other than the left-leaning Canadian Centre for Policy Alternatives -- or so Abbott claimed.
"Well, that is the sound of hitting the bottom of the barrel, when you pull in Canadian Centre for Policy Alternatives to try to justify the absolutely specious nonsense that the NDP is trotting out here," he blustered.
"And now we're going to use their figures to try to justify specious claims about proportion of the GDP that's occupied by health care spending. Well, that's a new one."
Abbott continued his rant for about an hour (from just after 4:30 pm until about 5:35 pm) before Adrian Dix, the NDP health critic, rose in response.
"What an embarrassing performance we just witnessed," Dix began. And then he delivered the denouement.
"The source for it wasn't the Canadian Centre for Policy Alternatives. . . It's the B.C. Financial and Economic Review -- published, of course, by his colleague the Minister of Finance. That's the source of the information."
It was true. (The information in question may be found in Table A2.20 on page 95 here.)
What numbers? I see no numbers
More to the point, it is standard practice for government economists in Victoria to compare a variety of fiscal indicators to the province's gross domestic product, so as to measure the public sector's financial sustainability.
B.C.'s Public Accounts for 2009/10, for example, lists about a half-dozen such calculations, including the "ratio of net liabilities to GDP," "the ratio of own-source revenue to GDP," and "the ratio of expense to GDP."
The 2010 Financial and Economic Review offers another dozen or so, such as "taxpayer-supported debt to GDP" and "net liabilities to GDP."
And even the government's last Budget and Fiscal Plan, for 2010/11, had more than two dozen references to GDP ratios.
Revenues and expenditures, deficits and debt -- and more -- all measured against the province's gross domestic product. But not health spending. Nope; Abbott and the BC Liberals explicitly reject that sort of calculation because it only serves to expose the "health crisis" as a total fabrication.
Why Abbott is best bet to win
Notwithstanding George Abbott's disappointing performance as health minister, he enjoys several advantages that make him the (narrow) favourite to succeed Gordon Campbell as BC Liberal leader on Feb. 26.
At 58 years of age, Abbott is more than a decade older than his main rivals, Kevin Falcon, 47, and Christy Clark, 44. Unlike them, he'll probably never get another shot at becoming the premier of British Columbia. The ex-farmer, in other words, may want the top job just a little more than do they -- and will do what it takes to prevail.
More to the point, Abbott is a serious grown-up in a contest where questions have been raised as to the gravitas, or lack thereof, of both Clark and Falcon. He'll probably attract a significant number of second-choice ballots after the first round of ballot counting.
Importantly, the 15-year MLA also has taken more endorsements (18) from his caucus colleagues than any other leadership candidate. (Falcon follows at 16; Clark has one; Mike de Jong, Moira Stilwell and Ed Mayne, none.)
As well, many of those endorsements come (as does Abbott) from outside the Lower Mainland. And that brings us to Abbott's greatest advantage: he is the only candidate from B.C.'s vast Interior. The region -- his geographic "base" -- holds 24 legislative seats. Sixteen of those were won by the BC Liberals in 2009, and seven Interior MLAs are backing Abbott -- in the Okanagan: Eric Foster, Norm Letnick, John Slater and Steve Thomson; in the Kootenays: Bill Bennett; in Thompson-Coquihalla: Terry Lake; and in the North: John Rustad.
In an equal-weighted contest where every riding gets 100 votes, Abbott ought to be able to count on at least 40 per cent of the Interior's ballots. And if he can obtain as little as 20 per cent of the votes from the province's remaining 51 electoral districts (an easily achievable task with his endorsements from MLAs in Richmond, North and West Vancouver, the Fraser Valley and Vancouver Island), he should finish no worse than second on the convention's first ballot.
From that position, Abbott should advance steadily with second- and third-choice votes from those who supported candidates dropped off after the initial round of ballot-counting.
(The Tyee estimates that each of Abbott, Clark and Falcon will have between 2,000 and 3,000 votes after the first round of counting on Feb. 26, with de Jong, Mayne and Stilwell having a combined total of less than 1,400.)
Much depends, of course, on the skill of each leadership campaign team. And Abbott's was badly out-hustled by Clark's and Falcon's organizers on membership recruitment.
Still, and despite having not much more "business experience" than departed NDP leader Carole James, the ex-berry farmer is the odds-on choice to succeed Gordon Campbell.
The Tyee puts the odds of an Abbott victory on Feb 26. at 5-2.