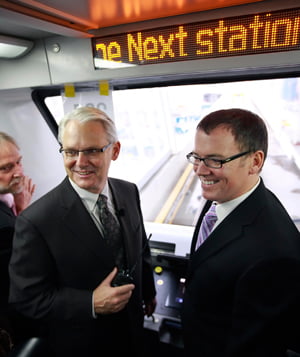 [Editor's note: This is the second of three articles in which Tyee contributing editor Will McMartin profiles the top Liberal leadership candidates and handicaps their chances of winning. Yesterday he gave Christy Clark 4-1 odds. Tomorrow the series finishes.]
Statements like the following have made Kevin Falcon the darling of B.C.'s business community:
"One of the things I'm most proud of is the fact that we're actually investing in transportation the way our grandparents used to -- that is, we're paying as we go," he said in the legislature on Feb. 16, 2004, just three weeks after being named minister of transportation.
"We're not doing it the old NDP way where you borrow money you don't have and you have your grandchildren paying the costs. We're doing it pay as you go."
A wonderful sentiment. Imagine: British Columbians today can spend billions of dollars on roads, bridges, tunnels, ferries and public transit, and pay for it out of current revenues -- without leaving a burdensome debt for future generations! Golly.
Except, Falcon didn't have a clue of what he was talking about. There never has been a time in British Columbia -- not even in the '50s and '60s, when W.A.C. Bennett incurred hundreds of millions of dollars in "contingent liabilities" for infrastructure projects, all the while claiming that B.C. was debt-free -- when transportation outlays didn't leave a legacy of debt.
"Pay as you go" is as phony as a three-dollar bill. And that's especially true under Kevin Falcon, Gordon Campbell and their BC Liberal government.
Back at the end of fiscal 2000-2001, when Campbell's Liberals defeated the governing New Democrats, British Columbia's taxpayer-supported debt for transportation infrastructure stood at $4.2 billion. Three years later, when Falcon succeeded Judith Reid as transportation minister, that figure had climbed to more than $4.9 billion.
And by the end of 2009-2010, just after Falcon left for the health portfolio, taxpayer-supported transportation debt -- that is, the financial burden (see Table A2.11 on p. 78 here) left for "your grandchildren" to pay -- was over $7.5 billion.
Debt ballooned
It's true: Kevin Falcon added close to $2.6 billion in infrastructure debt during his tenure as transportation minister, all the while rejecting "the old NDP way," and promoting a "pay as you go" philosophy.
Moreover, the BC Liberals' high-spending ways have continued unchecked since Falcon left that department. The Campbell government's last budget shows (see Table A15 on p. 170 here) that B.C.'s transportation debt by the end of 2012-2013 will have skyrocketed to an all-time high of $10.1 billion -- or nearly two-and-a-half times higher than it was when the New Democratic Party government was defeated in 2001.
(Perhaps even more shocking is the BC Liberals' massive run-up for transportation projects whose future costs have been squirrelled away under the "Contingencies and Contractual Obligations" section of the public accounts. Obligations for taxpayer-supported and self-supported transportation adds up to $16 billion (see p. 75 here).
Those numbers pretty much sum up Kevin Falcon and the BC Liberals -- long on small-government rhetoric, but well short of any provable fiscal accomplishments during their decade-long tenure in power.
Still, because of support from the business community and right-of-centre BC Liberals, Falcon is certain to be among the leading contenders when the first round of leadership ballots are counted on Feb. 26.
'My competitive nature'
Born in North Vancouver in 1963, Kevin Falcon was the second-youngest of six sons raised in West Vancouver's West Bay neighbourhood. His mother, Jacqueline, was a nurse, and his father, Brian, worked in real-estate development.
("If anyone wonders where my somewhat competitive nature comes from," Falcon said in his maiden legislative speech on July 26, 2001, "I would simply invite you to imagine growing up in a family as the fifth of six boys with parents who entered us into every sport imaginable and encouraged us to strive to be the best we could.")
He worked in the insurance field after graduating from high school -- Vancouver College, the all-boys Catholic preparatory school attended by each of the Falcon progeny -- but after becoming active in the BC Social Credit Party he decided in the mid-1980s to study political science at Simon Fraser University. He obtained a bachelor's degree and went on to work at a property development company.
At SFU, Falcon was part of a tight-knit group of like-minded friends -- John Vickerstaff, Michael Sporer, Ryan Beedie, Chris Gardner, Ray Irvine, Robin Dhir, John Aisenstat, Ray Castelli, Stephen Casson and others -- who gathered under the Young Socred banner. (Christy Clark, then just about the only Liberal on the SFU campus, often chummed around with the group.)
Social Credit today is but a distant memory, but members of Falcon's SFU cabal remain close friends and many are playing vital roles in his leadership campaign.
Creating the Team
In the years after graduation, a few of the SFU alum, Falcon among them, began to focus on municipal politics in Surrey, where they helped to transform the moribund Surrey Non-Partisan Association into a dynamic, right-of-centre, pro-development entity, the Surrey Electors Team (SET).
They scored their big breakthrough in 1996, when SET's Doug McCallum upset incumbent Bob Bose, a New Democrat, to capture the mayor's office.
(Also elected to council on the SET slate in 1996 was Diane Watts, who later broke with McCallum and became mayor after defeating him in 2005. Chris Gardner, one of the SFU crew and Watts' chief political advisor, subsequently worked as manager of intergovernmental affairs at Surrey City Hall before leaving that post a year ago. Gardner now sits on the board of directors at the Fraser Health Authority, courtesy of a Falcon appointment, after earlier serving on the government-owned BC Ferry Services Inc. board when Falcon was transportation minister.)
Kevin Falcon had found a new political home in Surrey -- and a new career as a campaign organizer. McCallum's win was followed a year later with another victory when Falcon -- then on the BC Liberal payroll -- helped to steer White Rock mayor Gordon Hogg to top place in a provincial by-election in Surrey-White Rock.
'Have You Had Enough, Yet?'
Emboldened by his growing friendship with BC Liberal leader Gordon Campbell, Falcon started a "corporate communications" consultancy. It's not clear that his firm, Access Group, had many (or any) corporate clients, but Falcon continued to make news for his work on behalf of Campbell and the BC Liberals.
In Nov. 1998 he put together a rally called "Have You Had Enough, Yet?" that drew an estimated 3,500 opponents of the NDP government to the Cloverdale Agriplex in south Surrey.
The success of that event (which he promoted as "non-partisan") led Falcon to set his sights on recalling New Democratic Party MLAs across the province, so as to overthrow the government. Launched in Feb. 1999, 'Total Recall' quickly fizzled, however, when the nascent political organizer proved unable to find the necessary funding.
Not surprisingly, Falcon's increasingly high public profile became fodder for debate in the Legislative Assembly. In May 1999, Moe Sihota, then NDP minister responsible for the public service, and Christy Clark, his BC Liberal critic, engaged in a heated exchange over the resignation of Adrian Dix as principal secretary to embattled premier Glen Clark.
"It wasn't so long ago that I was reading in the paper that the leader of the opposition [Gordon Campbell] was loath to disclose the contents of the contracts he was signing with staff for his office," Sihota retorted to a Clark question. "In fact, it wasn't too long ago that I asked the leader of the opposition, through his chief of staff, to release the content of the contract for Mr. Falcon -- what the content was, and what the terms were, and how much he was paid."
The slagging match continued for several minutes, with Clark insisting that Sihota "knows full well that the leader of the opposition and the chief of staff for the leader of the opposition's office answered those questions fully and completely," and Sihota replying that "I have not yet seen that letter."
(Tyee readers may well ponder that, with Falcon and Clark now contesting the BC Liberal leadership, Dix challenging for the New Democratic Party crown, and Sihota coming under fire for collecting a salary as NDP president, not much has changed in B.C. politics over the last dozen years or so.)
Falcon's rising notoriety did not hurt in the summer of 1999 when he made a run for the BC Liberal nomination in Surrey-Cloverdale. The newcomer easily trounced Bonnie McKinnon, the BC Liberal incumbent who, after earlier declaring her intention to quit politics, abruptly reversed course and decided that she actually liked the gig.
In May 2001, Falcon won election as MLA. Weeks later he was selected by Campbell to be minister of state for deregulation.
Red tape promises
"Ready, Fire, Aim" was a slogan popularized by Tom Peters and Robert H. Waterman in their seminal 1982 business tome In Search of Excellence. That exhortation called on corporations to avoid bureaucratic paralysis by showing a "bias to action" -- in other words: act first, think later.
That dictum might explain how the promise to "Reduce the 'red tape' and regulatory burden on businesses by one-third within our first three years," made its way in the 2001 'New Era' election platform (see p. 10 here) of Gordon Campbell and his BC Liberals.
Were one-third of B.C.'s regulations superfluous? How many regulations did the province have, anyway? No one knew, but the pledge had been made and so Kevin Falcon -- the newly minted deregulation minister -- was charged in the summer of 2001 with doing something, anything, to make it look like it was being kept.
By the spring of 2002 he was ready, introducing -- how's this for irony? -- not one but two Deregulation Statutes Amendment Acts to rid the province of unnecessary red tape.
Business men and women across the province no doubt raised a glass to toast Falcon's determination and vigor as he eliminated such hindrances to investment as the Dogwood, Rhododendron and Trillium Protection Act, the Premier's Advisory Council for Persons with Disabilities Act, and unproclaimed sections of the Motor Vehicle Act.
But the task looked daunting for, according to Falcon, his first deregulation act (Bill 8) removed "over 600 unnecessary or outmoded requirements," while the second (Bill 35) repealed "nearly 250" regulations (see here and here.)
Together, that meant only about 850 regulations had been rescinded. It was a start, but as Falcon explained, "at least 135,000" had to be removed to meet the 'New Era' target of a one-third reduction. After counting them all, he put the total number of B.C. regulations at "almost 404,000."
A year later, in May 2003, Falcon announced -- without a scintilla of proof -- that the number of unnecessary regulations he had whacked now stood at "over 60,000." This reduction was as if by magic, as he did not (and never did again) introduce any new Deregulation Statutes Amendment Acts.
By the fall of 2003, on his constituency website, the Surrey-Cloverdale MLA revealed that the actual number of regulations before he began to cut was 382,139 -- or nearly 22,000 fewer than the "almost 404,000" he had counted in 2002.
Still, a one-third reduction of that new total meant that nearly 127,000 regulations had to go.
Fortunately, the deregulation minister continued to report progress, as he did in Feb. 2004: "We're already two-thirds of the way to achieving our one-third reduction," he boasted in the legislature. The new, improved total of eliminated regulations was "over 90,000."
And a year after that, in Feb. 2005, Falcon rose in the house to claim that the Campbell government had more than met their election commitment, because, "We actually exceeded that, a 38 per cent reduction -- 150,000 unnecessary regulations gone..."
So, in just over three years, Falcon and the BC Liberals said they had abolished, first, 850 unnecessary regulations; next, over 60,000; then over 90,000, and finally, 150,000.
(In Nov. 2008, Falcon's successor as deregulation minister, Rick Thorpe told the legislature that the government had cut""red tape by 42.8 per cent, or 164,000 regulations." In Jan. 2011, Finance Minister Colin Hansen issued a news release that claimed regulations had been cut by 42 per cent, down from 360,000 to a precise 206,345. That adds up to a reduction of 153,655.)
Interestingly, as recently as Jan. 18, 2011, Falcon's leadership campaign issued a news release stating that while he had cut regulations by a whopping 40 per cent, the total rescinded was just "25,000 useless regulations."
In 2005, then, Falcon claimed to have killed 150,000 regulations; now it's one-sixth that number.
For the BC Liberals, unnecessary regulations are a moveable target -- even after they claimed to have hit it.
Big war chest
In Jan. 2004, following the BC Rail-legislative raid-inspired resignation of Judith Reid, Falcon was elevated to minister of transportation, and in June 2009 he moved to head the giant health portfolio.
He resigned the latter post in Nov. 2010 to seek the BC Liberal party leadership, and quickly announced that a Falcon-led government would cut the much-hated Harmonized Sales Tax from 12 per cent to 10. The annual cost to the provincial treasury would be more than $1.2 billion annually.
Would the government have to increase other taxes, or cut un-named services, to make up the difference? Falcon didn't say.
No matter. Falcon to date has received endorsements from 16 of his caucus colleagues, including five from Surrey and the Fraser Valley, three from northern B.C. and one from the Okanagan. He is poised to do very well on Feb. 26, especially with voters in suburban Vancouver and regions outside the Lower Mainland.
But Falcon also may be expected to do very well amongst right-of-centre Liberals in Greater Vancouver, and especially those in the business community. As illustrated in a series of news releases issued (see here and here) in January and February, that support means that he has one of the best-financed leadership campaigns ever seen in B.C.
British Columbia's business leaders, it seems, like a right-wing politician who espouses small-government rhetoric, even one who single-handedly heaped billions of dollars in debt onto the province's books.
The Tyee puts the odds of a Falcon victory at 3-1.