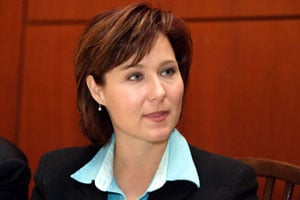 [Editor's note: This is the first of three articles in which Tyee contributing editor Will McMartin profiles the top Liberal leadership candidates and handicaps their chances of winning. Come back tomorrow and Friday for the other two.]
"For too many years towns like Mackenzie, Prince Rupert and Smithers have been slowly withering away under a government that just didn't care anymore."
It was Aug 2, 2001. Weeks earlier, Gordon Campbell's BC Liberals had romped to victory in B.C.'s 37th general election, winning every seat but two in the province's 79-seat legislative assembly. And on this day, Christy Clark, the newly appointed minister of education (and deputy premier), was standing in the house to support the government's updated budget estimates.
"Those have been towns where you walk down the street, and every time you go you see a few more 'Closed' signs, a few more businesses for sale," Clark cried. "That means that people's futures are being taken away from them."
Clark's observations on the decline of rural B.C. during the previous decade were largely correct. Between 1991 and 2001, Prince Rupert's population fell by 2,000 souls, to 14,600, and Mackenzie's dropped by 600, to 5,200. Smithers, however, actually added 400 residents to hit 5,400.
Today, nearly a decade after Clark's riff on the alleged rural neglect of the defeated New Democratic Party -- "a government that just didn't care anymore," Christy grumbled -- and close to 10 years into BC Liberal policies, how has British Columbia's hinterland fared?
Of the three towns Clark mentioned in 2001, Prince Rupert's decline has gone unchecked, its population sinking a further 1,600, to under 13,000. Mackenzie's has plunged by a stunning 1,500, to just 3,700. Only Smithers has kept its own, remaining static at 5,400.
BC Liberal policies, it seems, have done nothing to stop the downward spiral for communities located (see here and here) outside the Lower Mainland.
Geography of Clark supporters
What does this have to do with Christy Clark's bid to succeed Gordon Campbell as leader of the BC Liberal party?
Just this: what, exactly, is Clark's "base," geographic or otherwise, in the BC Liberal party?
As much as she tried to empathize with rural B.C. back in 2001, leadership rivals George Abbott and Kevin Falcon look to enjoy a considerable advantage in the contest for votes in the province's interior. The two also appear to have a slight edge on Vancouver Island, and there is a three-way battle in Surrey and the Fraser Valley between Abbott, Falcon and Mike de Jong.
That leaves -- possibly -- competitive races in Vancouver and such suburban entities as Burnaby, the Tri-Cities, Richmond and the North Shore. But even in these areas Clark faces a daunting challenge.
The fact is that the ex-MLA and radio talk-show host-on-leave faces an uphill climb insofar as obtaining leadership votes is concerned. While not impossible, her task is extremely difficult.
Clark's roots
James Martin (Jim) Clark and his wife Mavis settled in Burnaby in 1959, and it was there that a daughter, Christina Joan, was born in Oct. 1965.
A teacher and diehard Grit, Jim was an active member with the provincial Liberals in Burnaby-Willingdon, and in 1966 he carried the party banner into the general election. He finished last among three candidates, but, undaunted, represented the party again in the same riding in a 1969 by-election. Another third-place result, however, prompted him to remain on the sidelines in the next two province-wide tilts.
Jim returned to the electoral arena for a final time in 1975, but with no greater success. Christy would have been 10 years old during his last electoral battle, and she later recalled that her father "made me go knocking on doors with him, when I was uninterested and far too young to be taking up such activities."
It's hard to believe that Christy Clark ever was "uninterested" in politics. Following in her father's footsteps, she joined the Liberal Party at an early age, and after graduating from Burnaby Senior Secondary she enrolled at Simon Fraser University and played an active role (sometimes in concert with Kevin Falcon, then with the Young Socreds) in campus politics.
In 1991, the provincial Liberals made an historic breakthrough, roaring from relative obscurity to achieve Official Opposition status. Christy moved to Victoria to work as a staffer under party leader Gordon Wilson (who was forced aside by internecine conflict in 1993, and succeeded by Gordon Campbell), and later went to Ottawa as a political aide in the newly-elected Chretien government.
First elected by 468 votes
She returned to B.C. in anticipation of the 1996 provincial-general election, and became the Liberal nominee in Port Moody-Burnaby Mountain, not far from her childhood home. On May 28, at the age of 30, Christy scored a narrow, 468-vote victory to become a member of the legislative assembly.
The Liberals had taken almost 42 per cent of the popular vote -- more than two points ahead of the governing New Democratic Party -- but finished six seats behind their ideological rivals and so remained on the opposition benches.
Sadly, her father had died in 1995 and "never saw me get elected," Christy told the house during her maiden legislative speech.
'I of course withdraw any comment..."
It is customary in parliamentary politics for newly elected legislators to make their maiden speech without interruption from the members opposite. It also is unusual for a rookie MLA to have to apologize for making intemperate comments during their inaugural address. But convention was tossed aside on July 5, 1996, when Christy Clark made her initial sally into the legislative assembly.
She began by making the obligatory remarks about her riding -- "There's the beautiful community of Belcarra," and "of course, Port Moody proper, nestled in the mountains..." -- but quickly rounded into a enthusiastic denunciation of the governing New Democrats.
"When you look at the results of the election, you see that the Liberals won the popular vote, but the NDP won the election because they won in specific ridings. I think it's probably true that the government targeted specific ridings with specific promises," burbled Clark. "Then we find out, after the budget is delivered, that they've broken..."
The din from the NDP benches prompted the speaker to interject, reminding members to accord Clark the traditional courtesy of silence. "Thank you, Mr. Speaker," said the rookie MLA. "I appreciate that."
Moments later, however, the speaker again had to intervene, this time to admonish Clark. "Mr. Speaker, due to my newness in this house, I obviously have a few things to learn," Christy confessed. "I of course withdraw any comment that might have offended any member of this house."
Five years later, in the 2001 general election, Clark rode the wave to victory as Gordon Campbell took the BC Liberals to power for the first time in six decades. She won re-election in the renamed riding of Port Moody-Westwood -- this time by a whopping margin of more than 12,000 votes -- and was named both minister of education and deputy premier.
Clark held the education portfolio for a mere 32 months, and in early 2004 -- following the scandal-forced resignation of Gordon Hogg -- was shifted to the children and family development portfolio. Six months later, in September, she abruptly announced that she would not seek re-election, ostensibly to spend more time with her three-year old son, Hamish.
Within a year, however, she had thrown her hat into the ring to become mayor of Vancouver. But that mission fell off the rails when she lost the contest for the Non-Partisan Association nomination, finishing behind councillor Sam Sullivan, who went on to capture the mayor's office in the general election.
Christy settled for a consolation prize, becoming a talk-radio host on CKNW. She held that a position until recently, taking a leave of absence to contest the BC Liberal leadership.
Enough substance?
'Feisty' is one adjective observers have used to describe Clark. Others include 'partisan' and 'energetic.' As for being 'thoughtful' or 'contemplative,' well, not so much. And what, exactly, did she achieve as a member of Gordon Campbell's executive council? Did she leave a legacy of accomplishment in either the ministry of education or the children's and family department?
Put simply, does Clark have the intellectual heft, the seriousness -- to be the leader of a major political party and, possibly, premier of British Columbia?
Or is she merely another long-in-the-tooth, partisan hack, adept at heaping abuse on her political opponents (the B.C. NDP and Stephen Harper's federal Tories), but out of her depth with the fundamental tasks of policy development and administration? Time may tell.
In the meantime, as noted earlier, it is interesting to contemplate Clark's 'base' -- or lack thereof -- in the BC Liberal party. In sharp contrast to the 16 or more government MLAs that have lined up behind each of George Abbott and Kevin Falcon, remarkably few sitting legislators -- just one, in fact -- have seen fit to support Clark's bid for the party leadership.
And that sole supporter, Harry Bloy -- who was elected in 2001 in Burquitlam (next-door to Christy's old riding) and won re-election in 2005 and 2009 -- is hardly a star in the BC Liberal firmament.
Iain Black, on the other hand, the BC Liberal who succeeded Clark in Port Moody-Westwood in 2005 (and won re-election in Port Moody-Coquitlam in 2009), and now serves as minister of labour, is backing Falcon.
Clark's ideological base
What of Clark's ideological base, her long-time roots as a "Big L" Liberal? Pundits and reporters have made much of the supposed Liberal-Conservative division in the BC Liberal party, speculating that Clark may enjoy an advantage with her superior Grit credentials.
That observation, however, suggests that the Liberals and Conservatives are about even numerically in B.C. But that is far from the case: of 176 house of commons seats contested in this province over the last five general elections (that is, since Clark first won a seat in the provincial legislature), the Grits took just 33 -- or fewer than one in every five.
And in the most-recent federal general election, in 2008, the Tories garnered 797,000 votes across B.C., far ahead of the Liberals' 346,000. (The federal New Democrats obtained 468,000 ballots, and the Greens, 168,000.)
The disparity is especially noticeable in so-called rural B.C., in those regions with which Clark sought to identify in the legislature back in 2001 when she invoked the names of Prince Rupert, Mackenzie and Smithers. In 2008 the Conservatives captured 241,000 votes in the province's Interior, more than five-times as many as the Liberals' 45,000.
The contest was slightly closer on Vancouver Island -- where the Tories got 142,000 votes, and the Liberals, 68,000 -- but those results were skewed by the popularity of veteran Keith Martin in Esquimalt-Juan de Fuca, and the withdrawal of the NDP candidate in Saanich and the Islands.
In fact, the only B.C. region that gave a plurality of votes to the Grits over the Tories in 2008 was the City of Vancouver. There, the former had 81,000 ballots, and the latter, 70,000.
The odds on Clark winning the leadership
To sum up, Clark has been out of the political game for nearly seven years, and to date has won the support of just a single sitting BC Liberal MLA. Her background as a longtime Liberal makes her suspect in a province (and a provincial party) that has far more Tories than Grits.
Again, what is Christy's 'base'? One possibility may be female voters, and there are signs that the Clark campaign is making especial efforts to woo and sign up women. But can Clark depend on newly registered BC Liberal women to provide her with a sufficient number of votes to be victorious on Feb. 26?
The question is relevant given her 2005 loss to Sam Sullivan for the NPA mayoralty nomination. In that contest, Christy reportedly enlisted 2,400 new members, far ahead of Sullivan's 1,000 recruits. But when the ballots were counted, Clark had fallen short by about 60 ballots. She was capable of signing up new party members, but could not deliver them when it counted.
Will things be different this time? Maybe, but a cold, hard look at the numbers makes it difficult to see Christy Clark becoming the next leader of the BC Liberal party. Not impossible; just difficult. And especially without the support of British Columbians living in such towns as Prince Rupert, Mackenzie and Smithers.
The Tyee puts the odds of a Clark victory on Feb. 26 at 4-1.