[Editor's note: This article contains disturbing information about Indian day schools and stories of trauma and abuse. It may be triggering to some readers.]
On July 11, 2012, Beverly Abraham decided it was time to go to the RCMP.
Abraham, a member of the Lake Babine Nation who holds the Hereditary Chief name Aun/Huh, had returned to Burns Lake about six months earlier. Her daily walk downtown from her new home took her past the former Immaculata Elementary School, where she was a student from 1964 to 1970.
At Canadian Human Rights Tribunal hearings held in Burns Lake over the past two weeks, former Immaculata students shared stories of being strapped and beaten at the school. They were punished for speaking their Carrier language, for being too slow and for struggling with their lessons, witnesses who testified said.
In particular, they dreaded the boiler room, where the punishment often took place. As the tribunal toured the former school last week, one survivor described it as a torture chamber.
As Abraham continued her regular walks past the former school, which is now a church, she said she began experiencing flashbacks about her time there. By spring, she could no longer push aside the memories that were resurfacing about her former physical education teacher.
The gym teacher often kept her after class, calling her his "protégé" and his "favourite," she told an RCMP officer. She would arrive late to her next class, tears streaming down her face. She was 11 years old.
"I held everything in all these years," she said. "Whatever happened at Immaculata just kind of stayed at that school."
For decades, the only person she spoke with about the abuse was her sister.
But on that day in July 2012, she was ready to tell her story.
Her report would spark an 18-month RCMP investigation that is now the subject of a Canadian Human Rights Tribunal inquiry into whether the force discriminated against Indigenous former students alleging abuse at two northern B.C. schools where the former gym teacher worked. Now a prominent figure whose name is protected by a confidentiality order issued by the tribunal in September, he is referred to in tribunal documents as "A.B."
As Abraham's testimony began Friday, the tribunal watched the heart-wrenching video of her statement to the RCMP. As she shared her story of sexual abuse at Immaculata school with a local police officer, Abraham broke down sobbing.
The RCMP, which is represented at the hearings by lawyers with Canada's Department of Justice, said it interviewed 37 witnesses during the investigation and, while it confirmed hearing stories of abuse, determined there were insufficient grounds to recommend charges.
The complainants, who approached the Canadian Human Rights Commission with their complaint in 2016, say the investigation was flawed and racially biased, for example not taking into account historic distrust of police within Indigenous communities.
On Monday, as the hearing began its second week at the Ts'il Kaz Koh Gathering Place in Burns Lake, Mike Archie, a cultural support worker with the Indian Residential School Survivors' Society and member of Canim Lake Band, smudged each person in the room before saying a prayer.
The week before, the tribunal heard from Immaculata survivors Dorothy Williams and Richard Perry, two of three remaining named complainants in the case. The third lead complainant, Maurice Joseph, testified this week as the in-person portion of the hearings draw to a close. Abraham is considered a witness for the purposes of the tribunal. Its hearings will continue online from May 23 to June 1 and June 12 to 22.
Three additional complainants and one witness have died over the past two years. The hearing was delayed 16 months as the tribunal considered a series of applications by A.B., including his request for anonymity.
Journalist Laura Robinson, who shared the stories of physical and mental abuse in a September 2012 article in the Georgia Straight, also testified for three days last week.
Last week ended on an emotional note as Abraham began her testimony on Friday afternoon. It continued Monday with an audio recording of the officer asking Abraham for a polygraph, something he described not as a lie-detector but as a "truth verifier."
"I'm just like, 'why am I taking a polygraph when I'm telling the truth?'" Abraham told the tribunal. "It made me feel that as an Indigenous woman I was not respected."
She said she went home and cried. She vowed not to return to the RCMP.
Over the months that followed, she had several exchanges with police. Later that July, Quinton Mackie, then a corporal with the RCMP's Prince George detachment, contacted Abraham. He was taking over the case from the Burns Lake detachment, he said, and wanted to meet with her the following day.
When he and another officer visited Abraham at her home, she gave them the names of people who could corroborate her story, according to the officers' notes. Two other girls who were sexually abused by A.B. had since died, she told the officer, but she suggested he speak with her sister.
The tribunal also heard a 45-minute audio recording of Mackie's Nov. 6, 2012, interview with Abraham. As the recording played for the tribunal, Abraham hung her head, often resting it on her arms, as a counsellor with the Indian Residential School Survivors' Society comforted her.
The tribunal heard her describe on the recording how, on numerous occasions, A.B. held her back after class. Once they were alone, Abraham said he touched her, despite her asking him to stop. He exposed himself to her, she said.
"I was scared shitless," she told the officer. After the assaults, she said he let her go, telling her not to tell anybody about them.
During the interview, Abraham also expressed her fear of the police officer interviewing her. "I'm even afraid to be across from you because you're a white man and it hurts. My heart is just beating so fast right now because you're so close to me and I just get really scared," she said.
A year later, on Dec. 5, 2013, Mackie contacted Abraham and told her there was "no evidence to corroborate any of the information provided," according to the officer's notes read at the tribunal. The witnesses they'd contacted had not been co-operative, he said. Some had been impossible to reach.
Abraham told the tribunal she didn't believe RCMP took her complaints seriously or tried hard enough to reach other witnesses. She repeatedly shared how painful the process had been and expressed disappointment in the RCMP officer's investigation.
"My heart was shattered," she said. "I felt so low, so shamed, so dirty. In putting something into this man's hands, in talking to him, and then he turns around and says there's no grounds [for charges].
"I think the RCMP are too chicken shit of [A.B.]," she said. "They still are."
Around the same time that Abraham approached the RCMP, she also told her story to a journalist.
Laura Robinson was based in Toronto but visited Burns Lake in April 2012 to talk to former Immaculata students. She was looking into discrepancies in A.B.'s biography, which said he had arrived in Canada in 1974 — five years after he began teaching in Burns Lake.
When Robinson met with the community, Abraham joined the gathering. She said she didn't realize at that time that it would also be about the abuse suffered at the school. But as they waited for the journalist to arrive, the community members chatted amongst themselves.
They spoke about the abuse they had experienced at Immaculata, she told the tribunal.
Days later, she met Robinson alone at a local restaurant. Their conversation lasted close to two hours, she estimated. Two weeks later, on May 2, 2012, Abraham signed an affidavit describing her experience of abuse at Immaculata to be used in Robinson's Georgia Straight article.
"I just opened up to her," Abraham said. "This woman that came into town was the only one who listened."
Throughout the hearings, the RCMP's cross-examination has focused on witnesses' connection to Robinson, their motivation for speaking to her and whether the journalist suggested what they should say — either in their statements a decade ago or at the current hearings.
At times, Abraham's voice was edged with frustration as she responded to questions from justice department lawyer Zahida Shawkat.
"Before you signed this affidavit, did you read it?" Shawkat asked.
"Of course I read it," Abraham responded. "I'm the one who wrote it."
As Monday's testimony went long, it became increasingly contentious. During cross-examination, Shawkat pressed Abraham for details of what had been said at the April 2012 meeting with journalist Robinson — and who had said it.
Abraham declined to answer, saying they were not her stories to tell.
"It's confidential," she said. "I cannot tell you what they said."
Abraham was asked to step out of the hearing room while the lawyers settled the dispute. While RCMP lawyers argued they needed the information to cross-examine upcoming witnesses, the complainants' lawyer, Karen Bellehumeur, pointed out the irony in asking for the personal stories of those not directly involved in the hearings.
"There's been a confidentiality order issued in this case, one of the reasons for which it was issued was to protect the mental health of the individual," she said. "I think that same principle should be applied to the members of this community who have personal, private information that's been provided in confidence with no expectation that this would be now the subject matter of a public hearing."
Jonathan Bujeau, counsel for the Canadian Human Rights Commission, a party in the case representing the public interest, called on the tribunal to "carry out their conduct in a trauma-informed way that will not leave individuals being re-traumatized." He accused the RCMP lawyers of trying to make "cheap gains" in the cross-examination.
In the end, tribunal Chair Colleen Harrington offered a "compromise." She allowed the RCMP to continue with the questions but only ask about the stories of those who are left to testify — anyone who had already testified or was not part of the hearings could not be named.
As Abraham's testimony resumed, Shawkat named each of the witnesses — roughly 20 — who had yet to testify. As she was asked about their stories, Abraham looked down at her lap and shook her head, saying very little.
"It's just too hard for me to get it out," she said. "We all spoke about the physical abuse, psychological abuse, mental abuse, sexual abuse. All of that came out."
Shawkat and Bujeau again butted heads when the justice department lawyer asked if Abraham was "promised any personal gain" for participating as a witness in the complaint.
"I would just like to point out the borderline if not outright inappropriateness of this line of questioning," the commission's lawyer said, adding the question insinuated Abraham hoped for "some sort of financial gain."
He compared it to RCMP officers "victim-shaming" Abraham during their initial investigation.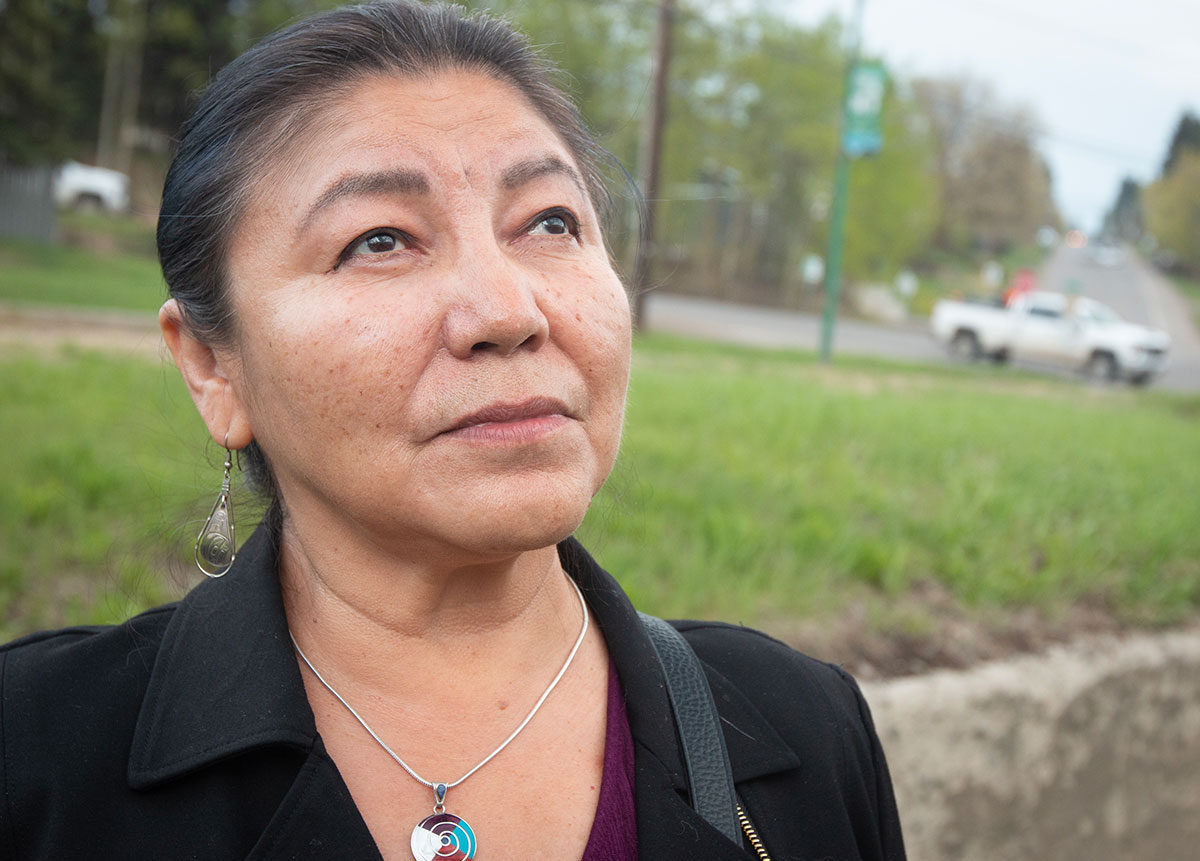 Abraham's older sister, Millie, took the stand on Tuesday. The Tyee is using her first name only in order to protect her privacy.
Also a former Immaculata student, she described how, once she'd finished school in Burns Lake, she couldn't leave the northern community fast enough. For much of the past 50 years, she's lived in Vancouver.
She said she believed that any attempts to report the abuse at Immaculata would be futile. "They're not going to do anything," she said. "Nobody trusts the RCMP, even to this day."
When Mackie arrived unannounced at her Vancouver office one morning to speak with her about Abraham's allegations, she said she felt "ambushed" and asked him to leave. She didn't trust his motivations, didn't understand the purpose of the visit, and she wanted to leave the past behind her, she said.
"If you say anything, you don't know how it could be interpreted. The police have not done very well by my people. They are not trusted, so why would I trust them? Why would I talk to them?"
The police officer made a recording, roughly one minute long, of Millie confirming she did not want to speak with him and told her to reach out if she changed her mind. They didn't talk again.
"I don't even think I kept his card," she said.