At 5 p.m. on April 5, Sarah was on Hastings Street with a plastic bin full of her clothes and bedding. Her tent had just been taken by city workers as part of a police-supported sweep to clear an encampment of more than 90 tents.
She had been handed a list of shelters, without any assurance there were available spaces.
But Sarah said she doesn't want to go to a shelter anyway because she doesn't feel safe.
"When I have housing, I want it to be safe," Sarah said. "I want to be able to have a home that feels dignified, where I can have a friend over. It's hard for me to be alone with myself — I like to have somebody with me on this Earth." The 21-year-old said she had previously lost her place in a supportive housing building because she didn't follow a rule about staying out of the stairwell.
Sarah said she didn't know where she'd go that night. "No clue," she said. "They're putting us into the worst, most deplorable conditions."
The Vancouver Police Department's reasons for removing the camp from Hastings Street included the increasing dangers it posed for residents. One post highlighted a survey of 50 women, who all said they had been "subjected to violence, including sexual assault, within the Downtown Eastside encampment."
But organizations who work with women in the Downtown Eastside say shutting down the camp has not kept women and gender diverse people safe — it's simply taken away the only shelter people had and pushed people to more isolated parts of the city.
And shelter operators say they're struggling with an influx of people who have lost all of their belongings in the continuing sweeps since April 5.
"We're hearing that some people are having their tents actually confiscated, which is potentially leaving people even more vulnerable — especially women — in terms of sleeping outside," said Andrea Glickman, a board member at the Downtown Eastside Women's Centre.
"It's not that we wanted the encampment to go on indefinitely. It's that what we wanted to have happen is safe and secure housing to deal with the actual problem."
The East Hastings decampment is different than other efforts to move tents off city parks and sidewalks. The city's previous strategy was to work with BC Housing to line up shelter, single-room occupancy and supportive housing spots for residents in advance of removing tents. During the pandemic, the province helped to secure emergency space in hotels and by transforming commercial buildings into shelters.
In this case, Housing Minister Ravi Kahlon told the legislature the city had only notified him about the sweeps hours before they began.
The Strathcona Park camp, for example, was removed over a period of several months in 2020 and 2021, and after the province had bought several hotel properties to add to its stock of supportive housing.
But since August, city workers have been giving homeless people on East Hastings a list of shelters with no guarantee that there are actually spots.
The operation the city started two weeks ago marked a new strategy: dozens of police and city workers descended on Hastings Street with a convoy of garbage trucks and moving vans and moved from block to block, removing tents and other belongings from the sidewalk. The tactic, which Glickman describes as a "raid," has been repeated daily since then.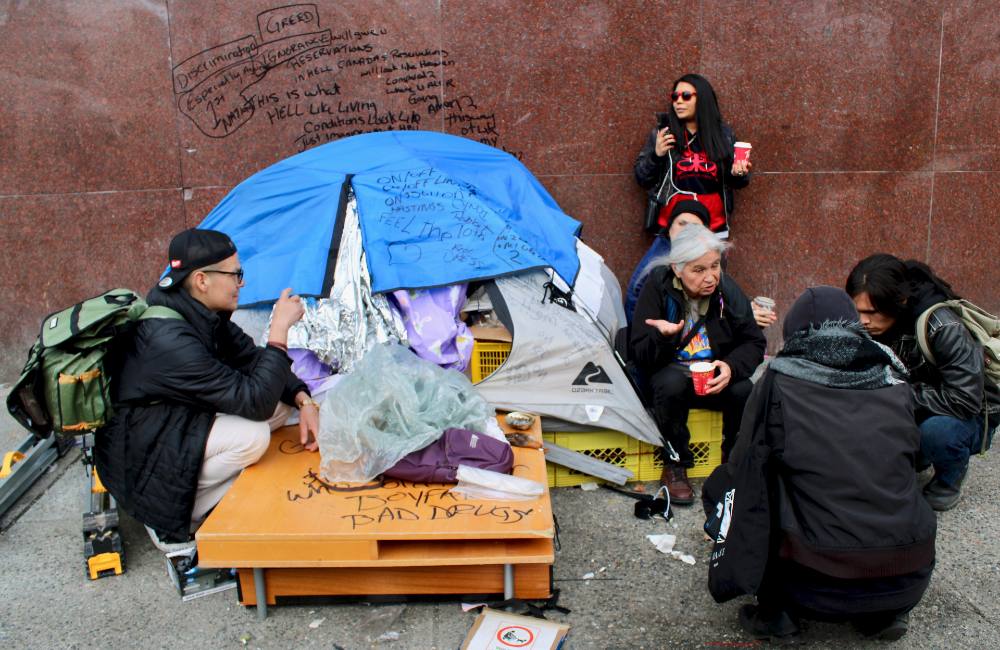 Vancouver Fire Rescue Services first ordered tents and structures to be removed in July because of the risk of fire. Throughout 2022 and 2023, there have been an unusually high number of fires in SRO hotels in the neighbourhood, and some of those fires have also involved tents or other material on Hastings Street.
While attending an SRO fire on April 1, the fire department says people living in tents on the sidewalk refused to move so that firefighters could get access to fight the fire.
The new strategy has been adopted by the city following the election of Ken Sim as mayor, who promised and delivered on more funding for the Vancouver Police Department. Dozens of police officers have accompanied city workers during the decampment, and on April 5 went so far as to block off portions of East Hastings Street and control who could access the area, including news media.
The Downtown Eastside Women's Centre runs three shelters for women with a total of 100 beds. Like other shelter operators, the women's centre wasn't notified of the operation in advance and didn't have any extra spots. Glickman said there's a need for more women-only shelters in the Downtown Eastside and the shelters the centres runs were already full every night before the April 5 decampment began.
Nicole Mucci, a spokesperson for Union Gospel Mission, said the shelter has seen increased demand and has put extra mats down to try to increase capacity. But staff have had to turn people away most nights, and have been unable to find space at other shelters for some of them.
People have also shown up with clothes soaked from the heavy rain, and have needed basic items like toothbrushes and socks replaced because they've lost everything in the street sweeps.
Although city workers have given people plastic garbage bins to store their belongings in, Mucci said people who have had their tents taken have often not known where their plastic tote has been taken or how to access their belongings.
UGM staff are also concerned about women's safety, Mucci said. While UGM's shelter is for men only, the non-profit also runs a space for women and children and outreach workers regularly were connecting with women who lived on Hastings.
"If we do a neighbourhood walk and people have been set up in certain areas, it's easier to go to them and start to build that relationship and meet them where they're at. Now we don't have that continuity in where a person might be right now."
The City of Vancouver says the encampment was not safe for women, with "disturbingly high levels of sexual assault." The city says staff made attempts to connect with and support women who lived in the encampment.
"Over the last eight months of work, engineering crews were accompanied by a female staff member from community services to support conversations with women," according to a statement sent to The Tyee by city communications staff. "On April 5 and 6, each team of city staff who were working in the encampment had a woman who was a part of their team who took the lead on discussions with women. As well, the city supported the creation of a drop-in centre to support women in the encampment."
Mucci and Glickman agree the East Hastings Street encampment was not safe for unhoused or housed people in the neighbourhood.
But the aggressive decampment has also not been safe, Glickman said.
Glickman said the city and province need to make sure there are housing options for people to move to before removing tents — not just a sheet with the names and phone numbers for shelters, but actual spots that are available, and that meet the needs of people who may have ended up on Hastings because they were not able to live in shelters, SROs or supportive housing for various reasons.
She's also calling on the city to give service providers more advance notice of the plans for decampment so organizations are ready and able to offer support to displaced people.
"And there should be data being collected on every single individual that the City of Vancouver and the Vancouver police are interacting with when they're moving people from the encampment," Glickman said. "Otherwise, we're not going to be able to have a full understanding of what the population is that's being moved around and where they're going."
The city says city bylaws will now be enforced daily on East Hastings Street to prevent people from placing tents and structures on the sidewalk.