Sherry MacDonald stood in her doorway, clutching a document that says she needs to leave her home of over 20 years in 11 days.
MacDonald and all her neighbours at 322 Cambie St. had been told the building is being "decommissioned" and they need to get out. Contractors had come by and left plywood in the alleys, telling the tenants the wood is to board up their doorways, they say.
A notice posted in the building states "this building has been decommissioned." But the property manager for the building, Tyler Johnson, said his company is only trying to board up rooms that are empty. He came to the building Tuesday with two uniformed Vancouver police officers to remove people he said had no right to be in the building.
"We have some people who are not tenants, who have been asked to leave but they have not left," said Johnson. "We have a workman here trying to board up the vacant units. [The residents] are being aggressive and preventing him from doing his job."
According to the City of Vancouver, the notice stating that the building is being decommissioned is illegal "because there is no basis to require the building to be vacant."
While Johnson said his company immediately took steps to comply with the city's building condition orders, correspondence from the city says that the property management company and the building owner were "unresponsive" to the orders.
Most of the issues flagged in the March 24 city building safety order that is now posted in the building "had been identified in previous orders," according to city staff. "Those previous orders have been referred to the city's bylaw prosecutor for prosecution and are now before the courts."
City staff say the city has informed the enforcement unit of B.C.'s Residential Tenancy Branch of the eviction attempt, and is encouraging tenants to get help from legal advocates to navigate the branch's arbitration process.
Noah Mastalier was one of the residents who were told they needed to leave, even though he had a document from the Ministry of Social Development and Poverty Reduction showing his rent was being paid. People who receive income or disability assistance benefits can ask the ministry to pay their rent directly to their landlord. The document Mastalier had stated that the ministry had sent rent cheques to pay for a room at 322 Cambie St. since May 2022.
Halima Shillah moved into 322 Cambie St. after she was forced to move from the Gastown Hotel after a deadly fire at the Winters Hotel last April that also damaged the Gastown.
Shillah said she was given a place at the Murray Hotel, but wasn't there that often and was eventually told she had lost that room, leaving her homeless for several weeks.
"I don't know exactly what decommissioned means," said Rikki Desjarlais, who shares a room with Shillah. "I guess it means they're going to shut the whole building down."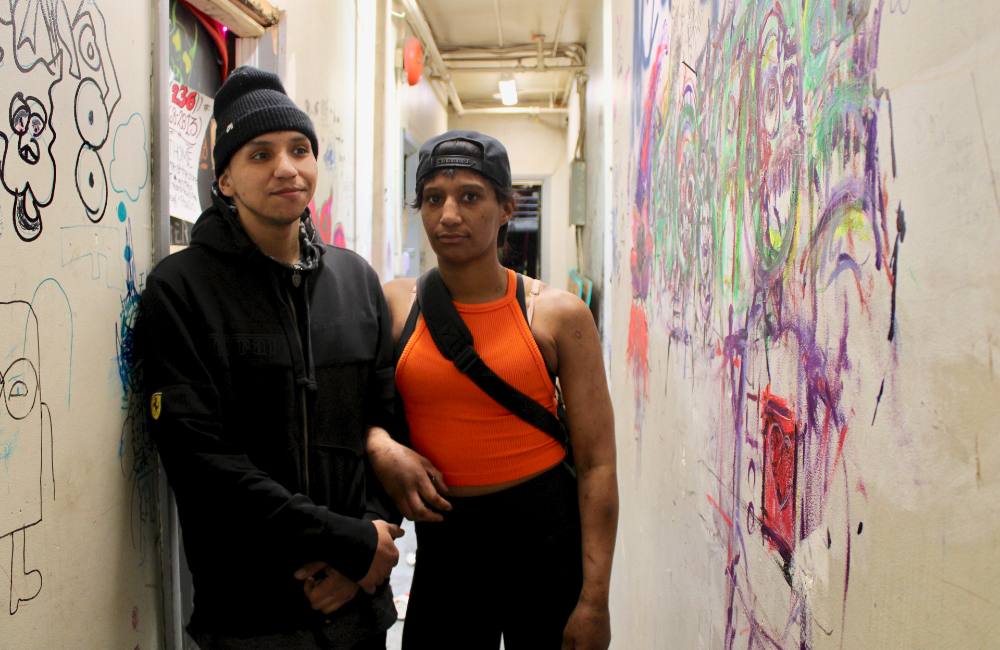 Some tenants, like MacDonald, had been told that they're being evicted because they haven't paid their rent in months. MacDonald says that after the building sold in 2020, and again in 2021, she was never told who to send the rent to — so she asked B.C.'s Ministry of Social Development and Poverty Reduction to stop automatically sending the rent portion of her welfare cheque to her old landlord.
City of Vancouver staff said outreach workers had been in touch with the new landlord months ago to explain how to set up direct deposit with the ministry. Johnson insisted that his company had posted notices in the building explaining where to send the rent.
MacDonald, who struggles with repeated infections in her legs and uses a walker and wheelchair to get around, said she never was able to find out where to send her rent cheque. Because of her mobility issues, she's now having difficulty accessing a computer to find out how to deal with the eviction notice.
"I didn't plan on leaving here," said MacDonald, who said the previous owner reduced her rent in exchange for cleaning the building. "I was planning on doing some renovations and staying. We didn't know they were going to sell the building.'"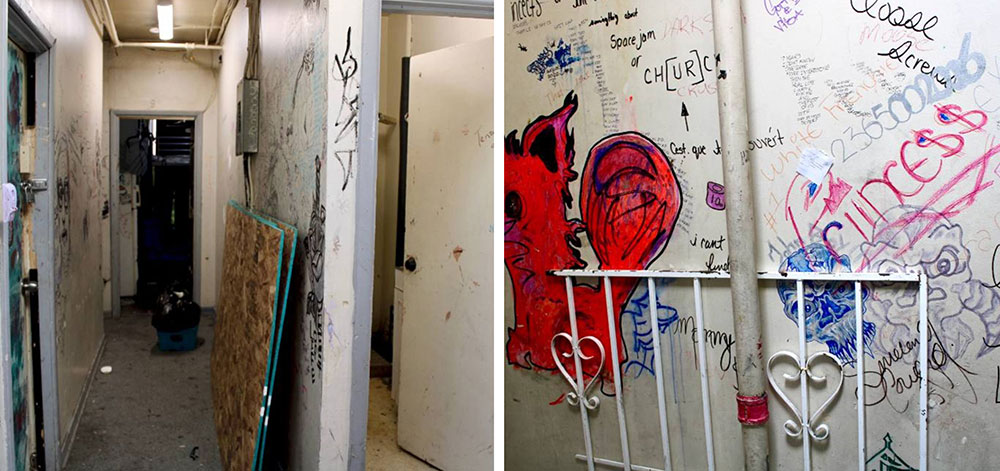 The City of Vancouver says the nine-unit building has not been condemned, but city building inspectors did order the building owner to fix a number of fire safety problems. Those deficiencies included clearing clutter out of the hallways, fixing broken doors and doors that don't have door closers, removing extension cords and other hanging items from sprinkler pipes and clearing access to the fire escape. The order also noted that the fire escape is over 10 feet from the ground.
The city had also ordered a fire watch on March 24. Johnson said he had hired a security company to conduct the fire watch, which is supposed to involve regular patrols through a building to watch for fire every 30 minutes.
The security guard on duty Tuesday told The Tyee he had only been hired to watch the outside of the building, and wasn't given keys to access the SRO. "We just have to watch the windows," said the security guard.
"That's news to me," Johnson said in response to being told the security guard was not going inside the building.
In an interview, Johnson blamed the residents of 322 Cambie St. for the poor state of the building.
"We spent a lot of money doing some work on the inside getting up to code," Johnson said. "And unfortunately, because of their loose understanding of the rule of law, common courtesy or vandalism, they continually brought things into the building to block the hallways and the fire egress. They continually and repeatedly broke the doors… broke the locks… broke the glass."
While police officers told at least one resident to leave a room in the SRO, officers later told Johnson that he would have to provide documentation for police to be able to help him remove residents.
"You have to produce some document," an officer told Johnson. "Just to cover your tracks, and then we can help you out."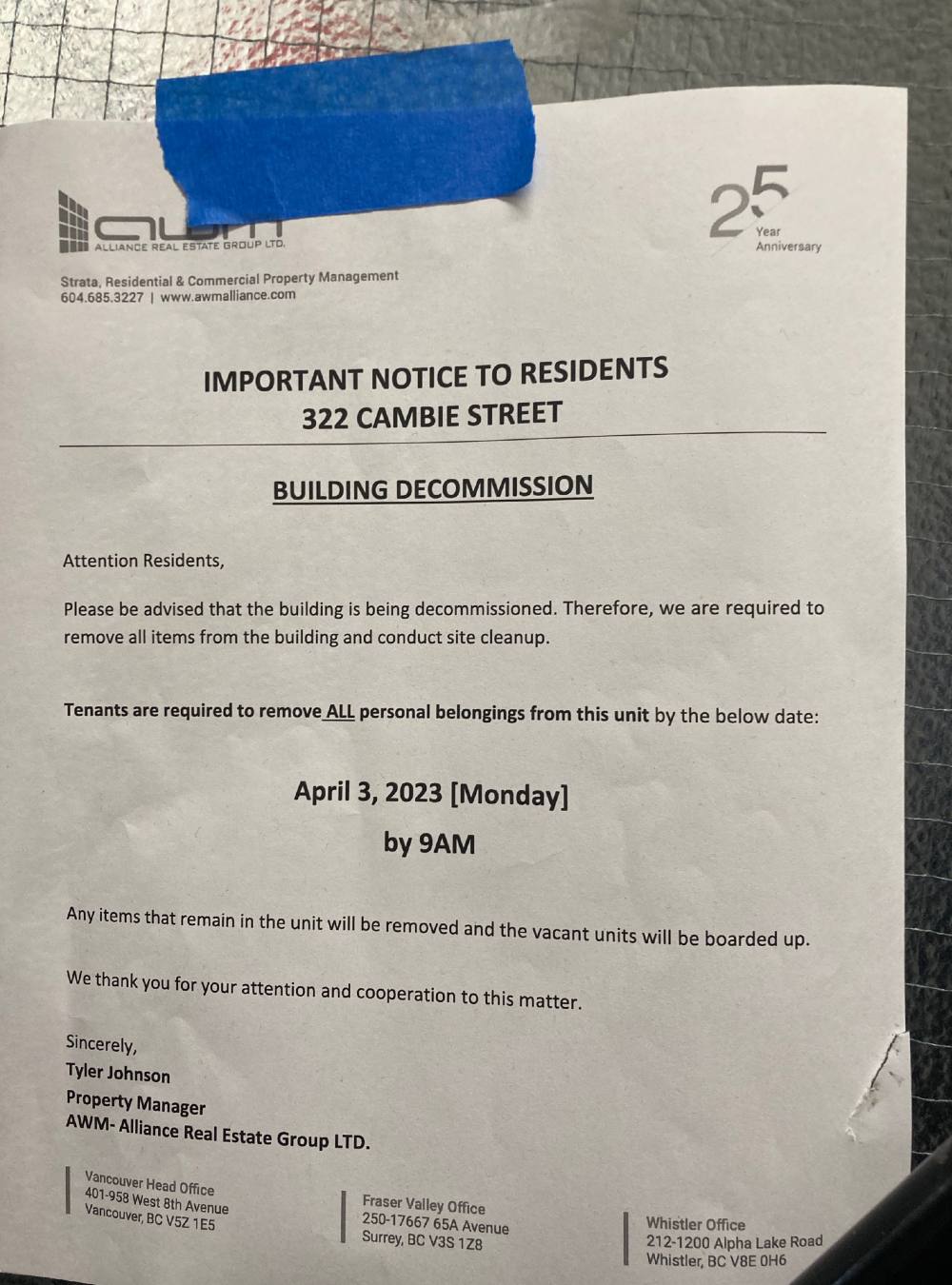 "Our understanding is that there's currently a tenant who has a lease for that room, which means the current tenant who's staying there is just staying in a friend's room right now," said Jess Gut. "That could be considered an illegal sublet, but that's supposed to be handled by the [Residential Tenancy Branch]."
Gut added that landlords have an incentive to empty buildings like 322 Cambie St., "given that the building is in a rapidly gentrifying neighbourhood and the city is already losing SRO units at a rapid rate due to neglect and fires."
Johnson works for a real estate management company called Alliance Real Estate Group Ltd. BC Assessment and land title records show that 322 Cambie St. was bought for $2.1 million in 2021, and is currently owned by a numbered company whose sole director is North Vancouver resident Babak Marzbani.