After agonizing hours of seesawing indications that either the BC Liberals or BC NDP might form a majority government, by midnight it was looking almost certain neither would. With absentee votes still to be counted in the days to come, the CBC and other media were calling it a minority government, with the Liberals at 43 seats, the NDP at 41 and the Greens holding the balance of power with three seats.
"People across British Columbia have shown that they are ready for politics to be done differently in this province," BC Green leader Andrew Weaver told an enthusiastic crowd in Victoria, where he was joined on stage by new MLAs Sonia Furstenau from Cowichan Valley and Adam Olsen who won in Saanich North and the Islands.
Weaver, re-elected in Oak Bay–Gordon Head, said Furstenau and Olsen would join him to form the "first ever Green elected caucus in North America." They and the party have worked for years to get to this point and have strived to give people something to vote for, not against, he said.
"We believe that government must prioritize the health and well-being of the people it serves above all else," he said. "The benefits of a strong economy should flow to all of us, not just the privileged few."
The Green Party has been clear that the number one priority is removing the influence of big money from politics, he said, adding that banning big money will be a pre-condition for Green support. He said he would be meeting with his caucus to identify their additional priorities.
There will be many discussions between the parties in the days ahead, but tonight is a time for celebrating, Weaver said.
Weaver thanked the Green candidates and his family, noting "It is not the easiest path to the legislature being a BC Green." And he congratulated Clark and Horgan on a hard fought campaign.
In a brief scrum with reporters Weaver said the party is open to compromise and will work with the other parties for the good of all British Columbians, not political gain.
The BC Green party's spokesperson Jillian Oliver earlier said that if the party holds the balance of power they will have conversations over the next few days with both the BC Liberals and the NDP.
The party's top condition for co-operation is support for changing to a voting system where representation is proportional to the percentage of the vote each party gets, she said. The party's other priorities are a ban on corporate and union donations, as well as a cap on individual donations.
At the outset of the campaign Weaver declined to say how many Greens he hoped would be elected, other than to say the party was running to win a majority and form the government. He is also on record saying that if the party failed to gain seats, he wouldn't run again in the next election.
During the campaign Weaver highlighted his party's decision to no longer accept donations from corporations and unions, which he said set his party apart from the BC Liberals and NDP. He also proposed raising taxes, especially the one on carbon, to pay for free daycare and other commitments.
The party opposed the Site C hydro dam construction on the Peace River, liquefied natural gas exports and the Trans Mountain pipeline proposal.
Weaver frequently cited polls that he said showed the Green Party had momentum and he selectively quoted figures that were positive for the party, including support on Vancouver Island. Close to voting day polling companies were measuring Green support at between 17 and 19 per cent.
The Green Party's best result previously was in 2001, when it took 12.39 per cent of the vote. It had declined over the last three elections to a low of 8.13 per cent in 2013.
"I think it's a terrific result for BC Greens and I think it's a good result for the province," said former Green Party leader Jane Sterk, who was at the party's celebration at a Victoria hotel.
She said she's hopeful the result will reduce the polarization in provincial politics and starts conversations between all three parties.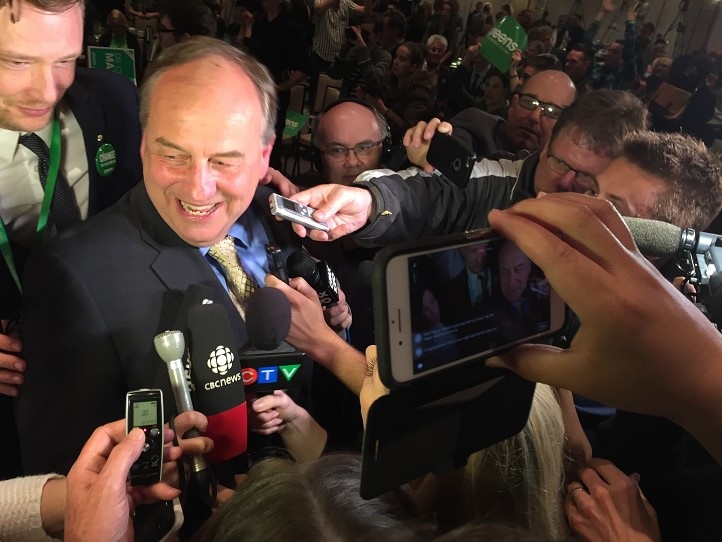 The party had a breakthrough in 2013 when Weaver won in his riding, Sterk said. "Getting someone elected is critical. Andrew has been a good MLA and a good leader for the party."
She said Weaver was successful in recruiting strong candidates like Furstenau in Cowichan Valley and the party is better organized and funded than it was four years ago. "It's exponential improvement over where we were in 2013." — Andrew MacLeod at Green campaign headquarters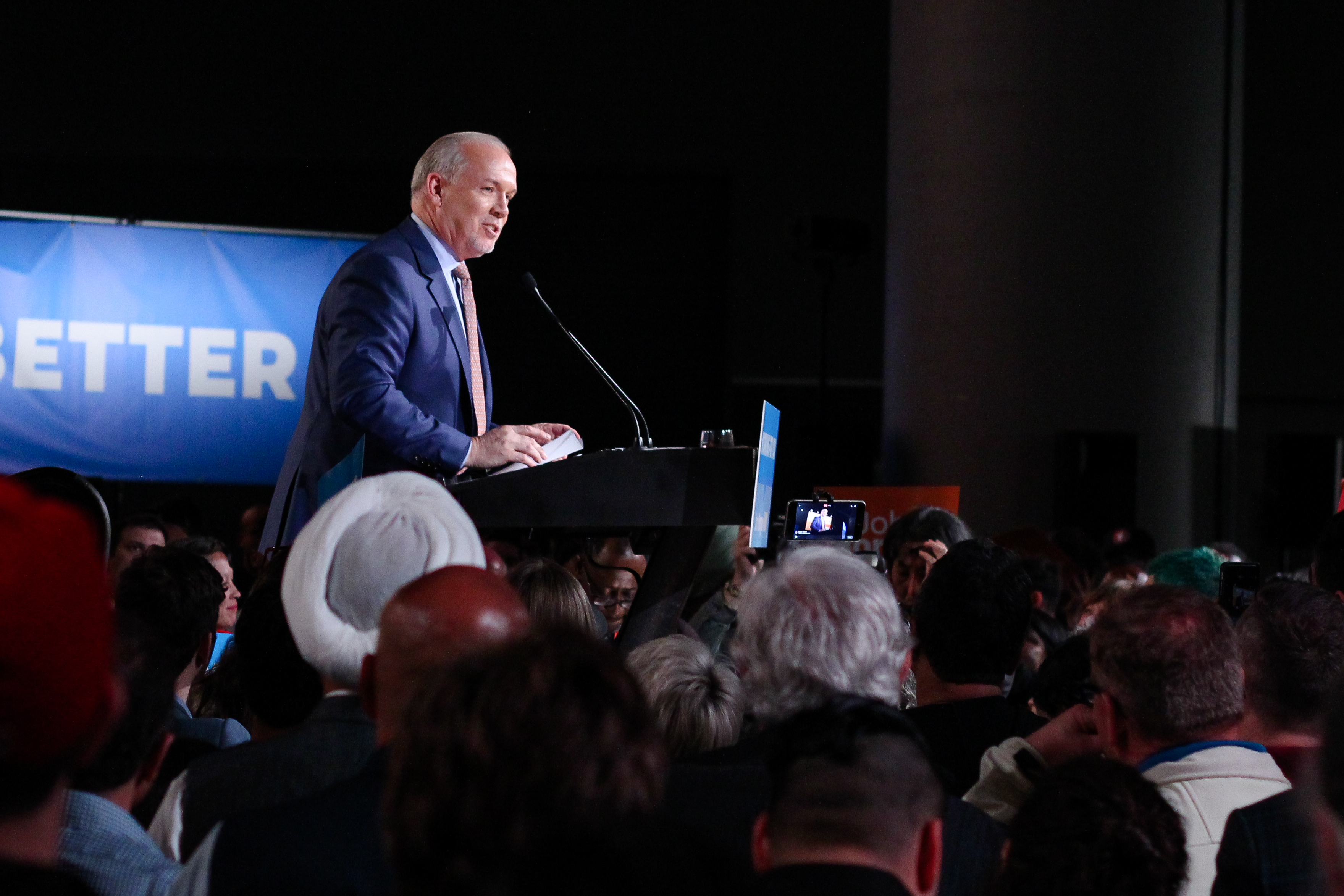 'A MAJORITY OF BRITISH COLUMBIANS VOTED FOR A NEW GOVERNMENT': HORGAN
For more than three hours there was energy in the room at the New Democrats' headquarters in downtown Vancouver, but as the evening dragged on it faded.
The later it got, the more people snuck out the doors as the only the hardcore dug in to watch the slow changes to and fro of the seat count on the big screen.
Federal New Democrat MP Don Davies said his party ran a good campaign, praising the lack of faux pas at campaign events or otherwise. "I thought our communications were great, we had great advertising," Davies said.
He went on to predict an NDP victory in the race.
At a point when it looked like a Liberal minority government would be the result MLA Spencer Chandra Herbert, freshly re-elected said, "I'm hoping we can ban corporate and union donations. I'm hoping we can finally get action on climate change.
"But at this stage it's too hard to say what the coalition or what the minority or majority could look like."
He added Clark would likely "fight and scream" to keep her corporate and union donations.
As Horgan took the stage around 12:30 a.m. the crowd mustered the last of its strength. He began by talking about the new MLAs elected and the shift in dynamics offered by a potential minority government.
He asked the crowd to "wait a little longer" to know the final results of the race.
"What we do know is a majority of British Columbians voted for a new government," he said.
Horgan went on to say the results had thus far symbolized a desire for proportional representation, action on climate change and an end to big money in provincial politics.
He finished saying the results would set B.C. on a new path for the province.
"This campaign has always been, not about me, but about us," Horgan said. "Our campaign was focused on people from the start, in the middle and the end." — Jeremy J. Nuttall at NDP campaign headquarters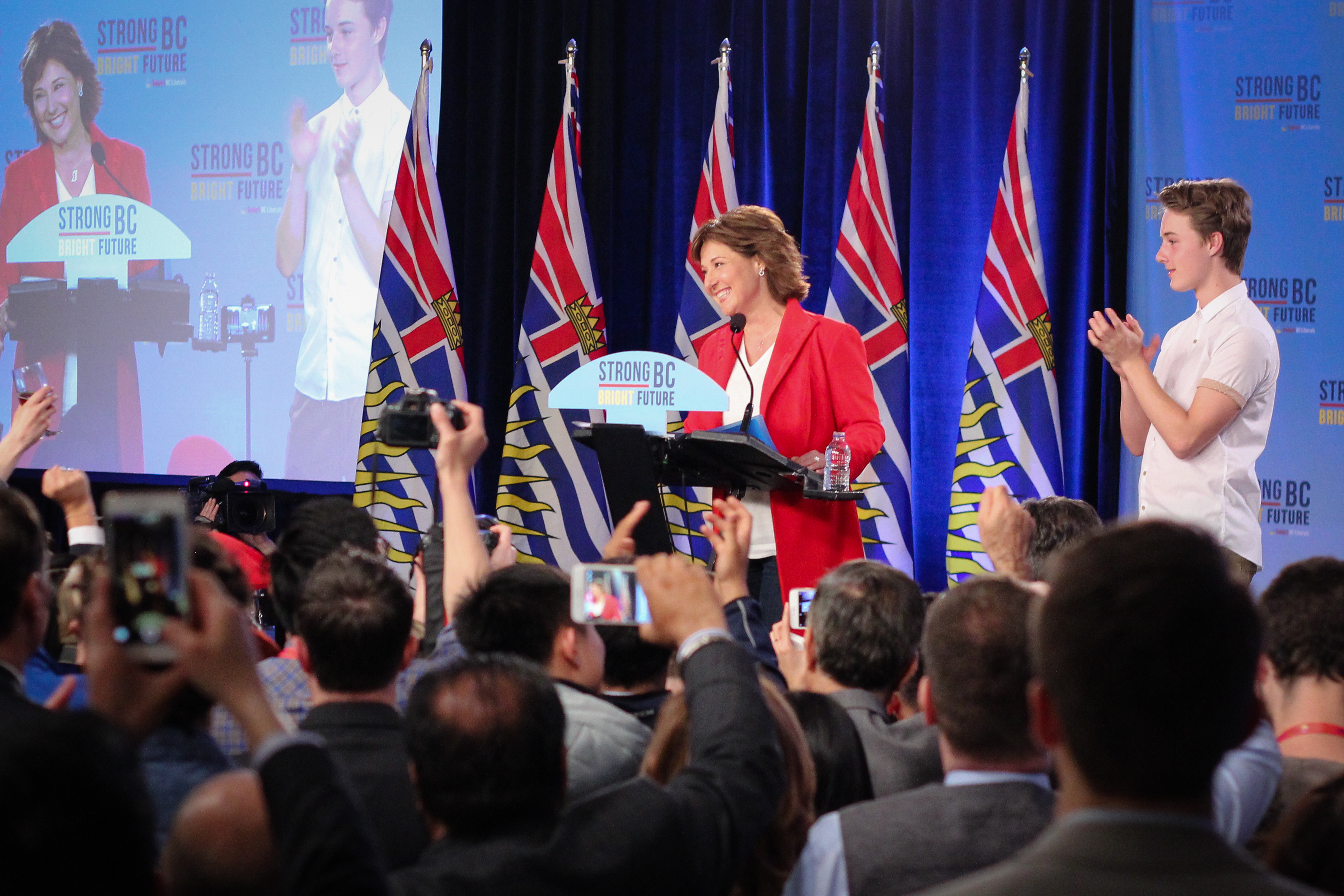 'IT IS MY INTENTION TO CONTINUE TO LEAD BC'S GOVERNMENT': CLARK
"Some things only happen in British Columbia," said Christy Clark, after she took the stage at the Fairmont Waterfront ballroom shortly past midnight. An announcer introduced the BC Liberal leader as "Premier Christy Clark," even though the polls were still too close to call at that point.
Much like the Supreme Court ruling in favour of the teachers' union last fall provided her government an "opportunity" to spend more money on education, Clark took a positive view of the very close election results.
"We have been presented with an opportunity by British Columbians to open a whole new dialogue in our province, in our legislature," she said to a raucous but half-filled hotel ballroom in downtown Vancouver.
"British Columbians did tell us tonight that they want us to do some things differently: they want us to work together, they want us to work across party lines, and they want us to find a way to get along so we can work for the province that all of us love so very, very much."
The BC Liberals, who swept into power in 2001 with all but two of the province's 79 seats, had maintained their majority government status for 16 years before last night. Initially headed by Gordon Campbell before Clark — Campbell's first education minister and deputy premier — took over leadership duties in 2011, the party had remained mostly steady since 2009 until now.
Despite the mounting scandals, most recently Clark's $50,000 salary top-up from the party, government's Supreme Court of Canada defeat over teachers' bargaining rights, and an ongoing RCMP investigation into the party's campaign financing, which we know has amounted to at least $250,000 in illegal campaign contributions so far, the Liberals offered little in the way of change during the campaign.
Instead the party stuck to their greatest hits: jobs and economy, bolstered by already-promised natural resource mega projects like the Site C dam and 19 LNG export terminals. There was no mention of the still growing homelessness crisis in the platform or on the campaign trail, and the party refused to address questions about the 2,400 overdose deaths in B.C. since the last provincial election.
This apparent minority government win did not come easy for the Liberals, however, who spent much of the evening neck and neck with the NDP. Stalwarts Peter Fassbender, Suzanne Anton, and Naomi Yamamoto were defeated by New Democrats, while NDP newcomer Morgane Oger came very close to ending Liberal Sam Sullivan's Vancouver-False Creek reign before he pulled ahead to defeat her by a few percentage points.
Former Non-Partisan Association school trustees Ken Denike and Sophia Woo, who helped with Liberal Michael Lee's successful campaign in Woo's home riding of Vancouver-Langara, were some of the few recognizable faces in the crowd before Clark's speech. The pair credited the Chinese community — particularly in the election of NDP's George Chow in Vancouver-Fraserview and Katrina Chen in Burnaby-Lougheed — as well as millennial voters, with the party's rougher run this time around.
"We had a great deal of frustration on the part of millennials," said Denike, referring specifically to the impacts of housing costs and a low median income in Vancouver on the younger generation.
"I thought it was going to be close, but not this close."
It's not the result the 16-year-majority governing party had expected. But Clark was not shy about calling the election in her party's favour.
"Tonight, we won the popular vote. And we also won the most seats," she said, adding she was confident absentee ballots would strengthen their margin of victory. "So it is my intention to continue to lead British Columbia's government.
"Our free enterprise coalition is as strong as it has ever been." — Katie Hyslop at BC Liberals campaign headquarters.