Changes made to B.C.'s restaurant employment laws in 2011 have made women increasingly vulnerable to sexual harassment on the job, according to new research.
University of Victoria PhD candidate Kaitlyn Matulewicz has studied in-depth the effect of the liquor server minimum wage on the working conditions of female servers of food and drink.
British Columbia's liquor server minimum wage was lowered by the BC Liberal government six years ago with the justification that servers earn tips that boost their income. The new rate was 25 cents lower than the regular minimum wage when it was first implemented. But over the past five years the gap has widened.
Liquor servers in this province now earn $1.25 lower than the current minimum wage of $10.85 per hour.
This makes servers even more reliant on tips for their income. And whether it's plain rudeness or actual harassment, Matulewicz says, servers often put up with bad behaviour because they need customers to leave a decent tip.
"The women I interviewed either just like take it, laugh it off, endure it to get through the night or quit when they've had enough of what they're experiencing," she says.
The lower minimum wage for restaurant servers, she says, legitimizes the role customers play in paying workers for their labour.
"I build the argument that that tipping reinforces the sexism and sexual harassment because I have quotations from women saying 'I don't think I would tolerate this if I wasn't getting tipped,'" she says.
It's not hard to find servers who corroborate Matulewicz's conclusion. Of the eight women interviewed for this Tyee three-part series, many say they keenly feel the power imbalance that occurs in a workplace environment where your income depends, in large part, on the customers you're serving.
In fact, the only server interviewed for these stories who shrugged off the importance of tips was a server in a unionized pub.
"I am fortunate enough to say that because I'm unionized I'm making a lot better money than most servers are and more than I have in any other restaurant," said Kelly, who like most interviewed, asked that her real name not be used. "I'm lucky enough to say I've never felt like I've had to live off of tips."
For most servers, tips are the whole point of the job.
"Paycheques are nothing compared to your tips," says a former server we'll call Laura. "Paycheques are often an afterthought. Like, 'Oh yeah, paycheque, sweet. Fun money.'"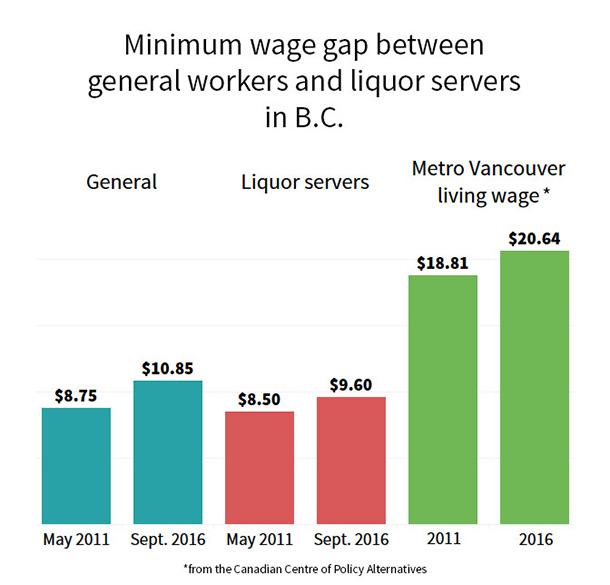 Tips are not only the bulk of a server's income, Laura says, they're also motivating. She, like many servers, gleaned a sense of power from being able to affect how much money she made by delivering better service. But the more she's thought about it, the more she's realized that tipping contributed to the problems she experienced at work.
The attitude taken by many customers, she says, is "You have to do whatever I want you to do and I can treat you however I feel like treating you."
Over the years, Laura has come to see tipping in a different light. She's done the math and she's not impressed.
"If you take the average server wage and you keep track of it and you divide it like you would an annual income, servers don't actually make that much money," she says. "They don't make as much as they think they do."
Servers are like gamblers, she says. They get a high from the tips that they make and they downplay the bad days. Serving's not as lucrative as it seems.
The tip out trap
Tip outs present further problems for servers in British Columbia. Ontario passed new legislation this year preventing employers from taking servers' tips or deducting breakage or damage. B.C. has no such rules, and advocates say this isn't fair.
Mark Thompson is Professor Emeritus at UBC's Sauder School of Business and a research associate with the Canadian Centre for Policy Alternatives. He's been researching labour conditions in British Columbia for several decades.
He says the lack of protection of gratuities within B.C.'s Employment Standards Act leaves restaurant servers vulnerable. Servers earn a lower minimum wage because it's presumed that they're earning a lot of tips, he says. But their tips aren't protected under the law.
Servers are usually expected to tip out — pay a portion of their tips — to bartenders, bussers and sometimes kitchen staff. The lack of standard rules for tip outs drives servers crazy. Laura says tip out practices at many of the restaurants she's worked at result in servers sometimes ending up out of pocket at the end of a shift.
"There's been so many times when a server will walk away with negative money. They had a bad night. People were mean. Their tables were cheap. And they had to tip out so much to back-of-house that they end up walking out with nothing," she says.
'Because they're your boss you put up with it'
Complaining about tip outs — like complaining about any other part of the job — is a sure road to losing income, according to almost every server interviewed for this story. Restaurant work is so precarious that getting a reputation as a complainer jeopardizes your shifts.
Morgan says she put up with everything from unfair tip out policies to harassment from managers because she needed money.
"Because they're your boss you put up with it. You want to make sure you get the good shifts. You want to get your time off approved. You want to have the good sections. You want to be able to make money. So you're going to do whatever they want," she says.
It's a working environment that relies heavily on favouritism. Servers say the lack of guaranteed minimum hours means people aren't likely to speak up for themselves. And there's plenty they wish they could speak up about.
"Most places I've been there's illegal things going on. And you just have to deal with it. It's the industry," says Emily.
Wage theft is a common problem — from unpaid overtime to hours skimmed off of paycheques. But restaurant workplace culture discourages complaining of any kind, she says.
"I can take jabs at people but as soon as I cross over into genuine distaste or anger or resentment it's like 'oh, you're ruining the party that is serving. This job is supposed to be fun,'" she says.
Many say that complaining results in servers being scheduled for less lucrative shifts or simply seeing scheduled hours drain away until you get the hint: you're no longer wanted. Time to look for another job.
"I've seen a lot of people being phased out of the job without being told that's what's happening," says Emily.
It's the only industry she can think of where the slow fade is an acceptable way to fire someone.
"It's like dating a really douchey guy," she says. "You know, those guys who are just like 'oh I'll just be a dick to her so eventually she'll break up with me.' That's how the restaurant industry runs."
Servers are left with little recourse when it comes to standing up against unfair and illegal employment practices in restaurants.
High turnover, lowered enforcement
Labour economist David Fairey is a research associate for the Canadian Centre for Policy Alternatives and co-chair of the BC Employment Standards Coalition. Fairey says the fluidity of the restaurant industry's workforce is one of the reasons employment laws are so often violated.
Restaurants come and go quickly. Staff turnover is high. Since you don't need a license to be an employer and restaurateurs don't receive training in employment law, he says, abuse flourishes. Problems persist because "no one has seriously challenged them," he says.
Fairey says the demographics of the workforce are another contributing factor.
"I think they just exploit the fact that most restaurant workers are part time, casual and are young. Workers are not aware of their rights," he said.
And even when they are, Fairey says, the process for filing a complaint with the Employment Standards Branch in B.C. has become increasingly difficult over the past decade and a half.
Since 2001, Fairey says, there's been a 47 per cent per cent reduction in ESB enforcement officer staff and 50 per cent of ESB offices have been closed. Employees with complaints about employment law violations are now required to fill out a 16-page "self-help kit" and address the issue with their employer before receiving any assistance from the Employment Standards Branch.
This process, says Fairey, discourages workers from filing complaints.
Laura considered going to the ESB about some of the problems she had. She even looked into the complaints process. But she always stopped short of taking action.
"You think about it and you're like 'ugh, I don't want to lose my job. And all my friends work there. And, ugh, just suck it up,'" she says.
"Suck it up" is a frequent refrain among restaurant servers. Many say the benefits of the job outweigh the frustrations. Restaurants offer young people a low-barrier way to make a decent living. That's a rare thing these days. And they appreciate it.
They just wish their rights were better protected.
"Maybe it just needs to be acknowledged," says Laura. "Maybe if the government just kind of pretended it was looking."
'Is this really worth it?'
Young Canadian women, raised in the era of third wave feminism, struggle with the culture that persists in restaurant workplaces. Laura's friend Jennifer worked in restaurants for six years while she was earning her degree.
"I have a social work background, counselling background, feminism background, and I would have died if any of the people within my intellectual circles witnessed some of the things that I experienced when I was serving," she says.
She says unwelcome comments and unwanted touching were a regular part of the job at the lounge-style restaurant she worked at in Victoria.
"It did not align with how I allow men in my life to talk to me. But I thought, well this is a job, I'm not going to have an argument with every single man who comes in here and uses sexist language because I'm just not going to make any money," she says.
But the way she was expected to present herself clashed hard with her sense of self. One night, during her final year of university, she was bartending when her practicum supervisor came into the restaurant.
"He came in and sat at the bar," she says. "He was right in front of me and I was wearing a low cut shirt, a miniskirt and boots and I just felt absolutely mortified. Like 'is this really worth it?' You're trying so hard to build your professional image, to be looked at as an intelligent woman and here you are asking your male boss what martini would he like tonight."
Tending bar, though, got her through school.
"If I didn't work in bartending while in school I probably would have had a lot more debt," she says. "Definitely."
The money is what keeps many young women in the industry, tolerating working conditions that conflict with their values.
"I saw people go in with the greatest intentions and then not pursue their own careers just because the cash becomes too tempting," says Jennifer. "And you can get suckered into this cycle. Because everyone knows the first few years out of your degree you're not going to get paid what you're worth by any means. So it's a hard transition."
Morgan is happy at her current job in a high-end burger joint, but she worries about finding a non-serving job when she's finished school. She has co-workers who have expensive degrees but still wait tables because the money's too good.
"When I was in my first year I'd ask my co-workers 'What do you do?' And they were like 'Oh I have a kinesiology degree.' Or 'I'm doing my master's now.' And I was like, 'Great, I can't wait to finish university and continue serving,'" she says.
She worries that her bachelor degree — a double minor in history and legal studies — won't be enough to get her out of the restaurant industry. You need a master's to get a decent job these days, she says.
"It's just not enough with just a degree anymore."
Part two: What it feels like to cater to sexist customers, bosses in B.C.'s restaurant world.