Political action and a campaign to oust Christy Clark's government next May were at the centre of the BC Federation of Labour's bi-annual convention in Vancouver, but inequality, poverty and the negative effects of globalization were hot topics for the approximately 1,500 delegates.
Here is a summary of the comments made on some of the big issues.
On political action:
"Stop Harper" was a big issue at the 2014 federation convention. This year, "Stop Christy" became the rallying cry.
A reduction in public sector jobs, legal battles over government contract stripping and the decline of many industries, including forestry, were all cited as examples of the ways the current government is hurting unions.
Mike Nuyens, executive vice-president for the B.C. Government and Services Employees' Union said "Over the last 15 years every single one of us every single person in the labour movement have been attacked in some for or another by the Liberal government."
NDP leader John Horgan told the convention that the BC Liberals have consistently introduced policies that hurt working people. Fees and rates for public services like BC Hydro, ICBC and tuition have steadily increased in the last 15 years. "The only thing that has gone down under Christy Clark's watch are taxes for the wealthy."
During the launch of the federation's "Better Can Happen Here" political campaign, president Irene Lanzinger called for union members to unite and support the NDP in the spring election.
"We have the power to make British Columbia a truly great place to live, a place where our economy is based on good jobs and good wages, not on precarious work, a place where we invest in critical public services like health care and education instead a legacy of privatization and underfunding," she said.
On the Trump factor:
Donald Trump's election was discussed frequently, with some delegates calling it a warning and others seeing it as a distraction from issues within our own borders.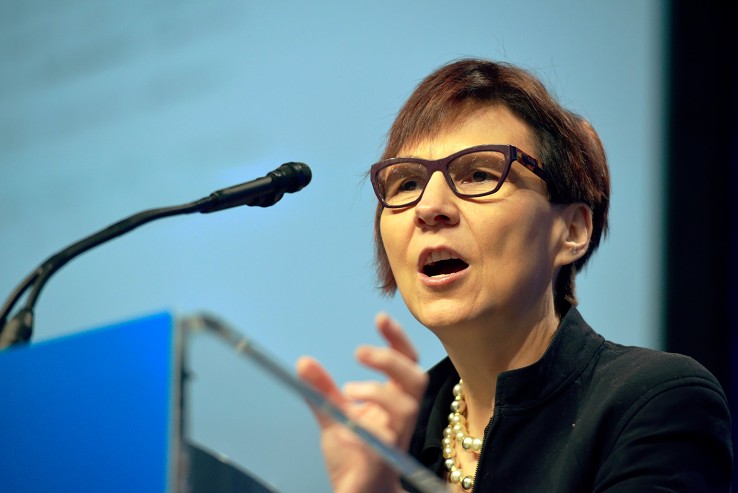 "We look south of the border at what Trump is about do to there in horror… but our own country is racially discriminating against little kids and we need to take care of business here," said Cindy Blackstock, executive director of the First Nations Child and Family Care Society. She said the federal government underfunding leaves children on reserves with substandard services compared to the rest of Canadian children.
Delegate Darcy Lindberg, a member of the United Steelworkers Union, said Trump's election — largely supported by blue-collar workers — was a warning of how easily people can be swayed by a single promise.
"I think we all have to look at ourselves in the mirror and more importantly look at the people that are next to us at our job sites," he said. Workers should focus the political conversation on big picture issues like jobs and the economy and encourage their peers not to vote based on party positions on minor issues like hunting regulations.
BC Fed secretary-treasurer Aaron Ekman raised concerns that Trump-style rhetoric would spread to Canada. "We're seeing some candidates from the Conservative leader race talking about having to subject people to a Canadian's values test in order to stay here," he said. "This kind of rhetoric is a direct threat not just to democracy but to workers' rights and to the middle class."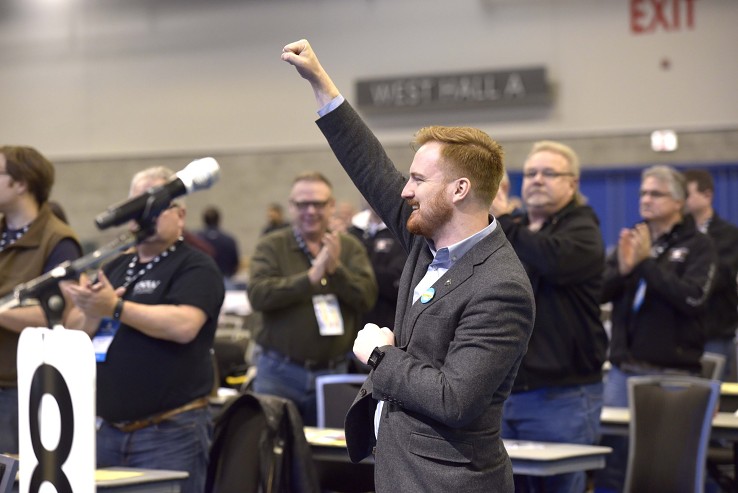 On the rising cost of living:
From housing affordability to stagnant wages, delegates voiced frustration at the challenges of staying afloat in B.C. today.
Sue Powell, a Parksville city councillor and NDP candidate for Parksville-Qualicum, told the crowd she's running to address those issues. "I'm tired of watching people in my community line up for soup kitchen and food banks. I'm tired of seeing more homeless people on our streets."
Terri Van Steinburg, secretary-treasurer of the Federation of Post-Secondary Educators of B.C., said the number of well-paying union jobs have dwindled while tuition fees have gone up, creating grim prospects for young people and recent graduates. "That's a hell of a way to start a life when you're already in debt by $80,000 before you've even finished school," she said.
Diane Wood, of the BC Federation of Retired Union Members, said she's also worried about the new generation entering the workforce. "They can't afford to even rent a place, let alone go out and buy a home."
Delegate Sheryl Burns said housing prospects are even worse for those with disabilities who have just seen a small benefit increase clawed back http://thetyee.ca/News/2016/08/22/Food-Or-Bus-Pass/ through a jump in bus pass costs. "What you see is people are either living on the street or they're living in substandard housing that they are not able, literally, to leave."
On jobs shipped overseas:
Many delegates expressed anger over the closure of lumber mills and other industries as jobs move overseas. Some called for more government support and investment in these local industries and advocated for tossing out international trade deals such as the pending Trans-Pacific Partnership and recently approved Canadian-European Union trade agreement.
Shirley Ackland, mayor of Port McNeill, said mill closures have devastated her community as the forestry industry shifted from processing timber locally to shipping raw logs to foreign mills. "I watch millions of dollars every day drive out of my community to be loaded on ships that go overseas," she said. "We have some of the most stringent forest practices in the world… We need to showcase what we do in the forest industry, do it here, do it well and stop sending the logs out of this province."
Delegate Joey Hartman said international trade agreements have broader repercussions that impact all Canadians. Policies that favour corporations over consumers could have negative implications for the cost and access to pharmaceutical products, he said. "We can kiss ideas like a national pharmacare program goodbye."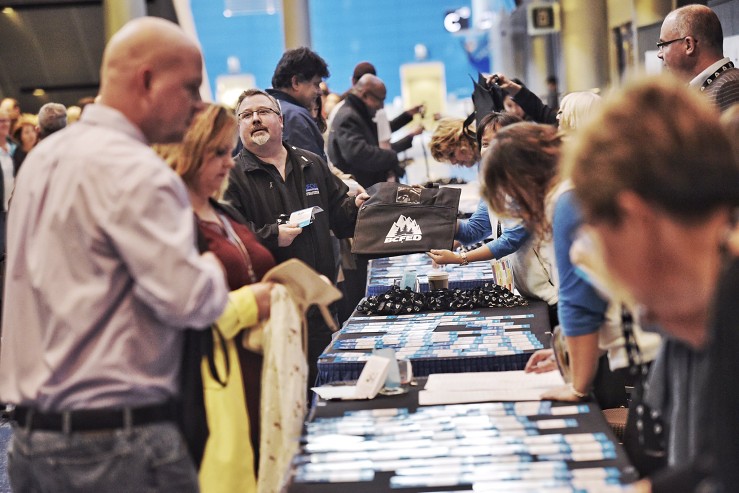 On care for children and seniors:
The BC Federation of Labour is advocating for more government support for the care of children and seniors, with many delegates talking about the challenges of caring for both children and aging parents.
Barb Biley, of the Hospital Employees' Union, said the public should be alarmed by the privatization occurring in seniors' care and health care. "The fight we have to wage is the fight against the abdication of the social responsibility of health care," she said. "It should be illegal to make profit in education or health care. These are social commitments."
Christine Fuller, a delegate who works in a seniors' care facility, said staff at facilities like hers are overworked and the quality of care residents receive is shameful. "I'm feeding them disgusting slop," she said. "It's all because it comes pre-made, frozen, defrosted, reheated and then I get to serve it to them."
The BC Federation of Labour convention ended Friday with the swearing in of re-elected president Irene Lanzinger and secretary-treasurer Aaron Ekman. The federation's member unions represent about 500,000 workers.