[Editor's note: Affordable housing used to be an accepted right in Canada. For many it's increasingly out of reach -- a silent national crisis. In this election-year series, the Tyee Solutions Society looks at what's failed, and how it can be fixed.]
What do St. John's, Newfoundland, and Vancouver, B.C., have in common? Aside from an ocean view, it turns out both cities have experienced inflows of outside money that have pushed the price of local housing up beyond the reach of many.
They're about as far apart as Canadian cities can be, but the similarities -- and differences -- between these two cities' housing markets illustrate the range of causes contributing to what many are calling a national shelter crisis in Canada. According to the country's national housing agency, more than one in four Canadians who rent their homes cannot really afford them.
With house prices rising twice as fast as Canadian wages, the prospect of moving from renting to owning is falling ever further out of reach for most. For the aging, even ownership can feel like a prison.
Life on the brink
Every experience of the housing crisis is an individual one, as our reports over the past two weeks vividly illustrate. Challenging circumstances and systemic barriers are personal and demographic, local as well as national.
Canada is releasing more ex-offenders to the street without the support -- or oversight -- of parole service. That's making it harder for ex-convicts like David Jolivet to escape a vicious cycle of jail and homelessness.
After centuries of cultural genocide, Canada is seeking to move toward reconciliation with its first peoples. But generations of economic disadvantage have left today's young aboriginal professionals like community leader Melanie Mark without the accumulated family assets that some other millennials can lean on.
Family stresses force a disproportionate number of gender identity non-conforming adolescents onto the street, while for seniors even home ownership is no bulwark when health and mobility problems arise.
While some housing problems can be traced to roots remote from price and vacancy rates -- ill-considered past criminal choices; conflicted parental expectations; deep legacies of racism -- others are all about market forces.
In Vancouver and St. John's, outside investment has pushed up the price of local housing so much that local residents struggle to afford a suitable roof over their heads. A boom in offshore oil meant newly fat paychecks for many Newfoundlanders -- but left those working in other sectors or on fixed incomes priced out -- even from former "budget" accommodation. In Vancouver, a widely inferred but mostly unmeasured torrent of outside investment in high-end properties has lifted the rest of the accommodation market, and left many young working families to question if they have future in the city.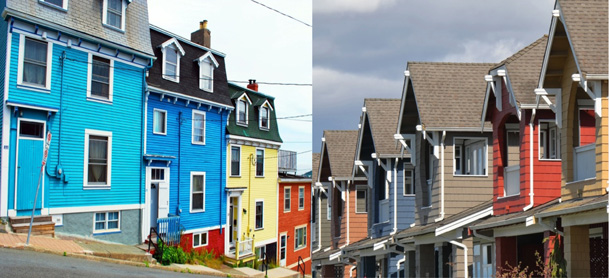 That doubt isn't unique to hot real estate markets either. It's occurred to Oanh Pham, who lives in a city generally regarded as one of Canada's most affordable, Winnipeg.
Paths to affordability
The wide range of housing experiences suggests that solving Canada's shelter crisis will take a similarly broad range of responses from across society.
The fears and expectations that estrange LGBTQ2S youth from their families have deep and tangled roots difficult for public policies to address. Targeting rent subsidies to this vulnerable group might be a lot easier.
The burdensome economic legacy of historic subjection can't be lifted overnight from today's young native professionals and off-reserve First Nations. But a much broader interpretation of settler society's responsibilities to indigenous people -- sparked by a process of truth and reconciliation and going beyond narrow legalistic reading of treaties -- might open many new doors.
Whether as empty-nesters, active elders, or confronting frailty, Canada's growing number of households and individuals over 65 face adjustments to their own housing needs that will also influence the stock of existing shelter available for new occupants. Cities re-designed to be friendlier to 80-year-olds turn out also to have features that are just as welcoming to eight-year-olds and their young families.
In short, an adequate response to the full scale and variety of Canada's housing crises will have lots of rooms, plenty of doorways and probably a grab-bag of styles.
Nonetheless, the problem plaguing Vancouver, St. John's and many cities in between including Toronto, demands national attention. Market forces are pushing up the costs of non-social housing much faster than they are pushing up wages or salaries. And while those forces reflect the economic fundamentals of supply and demand in certain cities, they also include numerous other factors within the power of governments and institutions to change.
These range from the application of municipal, provincial or federal taxes, to governments' role in making land available for development, and the rules that banks and mortgage lenders use to qualify borrowers. They also include the resources we decide, through our governments, to put into helping the most financially disadvantaged of our neighbours.
Cities are the warp-engines of culture, innovation and national prosperity. If the residents who make them blossom can no longer afford to live in them, Canada's future is imperiled.
With that in mind, over the weeks to come our year-long Tyee Solutions Society reporting project on housing will canvass the changes we can make, explore what knowledgeable observers think would help and what our leading competitors are trying. We'll also examine closely what the federal parties competing for our votes this year say they would do, to make sure every Canadian has a safe, suitable and affordable roof over their head.