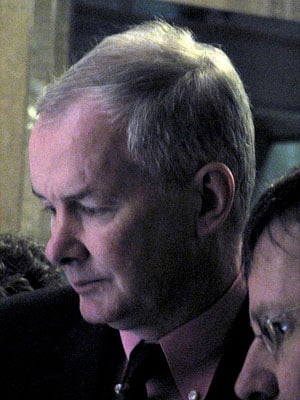 Journalist Laura Robinson is proceeding with her defamation lawsuit against John Furlong, after the former Vancouver 2010 Winter Olympics CEO dropped his action against her on March 31. 
Robinson wrote an expose on Furlong in the Sept. 27, 2012 Georgia Straight alleging he abused schoolchildren in 1969 and 1970 and that his post-Olympic memoir, Patriot Hearts, included inconsistencies. Furlong issued an emphatic denial on the day Robinson's story was published and, two months later, filed a defamation suit against her and the newspaper in B.C. Supreme Court.
Robinson countersued for defamation in early 2014 and is proceeding with the trial in June. Furlong had never scheduled court dates against Robinson.
"My story was based on serious allegations made by numerous individuals, including allegations contained in eight sworn affidavits and I stand by the work I did," according to Robinson's emailed statement. "I feel that the dropping of Mr. Furlong's lawsuit against me today is recognition that my reporting on the serious allegations was responsible and appropriate."
Furlong made his announcement the morning after a third and final lawsuit alleging he committed sexual, physical and mental abuse fell by the wayside. A man who claimed he was victimized in 1969 and 1970 when Furlong was a physical education teacher at Immaculata Elementary School in Burns Lake, B.C. failed to show up in court for the scheduled 18-day civil trial. 
Justice Elliott Myers described the conduct of plaintiff Daniel Morice as "reprehensible and worthy of rebuke," and awarded special costs to Furlong.
"It is extraordinary and unacceptable that anyone can make ruinous, toxic allegations against a citizen, put them on the public record via the courts and then abandon them with impunity, seemingly without consequences, leaving untold damage and pain behind," Furlong said in a news conference at his lawyers' office.
Furlong said that he has lived an "unimaginable nightmare." He did not take questions from reporters. 
Beverly Abraham and Grace West sued Furlong over the alleged abuse in July 2013. Abraham withdrew her suit against Furlong last December, citing stress from deaths and illnesses of relatives. In February, West's lawsuit was dismissed for lack of evidence that she attended Immaculata.
Furlong hired a public relations firm and scheduled a series of TV interviews in Vancouver and Toronto in October 2013. He announced then that he was discontinuing his action against the Georgia Straight in order to "escalate" his action against Robinson. 
Furlong had come to Canada as an 18-year-old Catholic missionary from Ireland, but didn't mention arriving in Canada until his 1974 arrival in Edmonton in the first chapter of Patriot Hearts, titled "Welcome to Canada -- Make Us Better." 
Due to the nature of this story, comments are closed.