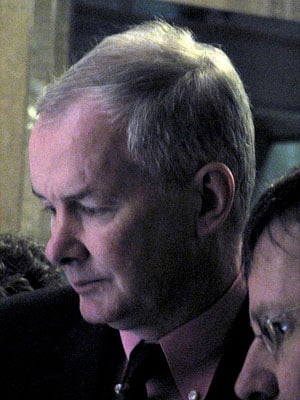 A B.C. Supreme Court judge dismissed a third sexual abuse lawsuit against former Vancouver Olympics CEO John Furlong on Monday after the accuser failed to appear in court.
Justice Elliott Myers awarded special costs to Furlong and described the conduct of plaintiff Daniel Morice as "reprehensible and worthy of rebuke."
The decision ends a series of civil actions brought against Furlong related to his time as a teacher more than 40 years ago at a Roman Catholic school in northern B.C.
In dismissing the case, Myers also noted that Morice made a series of abusive phone calls to one of Furlong's lawyers in January and was disrespectful to the court.
Furlong has always denied the allegations, which first surfaced in 2012 after the Georgia Straight published an article alleging he abused students in northern B.C. while he was a teacher.
On Monday, a civil trial was scheduled to begin, but Morice did not appear. 
Morice alleged in his lawsuit that Furlong physically, sexually and mentally abused him while he was a student in 1969 and 1970 at Immaculata Elementary, a Burns Lake, B.C. Catholic day school for aboriginal children.
However, Myers noted that Morice, who lives in northern B.C.,  "did not even attempt to prove his claim."
Justice Miriam Gropper, who was presiding over pre-trial hearings, wanted Morice to travel to Vancouver to testify, but during a pre-trial conference call on Friday, Morice hung up the telephone after telling the judge, "nobody's telling me where to be, not even you."
Morice was defending himself after his lawyer quit in December. Jason Gratl declined to comment on his reasons.
Furlong, who was a physical education teacher at Immaculata in 1969 and 1970, was present in the courtroom while William Smart, one of his three lawyers in the courtroom, read from his affidavit.
Denies abuse accusation
In it, Furlong denied "ever physically or sexually abusing" Morice and said he didn't remember him.
"I do not dispute that he may have (attended Immaculata), but I do not recall meeting him," said Smart, quoting from Furlong's affidavit. 
The court heard four voice mail recordings from January of a man identifying himself as Morice, claiming in rambling, expletive-filled messages to Furlong lawyer Claire Hunter that he had a witness and incriminating photographs of Furlong.
Morice was one of three northern B.C. residents to file abuse lawsuits against Furlong but none of the allegations was tested in court. Beverly Mary Abraham withdrew her lawsuit in December, citing stress from deaths and illnesses of relatives. RCMP decided in 2013 not to recommend charges against Furlong after investigating Abraham's complaint.
Grace Jessie West's lawsuit was dismissed in February for lack of evidence that she attended Immaculata.
Smart said that Morice has a criminal record and was awarded $120,000 plus $18,000 in legal fees in the spring of 2014 over abuse he suffered at another school during the same time he claimed to be attending Immaculata.
The lawyer said the allegations against Furlong took their toll. He suffered depression, sought counselling and his children and grandchildren faced bullying and aggression.
He also said Furlong has turned down job offers and did not go to the Sochi 2014 Winter Olympics for fear of becoming a distraction because of the media interest in his case. 
He remains executive chairman of the Vancouver Whitecaps, Rocky Mountaineer Railtours, and Own the Podium, a non-profit organization aimed at delivering more medals for Canada at Olympic Games.
"The real victim is Mr. Furlong," Smart said.
Furlong's legal troubles are not over. Ontario journalist Laura Robinson is suing him for defamation. That trial is scheduled to begin in June.
Robinson's September 2012 story for the Georgia Straight, headlined "John Furlong biography omits secret past in Burns Lake," alleged that Furlong abused students and that his memoir contained irregularities. Furlong sued Robinson for defamation in November 2012, but a trial date has not been scheduled.
Due to the nature of this story, comments are closed.