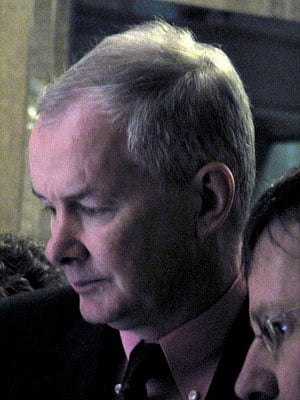 Former Vancouver 2010 Olympics CEO John Furlong revealed he is no longer suing the Georgia Straight newspaper for its story accusing him of abusing students when he taught as a young man in Burns Lake, B.C., but he vowed to "escalate" legal actions against the author of the article, Laura Robinson.
Robinson's lawyer told The Tyee the journalist looks forward to defending her story against Furlong's defamation claims.
Furlong reiterated his blanket denial of any wrongdoing in an edited interview aired last night on Global TV's BC1 all-news channel. The interview by lead anchor Chris Gailus during the first half of Global's post-supper Unfiltered program was Furlong's first such appearance since the Irish native was accused 13 months ago in a newspaper expose of abusing aboriginal children while he was a teenage missionary -- claims Furlong has denied in documents filed at B.C. Supreme Court.
Furlong, 63, used a string of adjectives to describe his life since the Sept. 27, 2012 story ("John Furlong biography omits secret past in Burns Lake"). He refocussed his sights on suing the author and clearing his name in civil court after releasing an April 12 letter from an RCMP officer dismissing one of the criminal complaints.
"The last year has been like living in hell," Furlong told Gailus. "It was a horrible, shocking thing to happen." In only the first 100 seconds, Furlong used the word "horrible" six times, and "hell" and "terrible" twice each.
The year not only included the unproven allegations that he committed physical and sexual abuse decades ago, but the April 11 death of his third wife, Deborah Sharp Furlong, after a rural Ireland head-on car crash near their County Wexford house. (The official cause of death has not been released and a coroner's court hearing is scheduled for Jan. 27, 2014 in Dublin). Nonetheless, Furlong described the RCMP interrogation as "the worst experience of my entire life."
"To actually sit there and have an officer look me in the eye and ask me the kind of things we're talking about now, it was sickening to do that," he said.
The program was largely sympathetic toward Furlong, who took control of the interview at various junctures. Gailus did not challenge Furlong with any of the specific allegations. Furlong generally denied ever striking a child and explained his traditional way of disciplining a child was to order extra laps be performed in physical education class.
"Is it worse to have done something horrible or to actually accuse somebody of doing something horrible when you know they didn't do it?" Furlong asked. "Which of those is worse?"
After three-and-a-half minutes, Gailus did ask Furlong why he left his 1969 arrival in Burns Lake, B.C., out of the 2011-published, Patriot Hearts Olympic memoir. Furlong had come to Canada as an 18-year-old Catholic missionary and taught physical education at Immaculata Elementary School, but didn't mention his new country until his 1974 arrival in Edmonton in the first chapter, titled "Welcome to Canada -- Make Us Better."
Gailus called the omission "the thing that seemed to be the catalyst."
In hindsight, Furlong said he would've included Burns Lake, but explained "I was dead set against anything personal in the book, anything other than the Olympic story starting with the day Vancouver had an idea that they wanted to do this and then talk about that. I didn't think any of it was relevant."
(When the story broke, his co-author Gary Mason told The Tyee that Furlong had never mentioned Burns Lake to him.)
Furlong was not asked nor did he volunteer why he returned to Ireland in 1972 and then came back to settle there in 1974. Stories in the Prince George Citizen newspaper archives said Furlong fled Prince George in 1972 for Ireland after he was threatened and assaulted while volunteering as a soccer referee in a local amateur league.
Changing course
The Georgia Straight has not published an apology or retraction and the story that Furlong said offended him remains on its website. But Furlong told Gailus he was changing his legal tactic, to redirect his battle from the publication to the author. Both of which he sued for defamation on Nov. 27, 2012.
"For me when the RCMP tell me I did nothing wrong to me that is a reputation-enhancing obviously thing for me. I feel like they have given me back my name, which has been under a cloud for a year-and-a-half," Furlong said.
"I have no interest in pressing on with the Georgia Straight. In the case of Laura Robinson I'm going to escalate it because I feel that the process has been disrespected."
After the interview aired, Robinson's lawyer questioned Furlong's will to fight the allegations. Through Oct. 28, Furlong had still not scheduled examination for discovery or sought dates for a trial.
"They've done nothing for a year, they could've set this case for trial 10 months ago," said Bryan Baynham. He said Robinson looks forward to defending her story, but wonders when that will be.  
Almost five hours before the scheduled 30-minute BC1 program, Global reported that the RCMP cleared Furlong of allegations he abused complainant Beverly Abraham when she was a child under his care at Immaculata in 1969 and 1970.
He remains under investigation for at least two other complaints and is defending himself against allegations by Abraham and two others in B.C. Supreme Court civil lawsuits.
The Global website included a photograph of an undated email sent by the RCMP last April to Furlong's lawyer, Marvin Storrow. The name of an RCMP officer at the Prince George detachment who sent the email was obscured and no email headers were visible. CTV, however, reproduced the email, which was sent to Storrow by Cpl. Quinton Mackie on April 12, the day after Sharp's death in Ireland.
"With respect to the sexual abuse allegation brought forward by Beverly Abraham through (words obscured) I can tell you that the RMCP have concluded their investigation into that matter and have found nothing to substantiate the complaint, as a result there will be no report to Crown counsel forwarded," said Mackie's email. "The RCMP continue to speak to people that were mentioned in (words obscured) statement of Defense. I will update you on this matter once all have been spoken to and a determination has been made with respect to any criminal wrong doing."
Global quoted Abraham saying the RCMP had interviewed her once in person and once by phone. Her lawyer, Jason Gratl, called the RCMP investigation haphazard and said Abraham was disappointed overall. "She said RCMP are going to follow up with her to get a further list of witnesses and never called her back."
"My client, Ms. Abraham, informs me that the police have not interviewed all the potential witnesses to whom she directed them," Gratl told The Tyee. "The decision whether or not charges should be approved rests with the office of Crown counsel, not with the RCMP. Our police complaint to the Office of the (Commission for Public Complaints against the RCMP) has not yet been resolved. That complaint, as I understand, is still under investigation."
Gratl's July 29 complaint accused the Mounties of pro-Furlong bias and improperly communicating with Furlong's lawyer. The RCMP led a $900 million effort to secure the 2010 Games and senior officials worked closely with Furlong.
On Oct. 28, Sgt. Rob Vermeulen issued a statement that said: "When a file(s) is concluded our normal course of action would be to notify the complainant(s) and in some cases, where appropriate, the subject(s) of complaint. Due to the serious and sensitive nature of the allegations, earlier this year we asked for an independent review of our complete investigation by major crime investigators from another province. That review resulted in a number of investigative recommendations that we continue to follow up on. Our file remains open at this time.
"We also remain mindful that there are multiple civil actions underway as well and as such it would be inappropriate to provide further comment."
Recorded in public relations office
The BC1 interview was recorded in the Gastown office of Furlong's public relations representative, Twenty Ten Group, and aired the day after the Vancouver Whitecaps' ended their 2013 season and the day before the 100-day countdown to the Sochi 2014 Winter Olympics. Furlong stayed home from the London 2012 Olympics after a criminal complaint was filed to Prince George RCMP. CTV national anchor Lisa LaFlamme also conducted an interview with Furlong, who became the executive chairman of the Bell-sponsored Major League Soccer club on April 11, 2012.
Gailus said during a preview interview with Unfiltered host Jill Krop that Global was chosen for its high ratings and because of his past working relationship with one of Furlong's "closest advisors."
"I think that Renee said Chris Gailus is the guy to do it," he said.
Renee is Renee Smith-Valade, the former VANOC vice-president and BC Hydro senior-vice-president who is now vice-president of customer experience with Air Canada Rouge.
After it was over, Gailus told Krop: "You either take him at his word or you don't."
Due to the nature of this story, comments are closed.