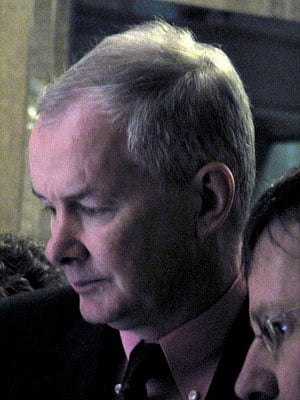 Allegations by one woman that John Furlong sexually, physically and mentally abused her 45 years ago will not be tested in court, but two others who similarly accused the ex-VANOC boss are still scheduled to face him in B.C. Supreme Court.
Beverly Mary Abraham withdrew her lawsuit Dec. 19, two weeks after her lawyer, Jason Gratl, filed notice to quit the case. Gratl is also no longer representing Grace Jessie West or a male victim who wishes not to be named.
In September, the parties set March 30, 2015 to begin an 18-day trial where the allegations would be heard either together or consecutively. Furlong previously claimed his innocence and agreed to pay the costs of the civil trial. November court filings indicate there was a dispute between Gratl and Furlong's lawyers over whether the trial would be by judge alone or with a jury.
Last June, the court ordered the RCMP's North District Regional General Investigations Section to release Abraham and West's investigation files to Gratl. Examination for discovery of Furlong was to be completed by Dec. 31, 2014.
"There are many things I wish I could say, but I am unable to comment given my professional obligations," Gratl said by phone.
Furlong 'categorically' denied Abraham's allegations
Abraham and West claimed in July 2013 court documents that they suffered the abuse by Furlong while they were his physical education students at Immaculata Catholic elementary school in Burns Lake in 1969 and 1970. The male complainant filed his lawsuit in September 2013. Furlong initially came to Canada as a Catholic missionary, but did not include that in his 2011 post-Olympic memoir, Patriot Hearts.
In April 2013, RCMP decided not to proceed on Abraham's criminal complaint against Furlong.
At a March 2014 procedural hearing, Furlong's lawyer John Hunter told the court: "Mr. Furlong has instructed us to focus on the Abraham case.
"If we can get this Abraham case to trial and deal with it and get the result that we think we can get, a lot of things could fall by the wayside."
Abraham was among eight former Furlong students whose sworn statements were the basis of a Sept. 27, 2012 Georgia Straight story by Ontario journalist Laura Robinson under the headline "John Furlong biography omits secret past in Burns Lake." Furlong sued Robinson and the newspaper two months later for defamation but, in October 2013, dropped the action against the Georgia Straight, which continues to publish the story online.
Furlong said during an October 2013 media interview blitz that he was focusing his efforts on Robinson, but more than a year later has still not scheduled a trial against her.
Robinson, however, sued Furlong on Jan. 27, 2014 for defamation and set March 30, 2015 to begin the trial. The start has been delayed until June 15, 2015.
"I believed everything that Beverly Abraham put in her affidavit, which included sexual abuse; at that time she was the only person to have alleged (sexual abuse) and it wasn't in my article," Robinson said by phone. "I believe all the students are brave and courageous."
Abraham's sexual abuse allegations first appeared in a CBC story, after Furlong's Sept. 27, 2012 news conference, headlined "Vancouver Olympics CEO 'categorically' denies abuse allegations." CBC was not named in Furlong's defamation lawsuit.
Furlong claims his public speaking career was ruined by the allegations in Robinson's story, but he remains chair of the Vancouver Whitecaps, Rocky Mountaineer Railtours and Own the Podium, a director of Canadian Tire and Whistler Blackcomb and co-chair of the bid for a Rugby 7s World Series event in Vancouver in 2016.
As the legal battle unfolded, tragedy struck Furlong's third wife, Deborah Sharp Furlong, when she died after an April 11, 2013 auto crash in Ireland. Last May, a Coroner's Court in Dublin classified the death "misadventure" because the 48-year-old mother of two was driving in the wrong lane. Sharp had neither alcohol in her system or nor a pre-existing condition; slight trace of a prescription drug was detected, but not a factor in the crash. On Aug. 7, B.C. Supreme Court declared Furlong the administrator of her estate.
Last spring, Furlong became listed in the B.C. land title registry as the joint tenant in a $975,000 Yaletown loft with Renee Smith-Valade, the former head of communications for VANOC and BC Hydro.
Please note our comment threads will be closed Dec. 22 to Jan. 5 to give our moderators a well-deserved break.