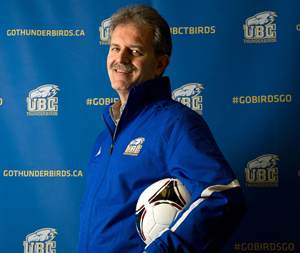 The University of British Columbia has apologized to the women's soccer coach it hired and then fired the next day.
Marc Rizzardo was publicly announced Dec. 6, 2012 as the new coach of the Thunderbirds. The university rescinded the job offer a day later, claiming Rizzardo was hired before the job posting closed. The university also received complaints for not hiring a female coach.
Andrea Neil, a UBC alumnus and Canadian Soccer Hall of Famer became coach in early January 2013. Neil appeared in 132 matches for Canada's national women's team and represented the country in four Women's World Cups.
Rizzardo filed a gender discrimination complaint with the B.C. Human Rights Tribunal, which agreed to hear the case.
"I'm happy it's finally over; I'm disappointed with the process," Rizzardo said. "The biggest component is trying to get my reputation back."
Rizzardo coached the Langara College men's team from 1986 to 2009 and returned there last year. He declined comment on financial terms of the settlement, but provided a copy of the apology letter from vice-president of students Louise Cowin.
UBC 'deeply regrets any embarrassment'
Cowin wrote Aug. 25 that Rizzardo did nothing wrong and UBC was solely responsible. He had been recruited by the university after an unsuccessful application in 2010.
"We deeply regret any embarrassment that you have experienced," Cowin wrote. "We feel you are an outstanding coaching candidate for any university, and would fully consider any future application you make to coach at UBC."
Cowin's letter acknowledged the verbal contract with Rizzardo and its public announcement of the hire.
"Unfortunately, we quickly realized, because of letters received from members of the public, that UBC had failed to follow its own pre-existing and mandatory hiring processes when you were offered the position as head coach. As a result of not following these processes, we were required to remove you from the role and begin the hiring process again."
The hiring and firing of Rizzardo coincided with the announcement by the Vancouver Whitecaps that they were discontinuing their 12-year-old women's program, which won USL W-League championships in 2004 and 2006. The controversial move came four months after former Whitecap Christine Sinclair led Canada to bronze at the London 2012 Olympics, where Rizzardo was a physiotherapist for the Canadian Olympic team.