[Editor's note: As part of a Tyee Solutions Society inquiry into growing economic inequality in British Columbia -- its causes and costs -- reporter Katie Hyslop and photographer Christopher Grabowski visited the people of Houston, a town emblematic of the province's reliance on boom and bust resource jobs. Their series runs through Monday.]
Houston, a small mill town in B.C.'s northern interior that's been rocked by the coming closure of one of two major lumber mills, got some good news last week. One of the community's two youth programs faced with closure has been thrown a financial life raft by the provincial government.
The Teen Empowerment through Awareness Movement (TEAM) program run by the Dze L' K'ant Friendship Centre was forced to shut down April 1 when it's two-year contract with the Canadian Mental Health Association, by way of the Community Actions Initiative, ran out. Renewal wasn't an option, leaving the centre scrambling to find an alternative source of funds.
But one week after TEAM closed its doors, the Ministry of Children and Family Development agreed to supply the centre with the $100,000 funding necessary to run TEAM for one year, with potential for amalgamation with other ministry contracts the centre has for early childhood education that are funded in perpetuity.
Because the centre knew their previous funding wasn't renewable, they were in frequent contact with the ministry about funding. So when the ministry put out a call for proposals on March 11 for innovative programming for supporting aboriginal youth-in-care or aboriginal families with youth in care, centre director Kate Langham had already compiled the information the ministry was looking for.
"The due date was March 21 and then we were notified March 28. So that process itself was quite quick," she told The Tyee Solutions Society.
"But it went out across the province, so we were just lucky to already have a really solid idea of the needs and some methodology that works, and we were able to prove the need. So we were funded."
Additional support for youth in care
Previous funding only allowed for one youth worker position, held by Langham's partner Darren MacDonald. But the new funding means an opportunity for change, with MacDonald now responsible for creating and fulfilling detailed plans of care for the youth in the program who are currently in the Ministry of Children and Family Development's care.
Another person who volunteered to assist MacDonald with the TEAM after-school drop-in will run the drop-in aspect of the program instead.
"It's a really awesome contract in that it allows us to do that scaffolding piece; it still allows the drop-in program, but then it gives us the ability to have another staff person do all of that really important one-on-one stuff to help move kids forward with more individualized attention to plans of care," said Langham.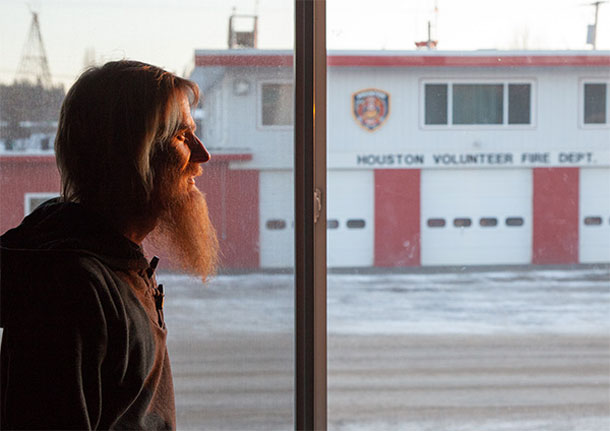 Unlike a ministry social worker, whose large caseloads often prevent them from seeing youth in care every time they need them, kids can drop by and see MacDonald any weekday afternoon. He's also friends with most of them on Facebook, offering guidance and support when the centre's closed.
Langham hopes this kind of access to someone the youth know will help Houston buck the trend of kids in care floundering when they age out of the system at 19.
"It's those quality of relationships that help to really meet the needs in a meaningful and relevant way for these kids. And it's that care piece: they're being cared for here, we're not just moving them through, we're caring for them and nurturing them, and really helping to build their own capacity and build their own resilience," she said.
'He had people to talk to here': David
But it isn't just youth in care who benefit from the TEAM program. Back in February The Tyee Solutions Society spoke to Jeremy Aksidan, a then 18-year-old youth that both MacDonald and Langham singled out as one of the program's role models. Prior to TEAM's beginnings two years ago, Aksidan was doing alright, but would drink occasionally out of boredom and failed to live up to his potential in school.
"[TEAM] changed me a lot. I started planning out what I wanted to do after school, and started doing research about what I want to do," he said in February. Aksidan had been attending TEAM for the full two years, and with encouragement from MacDonald was abstaining from illicit drugs and alcohol.
But since the program shut down, Aksidan's mom Naomi David said her son, now 19, has returned to drinking.
"Not heavy, but he tried it again," she said. "There's nothing to do, nowhere to go [in Houston]. Because he had the people to talk to here [at the centre] if he felt like it and stuff, and then the feeling for him would go away."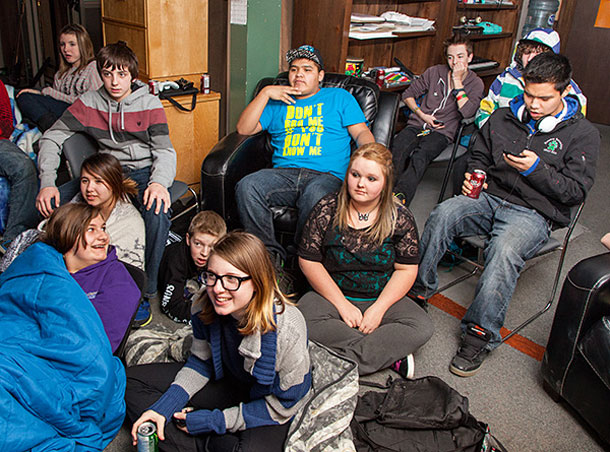 It isn't all bad, though: Aksidan is set to graduate high school in June and now has a part-time job doing labour work around town. Still both he and his mom are excited that TEAM will start up again.
"He's looking forward to coming back," she said. "It will be stuff for him to do, and then he has people to talk with."
Ready and waiting
Not that every kid will notice the difference: despite the program's temporary closure, youth were still showing up at Dze L' K'ant Friendship Centre every day after school.
"They need help. So we're really just doing our best to fill them in. It's an off-the-side-of-the-desk program, it's volunteer," said Langham, adding MacDonald has been putting in five hours a day with the youth despite being laid off.
"We need to maintain that continuity of service for them, because they're more than just our clients. They're our community, we care for them deeply and we're not just going to let them waffle in the wind because we don't have funding at this point."
When The Tyee Solutions Society spoke with Langham on April 10 she was still waiting on government to send the draft funding contract, already four days overdue. Follow up calls to the centre have not been returned since, but Langham said at the time as soon as the contract came through, the doors would be opened.
"We're just basically poised, ready and waiting," she said.
It's the first good news the town has received in months, and Houston's youth and the centre's youth workers are ready to leap on it.
This is the final story in the series Hard Hit Houston: What Does BC Owe Its Resource Towns? Find the entire series here.