Leading Together
A series of video and text stories profiling innovative, collaborative experiments in youth empowerment that are delivering concrete results for Aboriginal communities. Commissioned by The J.W. McConnell Family Foundation of Montreal, these stories were produced by a talented team of journalists, most of them indigenous. The Leading Together stories were assembled and edited by Journalists for Human Rights and Tyee Solutions Society, and are co-published by the Aboriginal owned Wawatay Native Communications Society, as well as on the websites of Journalist for Human Rights and The Tyee.
This project was unveiled in Oct. 2013 as The Circle, a network of community organizations, foundations and philanthropists, hosted its third All My Relations gatherings -- a conference to discuss issues of importance to First Nations and Metis communities across Canada.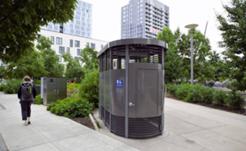 Public washrooms should be plentiful and accessible, says one scholar. And cities that do flush, flourish.