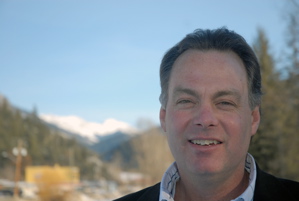 The head of a company whose British Columbia mill may have to close because it can't get enough wood blames the provincial government for the situation.
"People are worried we're going to get squeezed out of the market, and we are," said Douglas Riddell, the president and CEO of WoodEx Industries Ltd. "Where the frustration is, is clearly the minister has an obligation there. They're stringing us along and we're not getting anywhere."
Or as Norm Macdonald, the NDP's forestry critic and MLA for Columbia Valley-Revelstoke put it, "It sits with the minister to make this work, and it's not working."
WoodEx owns a medium-sized mill near Edgewater in the Columbia Valley, where it specializes in value-added products and custom-sized lumber.
In November 2011 its largest local competitor, Canfor Corporation, bought Tembec Industries Ltd., the only other major player in the area. The transaction, which closed in March, gave Canfor two more mills and added access to 1.1 million cubic metres of timber a year.
By WoodEx's reckoning, it also gave Canfor control of 99 per cent of the annual allowable cut on Crown land in the valley between Golden and Skookumchuck, making it difficult to bid against when wood comes available through B.C. Timber Sales.
Elephant and peanut
In February, after the sale was announced, the late WoodEx founder Ike Barber wrote Premier Christy Clark a letter warning what it would mean for his company.
"It would be like the elephant and the peanut, with the elephant already holding substantial timber holdings beyond those being bid on, and the peanut having none and being wholly dependent upon bidding the highest price in order to attain short supply of timber," Barber wrote.
"By dominating the timber-sale bidding, Canfor could very well control the distribution of timber and WoodEx would be required to shut down or close its operation through lack of consistent wood supply," he said.
Barber, who also founded Slocan Forest Products, died in April at 89 years-old. Premier Clark is expected to attend a celebration of his life Monday in Vancouver.
The situation is playing out as Barber predicted, said Riddell. The mill has been closed for four weeks, and without a predictable supply of wood some 100 people will be out of work. "We're going to lose another mill," he said.
Several times he said he does not blame Canfor. "They've got a business to run and they're going to do what's best for them economically," he said. "I can't speak for Canfor, but I'd say it's all about control."
Protecting competition
The government, however, has failed to do its duty to keep the industry competitive, Riddell said.
He cites section 54 of the Forest Act, which says the minister shouldn't allow such a sale unless first satisfied "the disposition will not unduly restrict competition in the standing timber markets, log markets or chip markets."
"Clearly nobody would argue competition is not being unduly affected here," he said.
While the sale was going through, government officials said Canfor had agreed to ensure a long-term fiber supply to WoodEx at the market price, Riddell said. With 100,000 cubic metres a year from Canfor, WoodEx would have 25 per cent of what it needs to run its mill, but enough to base the business on, he said.
"They haven't held Canfor accountable to that," he said. "What we're asking for is not unrealistic in any terms."
Canfor has entered a short-term agreement and is now willing to provide four trucks of logs a day, Riddell said, adding, "Four trucks is like a bandaid on an amputated leg."
It will not, however, enter a long-term agreement, making it difficult for WoodEx when it talks to bankers or other financers, he said.
Canfor has been a big donor to the BC Liberal Party and its largest shareholder is Jimmy Pattison, said Riddell, noting the next provincial election is less than a year away.
In 2011, according to Elections BC's database, Canfor Pulp Limited Partnership gave $1,325 to the Liberals. In the same year, Canfor Corporation gave more than $56,000 to the BC NDP.
Not prepared to lose jobs: NDP
A call to Canfor's media relations department went unreturned by publication time.
A spokesperson for the government said in an email the minister allowed the transfer of Tembec's forest licences to Canfor "taking into consideration Canfor's commitment to pursue a fibre supply agreement with Woodex Industries Ltd."
"Canfor and Woodex continue to discuss the nature of a fibre supply agreement," she said.
Woodex has a forest licence for 5,000 cubic metres, and BCTS is planning to auction 240,000 cubic metres in the Cranbrook and Invermere timber supply areas over the next year, she said.
"There was opportunity for the government to get this right and they haven't," said the NDP's Macdonald.
WoodEx has markets for its products but can no longer compete on an even footing for wood, he said. "They don't have the ability the way it's set up to get the fibre supply they need."
The company is a significant employer, he said. "These are important jobs and I'm not prepared to lose them," he said.
"All employment is significant. For our area it's important. There's no reason we can't have all the mills operating."