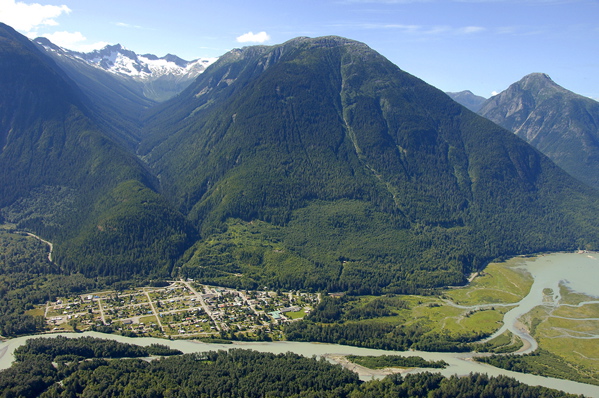 It's a good day in Dease Lake when a produce truck breaks down on the Cassiar highway.
For residents in and around this remote northern community, fresh produce can be hard to come by, especially in the winter.
So when there's an accident, word goes out and people salvage what they can from the trailer before everything rots, according to Christine Glennie-Visser, regional co-ordinator for the Healthy Eating and Active Living (HEAL) network in northern B.C.
"These are average, regular people," she says. "But what happens in these isolated communities is when the fresh produce arrives, it's descended upon. . . sometimes produce only comes in once or twice a month."
Even amidst scary reports about the cost of skyrocketing food prices and looming shortages, it's hard for most North Americans to fathom what it would be like to find supermarket shelves bare.
But for residents in some of B.C.'s most rural and remote communities, it's not so hard to imagine.
The combination of higher food prices and fewer stores with fresh healthy options is partly what contributes to higher rates of obesity, heart disease and diabetes seen in these communities. (Taylor, B.C., the subject of CBC's new Village on a Diet series, for example, has only a convenience store and a fast-food joint at which to buy food.)
It is, in effect, a food desert: a troubling phenomenon that has been studied in urban areas like Detroit and Los Angeles, but much less so in rural areas, according to Deepthi Jayatilaka, provincial manager for food security at the Provincial Health Service Authority.
High prices, vast distances
Generally, a food desert is defined as not having a food outlet within walking distance or within reach of public transportation, says Jayatilaka.
"When you think about a lot of the people in more rural and remote communities, they travel distances of sometimes two hours to get to a grocery store," she says. "We also know that in most remote areas, public transport is almost unheard of. That becomes a significant limitation."
Another significant limitation is income. In 2009, Dieticians of Canada released a report on the cost of food in British Columbia, based on the price of a "nutritious food basket" of 16 basic items.
It found that the average cost to feed a family of four was $872 per month. For a family on social assistance, that's 49 per cent of their monthly income.
In the average city in B.C., the report found, $16.05 would get you four litres of milk, one load of bread, one pound of apples and 10 pounds of potatoes. In a remote community, those items would cost $34.85, 177 per cent more.
"Anecdotally, I have heard that in places like the north, one of the reasons they don't sell healthy food is that there's no market for it," Jayatilaka says. "Employment is scarce, incomes are lower, they may not have the funds to consume the healthier food options, so they're not going to be sold in these stores."
And cheap food is the worst food, notes Glennie-Visser. "We've created a society where it's cheaper to buy a bag of Cheetos than it is to buy a bag of apples."
Subsidize healthy food?
Jayatilaka says that subsidizing healthy food is one possible solution that is discussed frequently in public health circles. After, all, next to air and water, we need healthy food to stay alive. It's a basic human right. But subsidizing healthy food is "certainly not something that's going to go down very easily," she acknowledges.
"Politically, it's a tough pill to swallow. So I think really looking at localization of food is important at this point."
The provincial government has acknowledged there's a problem. In November 2009, Premier Gordon Campbell launched the Produce Availability Initiative (PAI). Part of it was focused at improving supply chains to these communities (a piece of work which is still underway), but the initiative also provided funding to seven remote communities -- Bella Coola, Dease Lake, Telegraph Creek, Masset, Port Clements, Tahsis and Zebellos -- to develop and implement local food projects.
Where PAI grants are paying off
At this stage, it's unclear whether these projects will have a measurable impact on the health of people in these communities. Even if they do, these types of programs typically aren't well evaluated, says Jayatilaka. That's a challenge, especially when it comes to securing future government funding. "There's a tonne of anecdotal evidence that these things work, but a lot of policy decisions get made, especially in health care and places like that, on hard evidence," she says.
Indeed, the people on the ground running these project have good things to say.
In Tahsis, a town of about 500 on the western edge of Vancouver Island, the town's only non-profit, the Tahsis Literacy Society took charge of the PAI grant. Volunteer Michelle Kowalchuk says work was completed this fall on a community garden and greenhouse. Kowalchuk says hopefully by March, a Farm to School salad bar program will be in place at the local school. Through that program, "the community garden will get some money to buy seeds, and farm to school will purchase vegetables from the garden."
"I think it's fantastic," Kowalchuk says of the PAI grant. "Let every rural community have one."
Bella Coola used the grant to develop a Community Supported Agriculture project.
"We talked about a lot of different possibilities," says Dayna Chapman, who helped organize planning meetings through the initiative. "Considerations of the funding was that it had to achievable in one year, it had to be sustainable and it had to actually put more fruits and vegetables into people's reach."
Chapman hopes that by next year the CSA will be able to pay for itself, as well as for some additional infrastructure, such as a root cellar that would keep vegetables throughout the winter. She says what's missing is long-term funding for staff. "We're volunteered to death here. Even for a storage facility, for example, you need someone for maintenance. For now, we'll do the best we can."
But she's also optimistic. "The project opened up a lot of people's eyes to growing more food here," Chapman says. "Bella Coola used to be the breadbasket for the Central Coast. That has all faded away -- but the potential is still there."