[Editor's note: This is the latest in a series of reports on successful youth-focused projects resulting from collaboration between indigenous communities and philanthropic organizations. Leading Together is itself a collaboration of Journalists for Human Rights, Tyee Solutions Society, Wawatay Native Communications Society, and the J.W. McConnell Family Foundation, which commissioned this journalism.]
Jessica Savoy remembers the mentors who made a difference in her life while she was growing up in East Vancouver. Now, thanks to a program called GEN7, the freshly graduated high school student is a mentor to a new generation.
"This program has given me the opportunity to make a difference with kids in the community, and that's important to me," Savoy said. "But it's also taught me what it's like to be a parks board employee and to learn about the parks board system and how we can fit into that."
The GEN7 program operates under the auspices of Motivate Canada, a Canadian charity dedicated to improving the lives of youth. Its mentors are called "Messengers." Once chosen, they are trained by Motivate Canada in role modelling, public speaking and leadership.
In Vancouver, the GEN7 program ran for seven weeks in five community centres: Ray-Cam, Hastings, Britannia, Strathcona and Trout Lake. One Messenger was assigned to each centre to work with indigenous youth after school.
This was a breakthrough, according to Scott Clark, who spearheaded it as the executive director of the Aboriginal Life in Vancouver Enhancement Society, or ALIVE.
GEN7 had been tried in other settings, but not community centres. Too many indigenous kids couldn't afford to pay program fees, and so they perceived the centres as unwelcoming, Clark said. "But community centres are the living rooms of our communities," he said. "Each should have some kind of an urban Aboriginal strategy."
Dying to belong
Two events underpinned bringing GEN7 to Vancouver, Clark said. One was a suicide pact by more than 30 indigenous youth in a Vancouver high school in fall 2012. Although the pact was stopped when authorities with support services intervened, it was a canary in a coal mine, said UBC psychology instructor Rod McCormick, who specializes in indigenous psychology and mental health.
The pact illustrated the degree of isolation felt by indigenous youth in the city. "On reserves, services are central and can respond quickly, and culture and environment are immediate and can play a role in healing," McCormick said. "There are services in the city, but if they're not culturally sensitive and are underfunded, then youth won't use them."
"The fallout from Indian residential schools has endured and youth such as those who entered into the pact are its progeny," McCormick said. "There's a legacy of pain, abandonment, disconnection, fragmented families and substance abuse that has been passed down inter-generationally."
A program like GEN7 is a good start to reversing that brutal current. "If you have Aboriginal mentors who are doing well in life, who can role model and inspire youth to get support, then that's got to be a good thing," McCormick said. "No one should feel like they have to die to belong."
The second event was a conference in Nanaimo in 2011 at which ALIVE official Ambrose Williams listened to a presentation about GEN7 by an official from Motivate Canada. Williams brought the idea back to ALIVE. "We discussed it and thought it would be a perfect fit for here, so we got to work on it," Clark said.
The need no doubt exists. The government counts more than 40,000 indigenous people residing in Vancouver. More than four in 10 are estimated to be under the age of 24.
Clark made a pitch for a GEN7 project to the Vancouver Park Board and all its 24 community centres. Five centres committed to support the program this year, contributing $5,000 each in funding. ALIVE kicked in $20,000, while the Park Board and city anted up $10,000 each, marking the first time GEN7 was attempted with an institution in an urban setting.
When ALIVE canvassed for GEN7 Messengers in fall 2012, 30 applications rolled in -- many more than expected. The five messengers chosen trained with Motivate Canada the following January.
Full opportunities, not 'funnels'
Savoy, 18, traces her ancestry to the Nisga'a village of New Aiyansh on her mother's side and to Acadia on her father's. But Savoy grew up in Vancouver and calls home the Commercial Drive area, not far from the Ray-Cam Community Centre on Hastings Street, where she worked as a GEN7 messenger.
Savoy was inspired to join GEN7 by two mentors of her own. One was a childhood friend named Rebecca Jules, "a really good role model to me when I was a kid." The other was her Grade 12 teacher, Spirit Lavalle, "an inspirational and empowering aboriginal woman."
Ray-Cam is located adjacent to the Stamps Place Housing Project. Formerly known as the Ray-Cam Housing Project and once nicknamed the Raymur reserve, the project was once populated by a high percentage of indigenous peoples from different bands. Today, however, the project's population is equally split between indigenous residents and international immigrant families. Savoy finds herself a role model not just for indigenous kids, but also children from China, Vietnam, Africa and the Philippines.
Savoy worked as a GEN7 Messenger at Ray-Cam on Tuesdays and Thursdays after school, supervising basketball, soccer, badminton and exercises, and overseeing a healthy snack. Mentoring others meant sacrifices for Savoy. Her grandfather in the Nass Valley passed away, but she never made it to his funeral. She was pressed to complete her studies as she prepared to graduate from high school.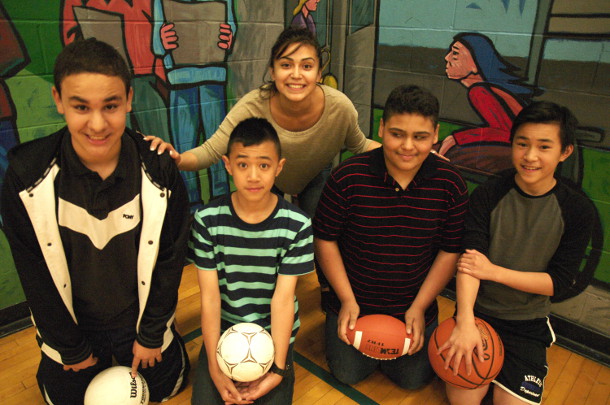 Savoy intends to enrol in a university transfer program at the Native Education Centre this fall. Said Savoy: "I want to work as an advocate for youth one day. But there's so much I want to do with my life, like travel and see the world."
Savoy and other messengers benefited from GEN7 in other ways. The program was structured so that Messengers were auxiliary employees with the Vancouver Park Board. "They learned what it is to be a union member and how to work with schedules and time sheets," Ray-Cam's Carole Brown said. "More importantly, they became known to community centre staff, and are now aware of job opportunities in the system and how to apply for them."
Not every experience was positive. One Messenger, who declined to be interviewed for this story, split his time between Trout Lake Community Centre and later Ray-Cam, and his experience was difficult, according to GEN7 training coordinator Steven Eastman.
Other challenges are institutional, Clark said. If more than the original five Vancouver centres are to take up the GEN7 program, funds have to be found. "There's this fee-for-service mindset that ignores the impoverished that aren't able to pay fees to access programs. It takes the word 'community' out of community centres," Clark said. "And there's this tendency to funnel aboriginal people to just one place for programs and services. Well, our people should have full opportunity in all 24 centres."
Clark said ALIVE and its partners are evaluating the GEN7 experiment in Vancouver. The city and the Park Board have committed to continuing the program. Clark hopes to eventually extend GEN7 to every city in Canada. "We're talking about kids' lives here," he said. "It's just the right thing to do."