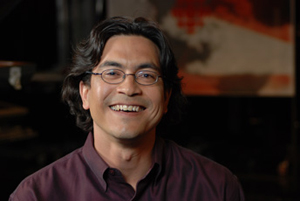 [Editor's note: This is an introduction to Leading Together, a series, beginning today, of reports about successful youth-focused projects resulting from collaboration between indigenous communities and philanthropic organizations. Leading Together is itself a collaboration of Journalists for Human Rights, The Tyee Solutions Society, the Wawatay Native Communications Society, and the J. W. McConnell Family Foundation which commissioned this journalism.]
How do we inspire indigenous youth?
It's a question I asked myself often, during the six months I spent filming a documentary on the inexcusably low graduation rates of indigenous high school students.
Four teens from the Tsleil-Waututh Nation let us into their classrooms and homes. One was an artist and an athlete and charming guy. But his dad wasn't around much, and he was struggling in school. He'd been suspended twice for smoking marijuana. We were there, with cameras, the day he was expelled. Accused of being stoned during school hours, he was upset, and swearing at school counsellors, then escorted off school grounds toward an uncertain future.
I found it incredibly disturbing, to witness the breakdown of such a talented young man.
But, that's what a 50 per cent dropout rate looks like. That's reality for a lot of indigenous youth.
Too many are poor -- they don't have breakfast in the morning. Too many are surrounded by despair -- substance abuse, family dysfunction, unemployment. Too many are uninspired by school.
The stories in this collection talk about reciprocity and philanthropy. These are noble goals. But, when it comes to the "giving back" theme of this conference, we should be asking: how do we inspire indigenous youth, and are we teaching THEM to give back?
When I think of "giving back," I think of Robbie Matthews Sr. He's a Cree trapper I lived with for several months in James Bay. Robbie was in his fifties, then. Robbie could track animals. He could read their shit. He knew where -- and even when -- the animals eat. He watched and observed their patterns, and compared them to years of experience. But he never took hunting for granted. He knew animals are shy, and not always easy to find.
So, when he would trap beaver, Robbie would sing songs to that beaver. To me, it was a tuneless kind of song. But they were songs that had been passed on to him, his way of saying thanks. After feasting on beaver, Robbie would ask me to slip the bones back in the lake.
This is giving back.
"Giving back" is engrained in the traditions of many indigenous peoples. At powwows, giveaways mark everything from a birthday to an award received. The person marking the event gives away what they can, to everyone from singers and dancers, to veterans and elders.
Giving back is part of who we are as indigenous peoples. The land is part of who we are as indigenous peoples. But are we ensuring it is part of who our kids are?
Well, the stories in this Leading Together collection give me hope. No, there's no magic pathway to success. But, these projects offer important hints to how we -- both indigenous and non-indigenous peoples -- can learn from the indigenous spirit of giving back.
Here's one key finding: we have to re-imagine education for indigenous youth.
Take Angela Sterritt's piece published today on Dechinta, the Northern Bush University. By bringing students back to the land, and incorporating classroom learning, Dechinta offers us a blueprint for a new educational paradigm that draws from the best of indigenous and non-indigenous cultural traditions. Or consider Haley Cullingham's assessment of Youth Fusion, a project that's connecting university students from Montreal with Cree and Inuit youth, to help redefine what it means to succeed in school in James Bay.
Another important finding: we must use technology to reach indigenous youth.
Check out Trina Roache's piece on The Red Road Project, a youth-led initiative to get youth off liquor and drugs and into traditional cultural activities -- in groups organized through social media. Twitter and Facebook is also crucial part of Haley Cullingham's article on Apathy is Boring, an initiative that finds lessons in the Idle No More movement to show how best to use technology to politicize indigenous youth.
A final crucial ingredient: we need to empower indigenous youth to take ownership, by leading projects themselves.
In Lenny Carpenter's piece, we see how the youth of Kitchenuhmaykoosib Inninuwug in northern Ontario were able to create a genuine exchange experience, so that southerners were able to put themselves, literally, into the lives of those living in the remote north. Similarly, Nicolas Renaud's analysis of the work Montreal-based Exeko has done in Kanesatake shows how the youth bring healing to a community (supported minimally by Exeko staff), by rebuilding a radio station that's been silent since the Oka crisis.
It's all encouraging stuff. Despite what you may hear in the news, the relationship between indigenous peoples and the rest of Canada isn't always mired in conflict. This collection of inspirational stories -- too often untold -- points indigenous and non-indigenous peoples in the right direction, toward a relationship based in shared leadership and mutual respect.
Philanthropists and social innovators, in particular, will find these articles provide tips toward developing successful strategies that transform dismal statistics into exciting futures for indigenous youth. These are grounded, real-world stories, that show how to inspire indigenous youth, teach indigenous and non-indigenous youth to work together and, perhaps most importantly, offer us all lessons on the importance of giving back.