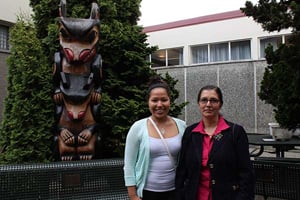 When she graduates from Britannia Secondary School this month, Shaniece Angus will be the first Aboriginal person in the school's history to pass calculus. The 18-year-old First Nations student is also the recipient of over $6,000 in scholarships for her academic success, and has been accepted to both Northwest Indian College in Washington State, and the University of British Columbia (UBC).
Provincially, 57 per cent of Aboriginal students graduate within six years of Grade 8, compared to 84 per cent of their non-Aboriginal peers. In Vancouver, where Angus goes to school, the six-year graduation rate hovers around 30 per cent for Aboriginal students compared to 80 per cent for non-Aboriginal students.
Angus credits her success to her decision to voluntarily give up five weeks of almost every summer from Grades 7 to 12 to improve her math and English skills at the Emerging Aboriginal Scholars summer camp at UBC. It keeps her mind "stuck" on math and English, in a good way.
"It's inspiring meeting all of these Aboriginal students [at camp], willing to go to school throughout the summer for their education," she told The Tyee. "It supports you so much."
Angus started attending the Emerging Aboriginal Scholars camp in 2008 when she was transitioning from Grade 7 to Grade 8. Co-created by the Pacific Institute for the Mathematical Sciences and UBC's First Nations House of Learning, the first Emerging Aboriginal Scholars camp held in 2007 was for Grades 9 to 12.
A five-week summer program, Aboriginal students spend the mornings improving their math and English skills, and in the afternoon have the opportunity to complete paid internships in a variety of UBC faculties.
At first the main goal was to graduate more students with Math 12, Melania Alvarez, B.C. education coordinator for PIMS, explained. Not only has the program led to a higher graduation rate overall, it's piqued student interest in math and other science-based courses, like physics.
The internships inspire students to explore what they want to do after graduation, and to consider how their high school courses will affect their future. With former camp attendees attending UBC, Langara, and Douglas College next year, Debra Martel, associate director of the First Nations House of Learning, said the program has been a success.
The camp isn't about promoting the university, Martel said. It's about sharing opportunities with students, and helping them plan how to get where they want to be.
"I think a lot of times students focus on, 'I want to graduate,'" she said, "but what's the door that's opening just on the other side?"
For kids who want to work hard
The Emerging Aboriginal Scholars camp, which takes place between July 2 and Aug. 2 this summer, splits into two cohorts: a transition camp for kids leaving elementary in Grade 7 to enter high school in Grade 8, and a camp for kids in Grades 9 to 12 that focuses on improving math and English skills by working with tutors and specialists in those fields, as well as getting the kids to make decisions about their future after high school. Starting with just five kids in 2007, Alvarez says this year's camp programs will have a total of 30 kids, though the official limit is 25.
Angus started the program the summer before Grade 8 on the recommendation of a teacher.
"It just really helped me transition and make new friends, and helped me with my math, too." While she never found the subject particularly difficult, she said, "I started liking math because of this program."
Kids in the transition camp receive a weekly "scholarship" for good attendance and completing program requirements. But the older students are only paid if they complete the additional internships: $100 for seven and a half hours of work every week.
Angus, who took a summer off from the camp between Grades 10 and 11, had her first internship last year, assisting with a Fetal Alcohol Syndrome (FASD) study involving rats. It was Alvaraz, who knew she was interested in pursuing nursing after graduation, who suggested that study.
Angus found the internship valuable, particularly because she knows Aboriginal people with alcohol issues, and some with FASD. She said she hopes to do a nursing internship this summer before she leaves for a year at Northwest Indian College to play basketball.
Other students have completed internships with programs and departments as diverse as TRIUMF -- the national laboratory for particle and nuclear physics located on the Point Grey campus -- forestry, engineering, fisheries, First Nations studies, English, biology, and medicine.
Campers range in skill level, from academically-advanced students who casually read university-level chemistry papers, to students years behind their peers in reading and writing comprehension. But Alvarez believes every camper is capable of improving their skills, if they're up to the challenge.
"We had a student who could barely read and write, who barely knew math," she recalled. "Last year, in five weeks, he was able to catch up at an amazing rate.
"We work with kids who really want to work very hard, who really want to stay here for the five weeks, who really want to take the opportunity."
Year-round help
While campers have a leg up on peers who spend the summer forgetting much of what they learned in school, PIMS sees the need for mentoring during the school year, too. PIMS offers year-round mentorship programs at several secondary and elementary schools in east Vancouver. Students are also trained to tutor and mentor their peers.
Angus took advantage of that extra help, and credits Alvarez personally with where she is today.
"She just helped me so much to get my foot in the door with UBC," Angus said, adding she hopes to attend the university next year to start nursing. "Honestly, if it weren't for Melania, it would be really hard."
The camp and tutoring are free for students, but it costs money to pull off. Funding comes mainly from the B.C. government, the Vancouver Foundation, UBC's faculty of science, PIMS and private donors. Alvarez hopes to secure more funds to expand the camp to Simon Fraser University, and to non-Aboriginal students who come from low-income families.
The camp wouldn't be possible without school faculty and staff that recommend kids for the camp or house the mentorship programs in their schools, Alvarez said.
"It is true the university is doing this, but there are a lot of teachers and principals who take a lot of extra time to make this program possible, and I think that should be acknowledged, too," she said.
"Really, the only way this is working is because we are all working together."