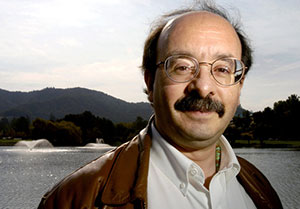 [Editor's note: The Tyee's sustainability reporter Geoff Dembicki is on a months-long journalistic quest to answer the big question of his millennial generation: Are We Screwed? Find a complete list of his dispatches as they appear here. ]
Earlier this month a NASA-funded study warning that resource scarcity, inequality and ecological neglect may be pushing modern civilization towards "irreversible collapse" went absolutely viral. The Guardian's summary of it alone received more than 124,000 Facebook shares. And so when I had the chance this week to interview one of the world's most influential clean energy wonks, Amory Lovins, I asked him directly: "Are we screwed?" Lovins' response was calm but forceful: "No."
We were seated in a small room adjacent to the downtown Vancouver banquet hall where Lovins was scheduled to deliver a lunchtime address. "Somebody once asked [the late environmental visionary] Dana Meadows, 'Do we have enough time to get out of this mess in one piece?'" Lovins went on. "And she rightly said, 'We have exactly enough time starting now.'" Starting in the 1970s, Lovins began studying and advocating for a cleaner, more efficient and decentralized electricity system.
He's since consulted for an A-list of global corporations; briefed 23 heads of state; influenced China's green revolution; and now name-drops 3-Star U.S. Admirals. So if we aren't screwed, I asked him, then what? Clean energy, he replied, "is not a fringe activity. It's now providing about six per cent of the world's electricity, and it's growing very, very fast." That growth is eroding the control fossil fuel firms have over our lives, he said, and has the potential to make society "fairer and smarter."
'Grand synthesis'
Later on that day, Lovins provided his 10-second version of human history to a black-suited business crowd convened by the Asia-Pacific Foundation of Canada. "Fire made us human, and then fossil fuels made us modern," Lovins said flatly, over the banquet hall white noise of clinking coffee cups and muffled coughs. "But now we need a new fire that makes us safe, secure, healthy and durable." Up at the front sat B.C. Energy Minister Bill Bennett and former federal Tory cabinet minister Stockwell Day.
For them and the room, Lovins laid out the simple but compelling business logic of a fossil-free economy he's perfected during hundreds of keynote speeches and several TED talk appearances. In the United States, he claims, such an economy by 2050 would be 158 per cent larger; consume no oil, coal, nuclear and one-third less gas; and shrink fossil-based carbon emissions by four-fifths. "It's a grand synthesis of U.S. energy solutions," he explained. A similar analysis is now being prepared for Canada.
The ultimate beneficiaries of our ongoing shift to a radically more efficient economy run on clean energy, he thinks, are regular people. "You strengthen communities and families," he said. Yet he went on, "it's disappointing that our governments at various levels often put a lot more effort into defending old energy industries than growing new ones." As clapping broke out, I wondered what Bennett and Day, two of Canada's more vocal defenders of fossil fuels, thought of Lovins' speech.
Tory weighs in
So when it was all done I walked up to Day and asked. "Those who succeed in economic history are the ones who understand the transitions," he replied, as the room slowly emptied out. "There was a day when people worried that horse and buggies might be replaced." But automobiles were "a better technology" that created more prosperity, he added. Alright, I asked, then what did Day think of Lovins' belief that clean energy would in a few decades make Canada's oil and gas obsolete?
"The more able we are to grasp new technologies, the better it is for everybody," Day said. I continued to press him: Did that mean he thought the days of rapid oil-sands growth were numbered? "People that weren't willing to admit that demand for the horse and buggy was going to drop, and kept expanding their horse and buggy factories, they're the ones that get left behind," Day replied. He then added somewhat cryptically: "I'm concerned that the future's going to get ahead of us."
Sensing my welcome might soon be overstayed, I shook the former Conservative minister's hand and departed. Out on the street in the soft light of a cloudy afternoon, I tried to make sense of it all. Had Lovins just described a "fairer and smarter" future so inevitable that even fossil-fuel advocates like Day saw the economic risk of failing to embrace it? Or was the future much more restricting than that, each day bringing our civilization ever closer to "irreversible collapse"?