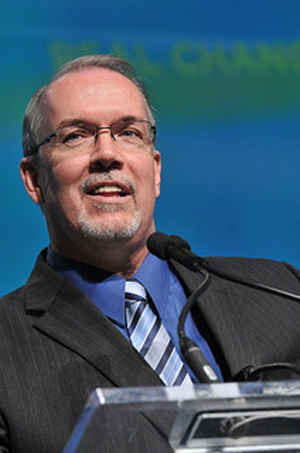 John Horgan's on-again, off-again bid to become the leader of the BC NDP is apparently on again.
Horgan has scheduled an event about the leadership at the Spencer Middle School in Langford, in his home riding of Malahat-Juan de Fuca on Monday night, a week after registering the TeamHorgan.ca website domain. Monday is also St. Patrick's Day and Horgan has sometimes referenced his Irish heritage.
It would be a switch from last Oct. 16, when Horgan, an MLA since 2005, announced via Twitter that he wouldn't run. "After consideration I will not be seeking to lead BCNDP," he tweeted. "Party should take time to allow next generation to shape future."
That was last fall when the ruling BC Liberals opted not to recall the legislature. The Opposition NDP has since been reinvigorated by unpopular Liberal decisions to skirt the B.C. Utilities Commission and hike BC Hydro rates and cut BC Ferries services and raise fares, in addition to a B.C. Supreme Court ruling that found the Liberals aimed to provoke a BC Teachers' Federation strike for political gain.
Other Liberal miscues include Transport Minister Todd Stone sparring with Metro Vancouver mayors over a transportation funding referendum and Premier Christy Clark nixing a $140,000 contract for ex-Liberal cabinet minister John Les a day after the earthquake preparedness review was announced by Attorney General Suzanne Anton.
Rematch in the making
Horgan finished third on the second ballot of the April 17, 2011 NDP leadership election. Adrian Dix edged Mike Farnworth by 3.6 per cent on the third ballot to replace Carole James. Farnworth, the NDP finance critic and Port Coquitlam MLA, is the only other declared contestant to succeed Dix when the party votes next September.
Last September, Dix announced he would resign when the party chooses a new leader. Dix took the blame for the NDP's surprise loss in the May 14 provincial election. Clark and the Liberals overcame a 20 per cent gap in opinion polls. Dix's Earth Day switch to oppose the Kinder Morgan pipeline twinning was cited as the turning point in a campaign notable for Liberal attack ads and a too-little, too-late response from the NDP.
The list of those not wanting the NDP leadership is longer than those with a desire for the job. NDP Members of Parliament Nathan Cullen (Skeena-Bulkley Valley), Fin Donnelly (New Westminster, Coquitlam, Port Moody) and Peter Julian (Burnaby-New Westminster), along with rookie MLAs David Eby (Vancouver-Point Grey) and George Heyman (Vancouver-Fairview), have all said no.
Horgan supporters in 2011 included caucus chair Shane Simpson (Vancouver-Hastings), public safety critic Kathy Corrigan (Burnaby-Deer Lake) and transportation critic Claire Trevena (North Island).