At a gathering of business people in Vancouver in mid-November, former British Columbia finance minister Carole Taylor described the fears many people have about the provincial economy.
Despite economic growth in the province, she said, "A growing number of the middle class and those who are trying to achieve that status really feel they are not sharing or participating in that prosperity."
The facts confirm those feelings. And by some measures B.C. is the worst province for inequality in Canada.
Take, for example, the average after tax income for the top 20 per cent and the bottom 20 per cent, and calculate the ratio using 2011 statistics, as did the Canadian Centre for Policy Alternatives. B.C. is the most unequal province in Canada, with a ratio of six dollars to one.
That comes after decades of widening fortunes for the rich and the rest of us. Since 1982 after tax income for the top one per cent of British Columbians has grown by 60 per cent. For pretty much everyone else, the bottom 90 per cent, that measure has remained essentially flat.
However numbers are crunched, British Columbia has been first or second on measures of inequality in eight of the last 10 years.
The winners in this equation should be worried, argued Taylor, who is now the chancellor of Simon Fraser University and is or has been a director for some major Canadian corporations including Bell Canada Enterprises, Toronto-Dominion Bank, CP Rail, Canfor and Fairmont Hotels. She continued, "There's a growing disconnect. 'Why should I care about business doing well, why should I care about a strong economy, if I'm not feeling any of the effects?'"
Without that feeling of connection and benefit from economic growth, the business people in the room would fail to win the social licence they need for their projects to move ahead, she said. "There has to be a solid line between the two things."
Despite lower taxes and "modest gains" in disposable income, Canadians are carrying high debt loads, the cost of living is rising, job insecurity is rife and many are uncertain about retirement, she said. "You've got this sense of dis-ease."
Taylor made the comments as she introduced the findings of the B.C. Agenda for Shared Prosperity, a joint report from the Business Council of B.C. and the B.C. Chamber of Commerce.
Rigged economy
That many people are convinced today's economy is rigged against them should be unsurprising. The fact that a tiny minority has grown staggeringly rich while the wages for most people have stagnated or shrunk is well documented and widely accepted.
In B.C., Jim Pattison, the richest person, has accumulated some $7.39 billion according to Canadian Business magazine, enough money to buy a new Prius for nearly 260,000 households, even if the owner of many car dealerships and other interests had to pay retail.
The second richest British Columbian, Lululemon Athletica founder Chip Wilson is a relative pauper with $3.73 billion net worth. That's still enough to buy eight pairs of $100 yoga pants for every British Columbian, male or female, adult or child.
Meanwhile, when the B.C. child and youth advocacy group First Call released their 2013 B.C. Child Poverty Report Card they found the province once again had the highest child poverty rate in Canada.
Based on 2011 statistics, one out of five children in B.C. lived in poverty, some 153,000 kids. This was up significantly from a year earlier. For children living in families headed by single mothers, the poverty rate was 50 per cent.
The authors of the report noted "British Columbia continued to have the most unequal distribution of income among rich and poor families with children, primarily due to the very low incomes for the poorest families. The ratio of the average incomes of the richest 10 per cent compared to the poorest 10 per cent was 12.6 to one."
Within Canada, B.C. and Alberta are the most unequal when comparing after-tax household income. B.C.'s inequality has outstripped Canada's as a whole every year since 2001. And among OECD countries, Canada is one of the more unequal, not yet on the level of the United States or Chile, but significantly more so than Denmark, Norway, France, Slovenia and many other countries.
Issue of our age
There has been much done to bring the issue to public attention. In recent years we've had Idle No More in Canada drawing attention to First Nations poverty. The Occupy movement made the division between the one per cent and the rest of us throughout North America common knowledge.
In Toronto Centre, Chrystia Freeland, the author of Plutocrats: The Rise of the New Global Super-Rich and the Fall of Everyone Else faced off in a byelection against Linda McQuaig, one of the co-authors of The Trouble with Billionaires.
South of the border books like Nobel prize winner Joseph Stiglitz's The Price of Inequality and Robert Reich's Beyond Outrage have examined the problem. Internationally, Kate Pickett and Richard Wilkinson make a convincing argument about the harms of inequality in The Spirit Level: Why More Equal Societies Almost Always Do Better.
In 2012 The Economist weighed in with a special issue that argued for the importance of protecting the equality of opportunity even while encouraging the growth of unequal outcomes and recently the Globe and Mail ran a two-week series on inequality.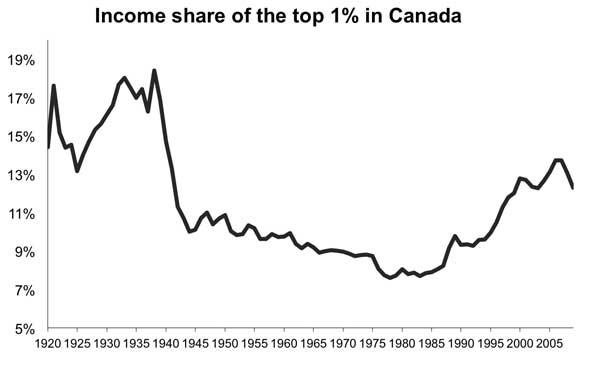 A House of Commons committee released an 82-page report on income inequality in December, 2013. The Conservative-dominated committee found income inequality has risen in Canada for a variety of reasons. In recommendations one columnist described as a "lump of coal" for the poor, it argued for continuing to fight inequality by promoting job growth and keeping taxes low.
When the Business Council of B.C. and the B.C. Chamber of Commerce examined inequality for their September 2013 B.C. Agenda for Shared Prosperity report, they too found reason to worry.
The 12 people on the advisory council included business people like Gerry Martin, but also Kim Baird from the Tsawwassen First Nation, former NDP cabinet minister and current SFU president Andrew Petter, and Reid Johnson who recently resigned as the Health Sciences Association of B.C. union president.
Social stresses
"While B.C.'s economy as a whole has performed moderately well in recent times, the reality is that not all British Columbians are sharing in its success," the authors found.
"This is clearly not just an issue in B.C. Many countries are faced with a situation where moderate and low-income earners are not enjoying the benefits of the economic recovery. And certain people in B.C. -- notably young workers, First Nations and some parents with young children -- are facing especially tough obstacles."
Later it added inequality can, "if unchecked, lead to dysfunction and unacceptable social stresses."
As they turned to look for causes and solutions, however, the authors appeared to lose some of that sense of urgency. The report described the causes of inequality as "complex and not all amenable to policy interventions -- particularly for small sub-national jurisdictions such as B.C."
Nor did the authors say they found much support for the most obvious solutions, increasing taxes and spending more on social programs.
The report acknowledges there was much disagreement throughout their widespread consultations on how to address the issue and Taylor in her November speech described the process as akin to "herding lions."
In the end, the authors offered little more than a pitch for the status quo: "What B.C. needs today is a more concerted focus on tackling challenges and realizing opportunities; a focus that recognizes that in order to improve the distributional side of prosperity, we first need to create a more prosperous economy."
'Flow-up economics'
As Taylor put it in her speech, "Obviously we can't get to the point of talking about sharing prosperity unless we really nurture that growth and prosperity."
Canadian Finance Minister Jim Flaherty has made a similar argument in recent months responding to provincial governments that want the Canadian Pension Plan expanded. He supports the idea, he says, but not until the economy is stronger.
It's a promise of future comfort that many Canadians are becoming more skeptical about. The government has been promoting a new trade agreement with the European Union saying the boost to economic activity will be the equivalent of "increasing the average Canadian family's annual income by $1,000."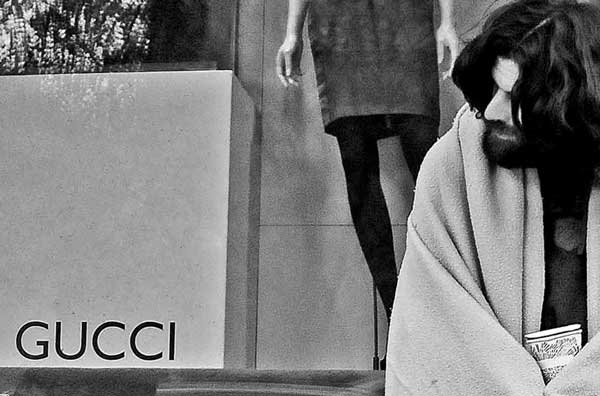 But as I asked people in interviews over the last couple months if and when they expect to see that extra money, most laughed. As Bill Hopwood, an organizer of the Raise the Rates Coalition puts it, we don't have trickle-down economics, we have flow-up economics.
"It's almost unimaginable how rich the rich are," said Hopwood. "We don't even begin to comprehend the level of affluence of some of the super rich... the majority of us are standing still. Society as a whole is better off, but most of the gain has gone to the rich."
It was unclear from Taylor's remarks how much prosperity is needed before it can be shared, how many billions Jim Pattison should have first. And Taylor, a former journalist who criticized reporters in her speech for focusing on extremes and ignoring people in the middle, was unavailable for an interview. (A couple days after The Tyee's interview request, a spokesperson said Taylor had left the country.)
The Business Council of B.C.'s president and CEO, Greg D'Avignon, said that B.C. and Canada are already doing much to limit inequality and continue to have much stronger social supports and better social mobility than do many other jurisdictions.
The province does have challenges and could do much better, he said in an interview, more details of which will be included in part three of this series.
Once economic growth leads to larger government revenues, the B.C. Agenda for Shared Prosperity authors suggested, priority should be given to education and investments in infrastructure such as public transit.
To improve outcomes for low and modest income working families, they had just three suggestions. The first is a Working Income Tax Credit they hope would give individuals with low incomes a greater incentive to work. They also suggested "regular, predictable, modest increases in B.C.'s statutory minimum wage that are tied to inflation" and considering pension reform, including "simplified pooled pension plans," to encourage people to save for retirement.
The few suggestions seemed meagre when compared to the 10 they had for improving public discourse, ones that appeared aimed at convincing people that economic growth would benefit them.
It's a start, said Iglika Ivanova, an economist with the B.C. office of the Canadian Centre for Policy Alternatives. "I'm encouraged to see they're talking about it," she said. "If we don't share prosperity, bad things happen eventually. It's a one way street to the French Revolution."
Today begins a multi-part series for the Tyee Solutions Society looking at the causes, costs and potential solutions for wealth inequality in British Columbia, Canada's most unequal province by some measures.
Tomorrow: Just how unequal are we in British Columbia?