On a brisk November afternoon a couple dozen activists gathered outside the British Columbia ministry of social development's office on the outskirts of downtown Victoria hoping to give away a food basket and other prizes.
There for welfare Wednesday, the day the ministry hands out cheques, they were seeking the person who had spent the longest on the wait list for social housing so they could give her or him the award. It was good natured street theatre with a serious point.
People struggling on meagre benefits, waiting for a better place to live, are stretched in a market that's also tough for people earning low wages and even for those making above average incomes. It's a similar story across the province, especially in Vancouver, where stories of families earning $100,000 a year who feel priced out of the real estate market are common.
High housing prices are a drag on provincial economy, concluded a discussion guide for the Simon Fraser University Public Square on B.C.'s economic future.
"Affordability is a key issue, notably in the Metro Vancouver area, and risks driving away talented individuals who could contribute economically," it said. "This growing economic divergence undermines productivity, increases household debt, reduces the tax base to pay for government services, and puts the brakes on consumer consumption as a driver of growth."
The housing crisis is also a major driver of inequality. In Vancouver, nearly half of households pay more than the 30 per cent of their income for housing, the level that's considered affordable.
Ownership is even more expensive. A November housing affordability report from RBC found that someone earning a typical Vancouver wage wanting to own a detached bungalow (or average home) would have to pay 84.2 per cent of their pre-tax income to cover their housing costs, including mortgage, utilities and property tax.
That compared to 55.6 per cent in Toronto, 38.3 per cent in Montreal, 37.3 per cent in Ottawa, 33.7 per cent in Calgary and 32.9 per cent in Edmonton.
18 years on wait list
Hosting the Victoria event, Kym Hothead said Ted Hawryluk had been on the wait list for 14 years as he introduced him.
It's been longer than that, Hawryluk said after he took the microphone. "I've been waiting about 18 years on the BC Housing list," he said.
Hawryluk is a familiar presence downtown where he sells copies of The Street Newz paper. He gets around in an electric scooter, his small black dog riding in the basket. He has wispy facial hair, shoulder length dark hair and I've never seen him without a baseball cap.
He said he figures a few things have kept him from getting into subsidized housing, where he would spend less of his disability benefits on rent. He already has a roof over his head, he has a dog and he smokes cigarettes, he said. "That puts me at the bottom of the housing list."
The ministry is trying to house the most vulnerable first, but it leaves a lot of people paying more than $500 a month to "poverty pimps" who rent out substandard places, he said.
Hawryluk outlined his budget. His disability benefits are $906 a month. Out of that he pays rent, hydro and his phone bill. "I've got about $56 a month left to live on," he said.
Thanks to selling The Street Newz and the policy that allows him to earn some money without reducing his benefits, he's able to survive, he said.
Hawryluk's biggest expense is rent. The ministry allows $375 a month, an amount for which there is virtually nothing available in much of the capital region. "Our rental rates are frozen at 1998 rental rates," said Hawryluk.
Rents are allowed by law to go up four per cent a year, but the benefits don't keep pace, he said.
Help for those not in need
Politicians know Victoria is an expensive city for renters, Hawryluk said. "We've got MPs and MLAs staying here in Victoria and they get a big bonus, living allowances and that. The government can come up with a whole lot of money for people who are already rich, but when it comes to the actual poor they're not even pegging us at inflation."
MLAs who live outside of the Capital Region are entitled to as much as $1,583 per month if they rent or own a place to stay in Victoria and have receipts to show what they've spent.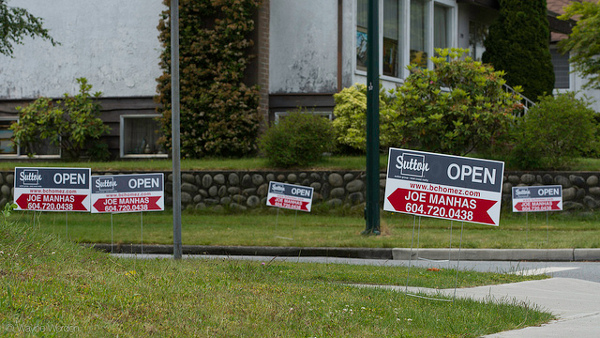 The high cost of housing and the difficulty of getting help is a common story among people trying to survive on disability or welfare payments. There is insufficient social housing to fill the need.
A woman passing on the street during the protest said, "It took so long for me I just gave up on it." At the time she had a newborn. She spent two years waiting. "We were in a place that had mould and mice and everything."
A member of the Victoria advocacy group Committee to End Homelessness, David Tat, said he'd spent many years on the social housing list. "I know people that are paying $725 in rent and they're getting $900 [in benefits]," he said.
He's personally spending under $600 on rent, he said, but added, "It's still an awful lot out of $900."
At the end of the event, the organizers handed out the prizes and the winners shared them around, leading Hothead to observe that that's what people who are living in poverty do when they can.
'Maybe we need a big crash'
The high price of housing came up in interview after interview about inequality in British Columbia.
A Vancouver contact who asked to have his name withheld from publication because he fears retribution from the people who run the disability system, said that after paying his rent and a few other fixed costs, he's left with $9 a day for food. By being careful he can survive on that, he said, but observed, "Poverty is an issue of cash, strictly."
Sharon Keen is retirement age, but is still working to keep a roof over her head in Victoria. "To me it's all got to do with housing," she said. "Maybe we need a big crash."
Payments to her from the Canadian Pension Plan and Old Age Security are about $960 a month. Rent on her one-bedroom Victoria apartment, which she also works out of, is $900.
The apartment is smaller than one she had previously, from which she says she was renovicted, or forced to move so the landowner could renovate. To make up the space she needed she found it necessary to rent a $200-a-month storage locker. It drives her housing cost to $1,100, which is an average rent in Victoria.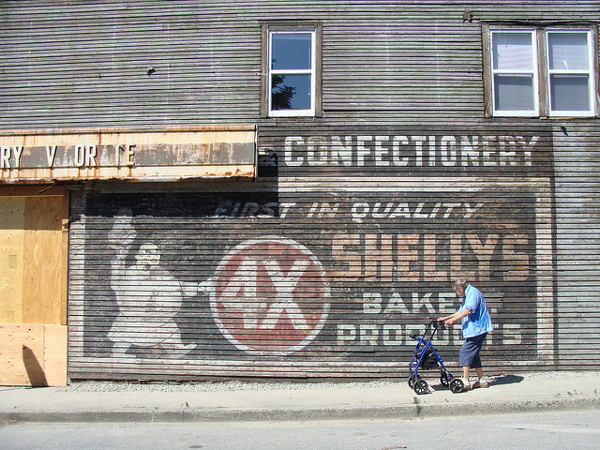 "I should be paying half [my income]," said Keen. Asked what she'd be likely to find for $450 a month in Victoria, she said, "You can't. That's what I'm saying."
Canada needs a national housing strategy and incentives for developers to build rental housing, she said. "You need one and a half or two incomes just to have a roof over your head. It's way out of whack. It's not right."
More than half of Victorians rent, as do a similar number in Vancouver. "The renters keep getting the short end of the stick, right across the country, whether it's Halifax or here," Keen said.
Many other people struggle with housing payments, she said. "We're locked into perpetual slavery making monthly rent and mortgage payments as far as I'm concerned. The shit's going to hit the fan one way or another pretty soon here. Something's got to give."
Keen said the pressure has to be taken off one way or another: "To me we have a choice. We either double pensions, or you cut the rents and mortgages in half."
Such a collapse would, of course, be devastating for people who own homes who might be counting on using the property's value to fund their retirements. It would be even worse for those who've signed on for large mortgages in recent years who might well find themselves owing more than their property is worth.
As things are though, there's a large divide between renters and owners. The split is between rich and poor, but also to a large extent falls along generational lines.
Combined with lower wages, worse job prospects and more expensive education, high property values are one of the main things that prevent young people today from enjoying the same expectations for financial well-being their parents and grandparents had.
This article is part of a series for The Tyee Solutions Society looking at the causes, costs and potential solutions for wealth inequality in British Columbia, Canada's most unequal province by some measures.
Tomorrow: Low wages and high housing costs drive generational gap.