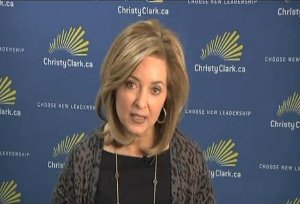 Premier Christy Clark spent part of the last Friday of the election campaign at the HMart on North Road with local candidate Steve Kim at the popular shopping destination for Coquitlam's sizable South Korean diaspora.
A politician connecting with an ethnic community is nothing new in Canada. Since the NDP's Feb. 27 revelation of the BC Liberals' Multicultural Outreach strategy, Clark's ethnic campaigning has come under greater scrutiny.
Two of the players in the scandal were back in the news during the last week of the campaign. A third never really went away.
In fact, FOI documents show that while key aides to the Premier signed agreements to honour public info and privacy, only one, Kim Haakstad, lost her job in the scandal's wake. 
Pamela Martin hosted the BC Liberals' Strong Economy, Secure Tomorrow infomercial and has also hosted daily YouTube highlights of Clark's tour.
Kim Haakstad, Clark's ex-deputy chief of staff, re-emerged as a volunteer at the Vancouver-Point Grey campaign office. Brian Bonney, the ex-Multiculturalism Ministry communications director, is back in the party fold, too, as a volunteer at Ken Kramer's Burnaby-Lougheed. Bonney is hoping to keep his friend Harry Bloy's old seat Liberal against the NDP's Jane Shin.
Haakstad was the architect of the so-called "Quick Wins" strategy, which involved government workers crafting party campaign strategy on public time, contrary to Public Service Agency rules.
Haakstad quit March 1 and was, therefore, ineligible to receive severance. Haakstad had told this writer on April 16 that she was not involved in the campaign, but just "living life" while paying the bills with her savings.
Bonney departed in February, before the bombshell, to become the short-lived CEO of the Canadian Homebuilders' Association. When the Clark-ordered, in-house report by her Deputy Minister John Dyble was tabled March 14, Clark said the party had repaid the treasury for $70,000, mainly to pay for Bonney's party work.
A copy of the cheque was finally released via Freedom of Information on May 9, a week later than promised by the Finance Ministry.
Behind the scenes
When the Dyble Report was released, the government said 10,000 documents had been gathered and they would be released within 60 days. Counting the days on a calendar would mean the 60-day window would expire May 13, but the FOI law counts working days.
Information Access Operations has confirmed that the earliest release of the Quick Wins files will be the week of June 10, almost a calendar month after the election.
Information gleaned from several FOI disclosures, however, offers a glimpse behind the scenes.
After a half-hour meeting with Deputy Premier Rich Coleman and the weekly cabinet meeting on Feb. 27, Clark flew back to the mainland for a 2:05 p.m. appearance at Point Grey Secondary in her riding to mark Pink Shirt Anti-Bullying Day.
At approximately the same time, NDP house leader John Horgan tabled the leaked memo in Question Period.
Instead of going to Victoria to deal with the fallout the next day, Clark was at the downtown cabinet office for a briefing with outreach co-ordinator Barinder Bhullar before meeting Samira Alibhai and Malik Talib of the Ismaili Council of Canada. Clark left it to Coleman to make an apology in Question Period.
Clark's agenda also shows she attended the Vancouver Sun editorial board for an hour and taped video greetings, including one for the launch of the regional all-news TV station Global1. She finished the day with the Web Alliance of Women's Business Networks Roundtable meeting.
She spoke with Dyble by phone on the morning of March 1 and took a day-trip trip to Prince George on Anderson Air for a Big Brothers/Big Sisters mentoring luncheon and opening of the Kordyban Cancer Lodge.
Haakstad met with chief of staff Dan Doyle and aides Ben Chin and Shane Mills on Feb. 28. The next day, she quit. A memo sent by email at 5:26 p.m. on March 1 by Laura Tennant, on behalf of Doyle, to aides, and staff said: "Kim Haakstad has tendered her resignation to the Premier, earlier today. Kim has worked alongside all of you during her time as Deputy Chief of Staff in the Office of the Premier, and I know you appreciate her as a colleague and a friend. Kim made her decision after some thought."
While Clark released the resignation letter of chief of staff Ken Boessenkool last September, Haakstad's resignation letter was not released. Information Access Operations has not responded to a query about whether her decision was delivered to Clark orally.
Haakstad's agenda for her final two months on the job showed an extraordinary three-hour meeting at 3 p.m. on Jan. 11 with Doyle, Chin, Mills, Clark's other Deputy Minister Neil Sweeney, Government Communications and Public Engagement Deputy Minister Athana Mentzelopoulos, Strategic Planning Assistant Deputy Minister John Paul Fraser and Assistant Deputy Minister of Communications and Media Relations Kelly Gleeson.
The topic of the rare meeting of Clark's handpicked, senior message-makers was not included in the agenda. It was extraordinary for two reasons: the three-hour length and that it was the first anniversary of Haakstad's 2012 meeting to discuss her Multicultural Strategy Action Items with eight senior aides.
Haakstad's agenda also includes regular entries for "weekly constituency call" and "long-term planning" meetings. A Jan. 25 entry shows an 11 a.m. to noon "Weekly VPG Call."
VPG is the abbreviation for Clark's Vancouver-Point Grey riding, where she faces a challenge from the NDP's David Eby and Conservative Duane Nickull.
Easy exit
Haakstad was the only person among the Quick Wins core five who departed. But Haakstad, Bhullar, Martin, Bonney and Fiera Lo all agreed, as a condition of their employment, to uphold Chapter 12 of the government's Core Policy and Procedures Manual. That includes the Document Disposal Act, Electronic Transactions Act, Freedom of Information and Protection of Privacy Act and Personal Information Protection Act.
Conveying government information via private email channels and creating databases from government events for party purposes was contrary to both information and privacy legislation and could have been just cause for across-the-board firings.
Haakstad signed an undertaking on March 16, 2011, two days after Clark's swearing-in. A May 17, 2011 letter about her order-in-council appointment set her salary at $144,000 a year (or $5,519.51 biweekly) plus a $5,592.88 relocation bonus for moving from Vancouver to Victoria.
Former BCTV and CTV news reader Martin came on at $130,000.11 a year on June 21, 2011. Bonney was hired Oct. 17, 2011 for $108,000 a year. At the time of the first Quick Wins meeting, Lo was working at party headquarters. She was appointed executive assistant to John Yap, effective May 28, 2012.
The March 2, 2012 letter for Bhullar, a loyalist of Finance Minister Mike de Jong, re-confirmed his appointment but didn't include his salary information.