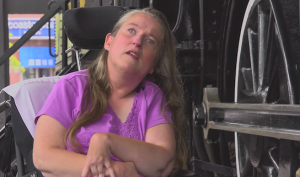 Cathy Grant, born with cerebral palsy and confined to a motorized wheel chair, is determined to make her mark on B.C.'s fast nearing provincial election. The 54-year-old Vancouver resident told The Tyee she is pouring her efforts into fighting cuts to community living programs and supporting a pair of proposed new legal reforms. Many other B.C. citizens who, like Grant, live with disabilities, and their family members and advocates are mobilizing to affect the outcome of the May vote and make a better deal for British Columbians living with disabilities.
Kimberly Yanko's son Daniel lives with an as yet undiagnosed developmental disability that confines him to a wheel chair. Yanko says that Daniel, 22, is getting "hardly anything" from government programs since he came of age. "I worry what will happen to him when I am dead and gone," says the activist mother. She is part of a group of parents who call themselves CLBC Stop the Cuts. CLBC stands for Community Living BC, the crown agency that delivers support and services to British Columbians with disabilities and their families.
On April 14, Yanko, Grant and others will gather at noon in Vancouver's Robson Square to protest items in next year's announced provincial budget that will cut funding for CLBC dramatically.
According to the Victoria Times Colonist, "Adults with fetal alcohol disorder and autism who receive service under the personal supports initiative will see the biggest decline. Documents show the average cost per client in that program dropping from $24,000 to $16,000 this year alone -- a 33 per cent decline. In two years time, the average cost per client in the program will be less than half what it is today, the documents show. At the same time, the program's caseload is expected to more than double from 424 to 945."
"We're going to see an enormous population of disabled adults with nothing, not even housing," Yanko told The Tyee. "The government tells people like my son when they get to be 19, 'Screw you. We've got nothing for you now.' "
In addition to campaigning against funding cuts, Grant, like many other British Columbians with disabilities, will be lobbying for legislative change this election. Grant joined more than 100 others at the Coal Harbor Community Centre kick off event on March 23 for the Think Twice campaign being sponsored by Civil Rights Now, an advocacy group The Tyee profiled last November. She will be taking the group's suggested legislative changes to her MLA in an effort to enlist support for the two new laws.
In November, Paul Caune, Civil Rights Now executive director, told The Tyee: "Disabled residents of British Columbia are vulnerable to a provision of community or institutional care that falls below a generally acceptable standard, a situation that does not allow them to live with confidence in safety, with freedom and dignity, The main reason for this is the excessive amount of discretion available to government and contractors respecting the services provided to disabled people."
Two changes in provincial law urged
Civil Rights Now (CRN) wants to see two changes in provincial law and the group is mobilizing supporters to lobby every sitting MLA and every candidate for office this election to solicit their opinions on the two reforms.
CRN wants politicians to support two new bills, the Community Care (Direct Payments) Act and the Civil Rights of Persons in Community Care Act. The first would see government funding directed to residents living with disability for their individual use in arranging support functions, and the second would empower the provincial Attorney General to investigate citizen initiated complaints and penalize individuals or organizations that fail to respect the rights of disabled British Columbians.
Cathy Grant told the Tyee her own experiences motivate her to support the first proposed reform. She says that a nightmarish nine weeks in 2011, when her service provider cut off all services to her, would have been avoided if she had been able to control her own funding and negotiate terms of service, as envisioned by the CRN reforms.
CRN activists have met with Adrian Dix, Carole James and David Eby of the NDP and with Liberal Minister of Social Development Moira Stillwell. Other NDP figures attended the March 23 launch of the Think Twice campaign, including Powell River Sunshine Coast MLA Nicolas Simons and candidates George Heyman, Matt Toner and David Eby.
Paul Caune, CRN's Executive Director, told The Tyee that responses from MLAs and candidates will be posted on his organization's website. On Saturday, April 20 from 1:30 p.m. to 3:30 p.m. at the Coal Harbour Community Centre, CRN will be conducting a Campaign School training disabled British Columbians and their family members in the skills necessary to be effective political advocates.
'Most Canadians will have a disability'
Why did Civil Rights Now title its campaign "Think Twice"? "If you think that people with disabilities are taken care of in this province, you should think twice," Caune told The Georgia Straight. "If you think that you're never going to be a person with a disability, you should think twice. Most Canadians live to be in their eighties. By the laws of probability, most Canadians will be a person with a disability one time in their life."
CRN's suggested reforms have won support from the BC Civil Liberties Association and from BC's Child and Youth Advocate, Mary Ellen Turpel-Lafond.
On March 22, Turpel-Lafond called into the Bill Good Show on CKNW to comment on an interview with CRN spokespeople, saying the CRN proposals were initiating an overdue discussion in B.C. that involves "fundamental human rights issues."
Cathy Grant agrees, and her activism in the upcoming election may well be a sign of a new and potent force in B.C. politics.