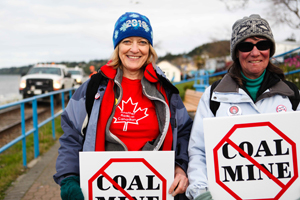 As dawn broke one day last summer, I approached a quiet White Rock railway crossing beside the beach. The only sounds at this early hour were a seagull's cries and the fluttering of sheets of paper taped to a post waving like small flags in the quiet before a battle: a judge's injunction.
Shortly, the first of several coal-laden trains were scheduled to lumber north across the U.S. border, headed as they do each day to the Westshore coal terminal at Roberts bank near Tsawwassen, and on to Asian buyers. But on this day at least, May 5, 2012, their progress would be halted -- if only for a while.
Late that afternoon, anti-climate change activists, alerted by train-spotters south of the border, brought one northbound train, hauling 125 carloads of coal, to a temporary halt.
Authorized by the injunction issued the previous day, RCMP officers who had been monitoring the protest then moved in, peacefully arrested 13 of the protesters (for violating the Railway Safety Act).
The coal train -- and four others behind it on the tracks -- eventually reached its destination. But the protest marked the emergence of a nascent cross-border movement against shipments of the world's most heavily used fossil fuel through the region.
Some of the activists lived near proposed coal mines, such as the Raven mine on Vancouver Island. Others lived near railway tracks where coal traffic is slated to increase. Still others lived in the Lower Mainland, which is poised to become one of the largest coal exporting hubs in North America, contributing dramatically to carbon emissions (coal is responsible for about a third of world's greenhouse gas releases).
Since that singular act of civil disobedience, those wide-ranging concerns have driven activists to raise the BC profile of a debate already flaring in Washington and Oregon.
'Ethical' coal?
Projects proposed for the Fraser Surrey Docks and Cherry Point, near Bellingham, Washington, could increase the amount of coal being shipped to Asia through the region by nearly 60 million tons a year.
Among the arguments being raised in support of those plans is one that Canadians will find familiar. It's a repurposing of one advanced in favour of Alberta's oil sands by the advocacy group Ethical Oil, founded by Sun News Network's right-wing pundit Ezra Levant.
"There are countries around this world that still do rely on coal," argues Lauri Hennessey, spokesperson for the pro-coal Alliance for Northwest Jobs & Exports, a coalition of coal firms, chambers of commerce and labour unions organization. "For a lot of countries, it's the energy source they use. I believe they will find a way to acquire coal.
"The question is: where will that coal come from? The coal we're putting through Cherry Point is less damaging, and is coal that we feel is better for environment. We also feel that the rather rigorous review process we go through in the U.S., with environmental impact statements, will help ensure the project is built in the right way."
Her case for "ethical coal" falls flat with Bellingham resident Julie Trimingham, founder of the anti-export CoalTrainTracks.org.
"People on both sides of the border -- both tribal and non-tribal -- are becoming aware that boundaries don't really matter much in this issue," Trimingham told The Tyee. "If this region engages in high-intensity trafficking of fossil fuels, we're all impacted. If there's an oil spill, it impacts the entire Salish Sea. If a coal ship crashes or diesel fuel leaks into the water, it affects all of our fisheries."
Although B.C. indigenous groups have not yet become prominent in the coal debate, tribes south of the border have voiced serious concern that increasing the transportation of coal through Native lands could violate treaty agreements, and endanger traditional ways of life.
Debra Lekanoff, coordinator of Washington state's Coast Salish Gathering has been quietly networking with the region's tribes to alert them to the risks. She says that the state's tribes are "not supportive" of one more industry putting Salish waters and territories at risk.
Increased coal exports, Lekanoff says, "would impact how we would preserve this place that we all call the Salish Sea for generations to come." Her concerns include threats to tribal members' health, coal dust polluting indigenous medicine-picking areas, and seagoing vessels disrupting crab and salmon fisheries.
"Coal has a trickle effect from the day that it starts transporting to the day it's exported out," she said. "But what scares us even more is the threat of climate change.
"With China building a new coal generation plant every day, the amount of coal they're going to be burning is only going to come back to the shores of Washington and B.C. and Oregon."
Towards a just transition
Several U.S. labour unions have lined up with Hennessey's Alliance to endorse the port expansion plans for Bellingham. Organizations including the United Transportation Union, the Brotherhood of Locomotive Engineers and Trainmen and others, argue that coal shipments are inevitable -- the only question is whether the jobs involved go to Americans or elsewhere.
Mark Rowlinson, the president of the Blue-Green Alliance Canada -- a coalition of environmental organizations and progressive think tanks that also includes the Canadian United Steelworkers Union -- challenges that decades-old, jobs-versus-environment framing.
"We don't have to choose between good jobs and a clean environment," Rowlinson, told The Tyee from his office in Toronto. "We can have both.
"There are some areas where trade unions are not going to agree with the environmental movement on all issues, but by working together -- for example, addressing climate change -- we can create good jobs for our members."
"We're not going to transition away from a fossil fuel economy in the immediate future," Rowlinson concedes, despite sharing many environmental concerns about the developments like the oil sands. "But if we were to redirect [the] $1.3 billion in subsidies to fossil fuel producers -- which in our view are not necessary -- towards a green economy and renewable energy, we'd generate six to eight times more jobs."
And while many Steelworkers mine coal -- mostly for metallurgical, as opposed to fuel, purposes -- the union has also taken stances against climate change. The key, Rowlinson says, is to push for green jobs.
The Blue-Green Alliance call the strategy a "just transition" -- one it argues will serve both environmental goals and those who work now for polluting industries. "Remember that there are people who are earning a good living for their families in the fossil fuel economy," Rowlinson says. "We need to respect those workers.
"A just transition means to provide and create jobs for those communities -- not just on environmental issues, but any situation where a resource becomes more scarce -- to provide jobs and training opportunities for our members or other workers who may lose their jobs to changes in the economy."
But it's not clear how many jobs are really at stake in the planned ramping-up of coal exports. While proponents of U.S. coal port expansions tout local jobs if their projects are approved, critics question the promise.
"How many jobs would there actually be, especially as industries like this become increasingly mechanized?" Trimingham asks. "And how many jobs would be lost along the way because of this? All along the transportation corridor -- for both rail and ship -- you see economic ramifications. Will tourism in the San Juan Islands be damaged because of shipping? Would communities' way of life along the corridor be damaged?
"A lot of people move here because of the quality of life. What if that life becomes degraded because of this being a coal transportation hub? The project actually comes with a hefty price tag with regard to local jobs and taxpayers. Unfortunately, there has been no comprehensive economic analysis."
Cross-border threats; cross-border resistance
For those committed to stopping coal exports, however, the real question is how to cooperate across the border -- thwarting industry's efforts to play divide-and-conquer with American-versus-Canadian jobs, or to bypass strict U.S. environmental regulation by moving coal through more accommodating B.C.
"We're looking at massive scaling-up of fossil fuel exports," says Eric de Place, with the Seattle-based Sightline Institute. "You know about Enbridge and Keystone, but coal -- from a climate change standpoint -- is every bit as big a deal.
"If you look at the proposals in Washington and Oregon, and the output they would have, they dwarf Keystone and Enbridge.
"As a region, despite the border, we need to start thinking about all this stuff a lot more seriously. Ultimately, when we're looking at rising sea levels, the pine bark beetle, and other impacts, that's a galvanizing principle that should be binding our region together."
A B.C. counterpart agrees. "My experiences over the past several months tell me that the public appetite for input into these important decisions is just as strong north of the border as it is in the States," argues Kevin Washbrook, spokesperson for the group Voters Taking Action on Climate Change.
"It's worth noting: if the Cherry Point terminal proposal is rejected, the pressure to export U.S. coal out of B.C. will only grow. Those trains of coal will try and find a way to the coast and export markets. This issue isn't going to go away."
Faced with fears over coal's expansion in the entire region, Trimingham agrees that "working together is absolutely vital. The more we see us as one region -- as one Salish Sea region that is interconnected by both land and water -- the better off we are."
Those views find an echo in Lekanoff. "Our natural resources are too important for us to squander for a fast dollar today. The Salish Sea is not for sale. Let's share a common voice and unify."