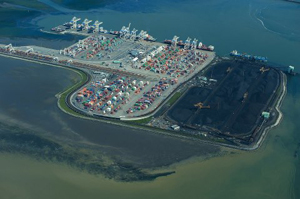 After receiving a "concerned" letter from Vancouver Mayor Gregor Robertson this week -- and amidst an environmentalist backlash to transforming Vancouver into North America's largest coal exporter -- Port Metro Vancouver (PMV) has acknowledged growing public anxiety about the fossil fuel.
The port is currently reviewing two applications -- from Surrey Fraser Docks and Neptune Terminals -- to ramp up the flow of coal, mostly from U.S. sources to buyers in Asia. But environmentalists warn the proposals will lead to carbon emissions between six and 26 million tonnes greater than the controversial Enbridge Northern Gateway pipeline.
"We know there is a growing concern and public interest around some of the commodities that we handle in the port," Jim Crandles, the port's planning and development director, told The Tyee. "In this case, it's coal.
"Most of what we're hearing today is about the product itself, and not about the projects," Crandles said. "Coal is an important commodity from an export perspective. In the port, currently one quarter of our total volume is coal... Our role is in making sure that products can move through the port in a sustainable way."
The port's comments to The Tyee came the same day as the release of a public opinion poll which seemingly contradicts the PMV's stated mandate to operate with "broad public support" and in the "interests of Canadians" as it considers separate proposals from Fraser Surrey Docks and Neptune Terminals.
Most in BC don't know of coal plans
Nearly two-thirds of British Columbians, according to a Justason Market Intelligence survey commissioned by an environmental group, are completely in the dark about the port's coal growth plans. And upon learning of the coal expansion proposals, just under half expressed opposition to the plans.
"It is clear there is substantial appetite for public debate on the issue of U.S. coal exports by way of B.C. ports," said Barb Justason, the firm's president, said in a statement. "While most British Columbians haven't heard of the plans, when asked their opinion, a majority of them express opposition."
The poll -- commissioned by the Dogwood Initiative -- coincided with international climate talks in Doha, Qatar, where world leaders are calling for urgent action on global warming. But PMV insisted that its own "rigorous" sustainability policies should not apply to products shipped through its yards.
"We hold ourselves highly accountable to having sustainable operations," Crandles said. "We're committed to ensuring that we can continue to facilitate domestic and international trade in a safe, environmentally responsible manner.
"But as it relates to the broader discussion around the commodity, we believe that should take place elsewhere -- between citizens, industry and government. We're here to facilitate Canada's trade. Obviously, we are a large, resource-based economy; we're going to handle the kind of products we need to."
Crandles added that PMV is considered a green leader in its operations, being the first port in North America to issue sustainability reports, the first in Canada with an environmental programs department, and "rigorous" environmental assessments of its operations.
"Most of what we're hearing today," he said of the coal critics, "is about the product itself, and not about the projects."
Community input urged by Vancouver mayor
City of Vancouver Mayor Gregor Robertson expressed his own concerns about the public engagement process over two proposals to expand the region's coal exports significantly.
"I am concerned that these proposals are being considered in the absence of full public consultation that would allow residents and businesses to have input," Robertson wrote, in a Dec. 3 letter to PMV. "It is my hope that no decision will be made prior to community input."
According to PMV, Fraser Surrey Docks sent informational fliers to 1,700 households, and informed neighbouring municipalities' staff -- although elected officials in Vancouver and New Westminster seemed surprised by the news. As far as the port is concerned, however, the current review process is adequate to address Robertson's concerns, Crandles suggested.
"In the Mayor's letter, he has said he wants to see full public consultation," he told The Tyee. "We are doing that as it relates to the two projects at hand.
"What we're looking at is the effects of it at the specific location. We're still in the middle of the review there."
Climate activist likens port to 'drug pusher'
For Dogwood's executive director, Will Horter, the port's positions just don't square with public opinion.
"British Columbians are really suspicious of coal," he told The Tyee. "They don't know much about current expansion plans, or what's actually going on, in B.C. [but] the population of voters have been clear and have gravitated towards making Canada... a leader in addressing climate change. Coal is going in the opposite direction."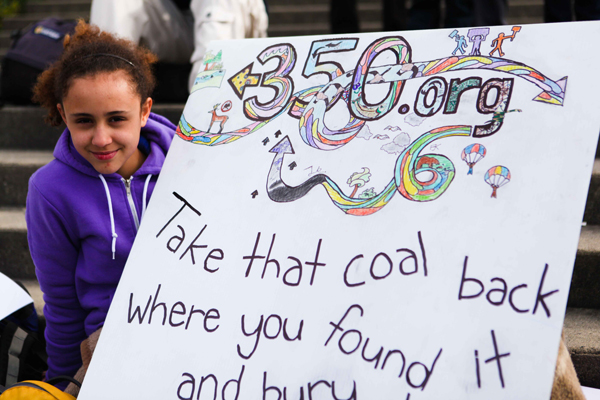 Particularly in light of global climate negotiations, where developing countries -- and UN chief Ban Ki-Moon -- are calling for more action in developed countries, to ignore climate change contradicts Vancouver's "greenest city" goals, and B.C.'s carbon reduction efforts.
"People are having to make sacrifices," Horter said. "We're paying a carbon tax and other things, and yet we're going to ramp up our coal exports -- which on a global scale will completely undermine what we've done and are trying to do in B.C.?
"Vancouver is [...] spending a lot of its resources trying to become the greenest city in world by the end of the decade. There's no way you can call yourself the greenest city in the world, if the port adjacent to you is North America's largest exporter of the most toxic, climate unfriendly substance on the planet."
An open letter opposing the coal expansion plans -- backed by 188 signatories, including NASA's James Hansen, Nobel Peace Prize co-winner Mark Jaccard, David Suzuki and Naomi Klein -- is calling for PMV to delay the projects' approval until broader public hearings and consultation can occur. And more importantly, they say: greenhouse gas emissions must be considered for products shipped through the port, not simply local impacts.
Horter argued that giving the proponents the green light would jeopardize Vancouver and the province's green ambitions in the name of corporate profit.
"Why should we compromise our aspiration to be a climate leader, just to let a few rich people get richer?" Horter asked. "It makes us, basically, the drug pusher of the West Coast."
According to Justason Market Intelligence, a total of 539 adult residents were polled between Sept. 24 and Oct. 1, 2012. The margin of error is 4.2 per cent, 95 per cent of the time.
Requests for an interview with Fraser Surrey Docks were not returned in time for publication.