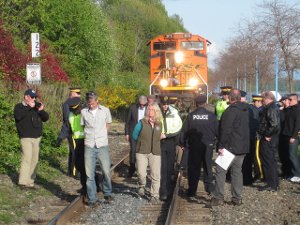 On Saturday, May 5, I was one of 13 British Columbians who engaged in an act of civil disobedience by blocking coal exports on the Burlington Northern Santa Fe (BNSF) railway line in White Rock, B.C. We did this to draw a connection between coal exports and climate change and to make a statement about the need for morally-conscious individuals to do all they can to stave off a looming climatic disaster. We hope it inspires our fellow citizens to undertake similar actions before it is too late.
We gathered at dawn on the White Rock waterfront on Saturday, but the hours passed and the five coal trains scheduled to pass mile 122 on the BNSF line enroute to Westshore Terminals never arrived. At 5 p.m., having been given word by spotters in Washington State that a sided train was now in motion there, we physically occupied the rail line. Shortly after 6 p.m., that train braked to a stop 50 metres away from our group.
BNSF staff read a court injunction, granted to them late Friday afternoon, which ordered us not to interfere with their work. Those who were not willing to risk arrest left the tracks. The RCMP asked if those of us remaining would obey the injunction. When we said no -- regrettably, as none of us wished to violate the court's order to make our point -- the RCMP gave us a few minutes to make final statements before we were arrested and taken into custody.
'Respectful, candid, ongoing'
Nothing prepares you for having your hands locked together behind your back, in public, in front of dozens of people. As were led off, several onlookers had tears in their eyes. One woman whispered thank you as I walked by. Others stared at me with contempt. It is a humbling experience to be placed in custody, one made more bewildering by the varied reactions of others.
Those arrested were taken to the White Rock RCMP detachment, processed, issued a federal ticket for violating the Railway Safety Act, and released.
There was never any risk to anyone's physical safety, because the action was planned out carefully and announced in advance. Freight trains moved as usual. Amtrak service was cancelled because of a landslide near Seattle. We were in communication with the police and, to a lesser degree, with BNSF all day.
Our interactions with the police were incredible -- respectful, candid and ongoing. The White Rock detachment of the RCMP worked hard all day in the interest of public safety while also acknowledging our right to peacefully stand up for what we believe in. I felt grateful to live in a country that values and protects free expression. It was a good day to be a Canadian citizen.
We were all stunned by how beautifully the day unfolded. It all seemed a bit unreal after our release -- but that may have been because of the sunburn, dehydration and overall exhaustion. Still, the next day, on a sunny Sunday morning, anything seemed possible.
What made it happen
Here's what was involved in making it happen: a small number of people willing to risk arrest to stand up for what they believe in. The support of prominent people like Bill McKibben, James Hansen and Marc Jaccard, who were ready to speak up in advance and say this is the right thing to do. A stoked-up group of supporters who, through their actions, helped set a tone for the day that was peaceful, creative and hopeful, but also focused and determined. A network of people in Washington State keeping us abreast of train movements. One Twitter account.
That 125-car coal train we stopped in White Rock did reach the port eventually, carrying 13,000 tonnes of coal that will release 26,000 tonnes of CO2 when burned. However, it did so under the gaze of hundreds of onlookers and media crews. The deal between Warren Buffett (owner of BNSF) and Jimmy Pattison (owner of Westshore Terminals) to ship dirty Wyoming coal out of B.C. is now firmly in the public eye. We've started to connect the dots between coal exports and climate change.
[Tags: Environment, Energy, Rights + Justice.]