Cross-border Coal War?
As North American producers massively ramp up plans to export coal to Asia, B.C. figures large in their plans -- and in opposition efforts of citizens worried about climate change. David P. Ball reports.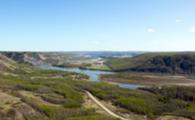 Ten lucky Tyee readers will take home a new book by award-winning author Sarah Cox. Enter to win!