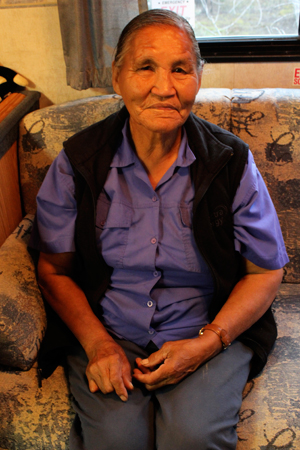 Before the Alaska Highway was built, May Apsassin was alive.
It was an era before industrialization transformed the Peace region. A time before the logging industry found a home on the grounds where Apsassin was raised.
Apsassin was born on May 7, 1940 in Doig River and now lives near Wonowon, 88 kilometres north of Fort St. John. She has grown to be one of the north's most cherished First Nation elders.
"She's a very respected elder throughout the communities. She's wanted everywhere," says her grand daughter, Judy Desjarlais.
Apsassin is a Beaver Indian and an advocate for the First Nations' youth, advising them to stay away from drugs, encouraging them to learn how to live off the land and promoting education as a high priority.
"She always pushed for education [and] to make yourself better for your future. She's seen hard times and she didn't want us to go through that," says Desjarlais.
Those contributions spurred admirers to nominate Apsassin for a People's Order of BC when The Tyee launched the awards last September. And when the votes were all in she was among the five winners.
The nominating letter said Apsassin's "parents were Charlie Dominic and Jean Succona. Late Charlie Yahey, our late dreamer and the Great Chief Succona were her grandfathers" and went on to describe her as "a tremendously valuable resource for the Blueberry [River First Nations] community."
Apsassin's words of wisdom are not only passed down to her grandchildren, great grandchildren and local community, but to communities across the north.
"With her as an elder in the community... she does a lot of great talking and speeches. She tries to teach kids to live off the land," says Desjarlais.
Growing up Apsassin and her family relied on their natural surroundings. There were no houses, vehicles or technology. Her people traveled frequently to find abundant wildlife.
"We move around, we don't have no vehicle -- nothing," she says. "But we had pack horses and saddles."
Apsassin didn't have many material things growing up. In the summer time her family lived in tepees and in the winter her grandfather built log cabins.
It wasn't until she was ten when her father built the first, real homestead for his family in Rose Prairie, B.C.
'When my mom died, we started to get hungry'
As a child, Apsassin didn't own running shoes. However, she remembers her mother, who used to make moccasins out of moose hide.
"I see my mom how she beat moccasin, how she make footwear. [I see] how she make jacket and shirts and dress for me," says Apsassin in a fragile voice. "As I grow up I told my dad, 'I'm going to be a good moose-hide maker. I'm going to make nice jacket,' and my dad said, 'It's a good plan, dear.'"
But her mother died in 1952, when Apsassin was 12 years old.
"When my mom died, we started to get hungry." She says it was her mother who helped her father feed their family. Her mother was the one who dried meat and picked berries in time for winter.
Yet, it was through her mother's death, that a young Apsassin saw the meaning of a strong community. "When my mom died, a lot of people helped us."
Apsassin had a short childhood. She attended Doig River Indian Day School, but never got the chance to attend post-secondary.
At the age of age 16 she was told to marry and that it was her turn to care of her own family.
"[My husband and I] got married by the priest and after that [my husband] took me back to Blueberry... and from there, I stayed."
Blueberry River First Nations and Doig River First Nations have very strong ties with each other. Apsassin's grandfather was the chief to both bands, which back then was named the Fort St. John Beaver Band.
Teaching down the generations
Shortly after Apsassin married, she found herself putting in to use what she learned from her mother at a young age.
She made clothes and moccasins for her children and grew her own garden to feed her family. "When I got married at 16... I had my kids [and] I don't have a hard time."
Apsassin gave birth to six children, four of whom are alive and well today. Her first born died of an unknown disease and her third child died from pneumonia. Both were only eight months old.
Apsassin not only raised her four children, but her in-law's children as well. In a three-bedroom house, Apsassin took care of nine kids. She also played a crucial role in raising her grandchildren.
"I learned a lot of values from her, like what not to do, basic life discipline, [and] how to get ahead in life -- so that she doesn't see us struggle as she did," says Desjarlais.
'That's how I live'
But through the hard times, Apsassin remained strong by remembering the teachings of her grandfather: Always talk to God and God will show you lots of good things.
Today, she uses prayer when someone is in pain or to ask for guidance. "This morning I went to [a] safety meeting. And I said... don't just go, go, go, [but take at] least five minutes to talk with Him and He'll hear us," she says in a comforting voice. "After that, everybody thank me. That's how I live."
Another value she learned while growing up was the importance of living off the land. To this day, she lives off moose meat and sells moose hide.
"She's probably one of the only elders in this northern area that still makes moose hide [and] moccasins for extra income," says Desjarlais.
Apsassin was taught by her elders to live off what was available; and her father always told her this about trees: "Only cut what you need."
She describes her home as a mansion. However, it's not a mansion with cobblestone pillars decorated around large, white doors with brick sidings or perfectly framed windows.
Instead, she is talking about her cabin.
"[From] my mansion, my cabin in that hill... I look over where they've been logging and see... the nice wood blocks. And you know what I say?" asks Apsassin.
"[I say]... all my trees are gone, I just feel like I've been stripped of my clothes." Her voice trails off. "I just say, I'm sad."
Over the years, the moose population in the northeast B.C. area has declined. Desjarlais and her grandmother agree the logging and oil and gas activity is taking over the moose habitat.
Which is why, at the age of 72, Apsassin acts as a traditional monitor at various camps.
Before industry comes in and takes down any trees or drills the ground, Apsassin reviews the land to ensure it's not being used by any wildlife.
By inspecting the markings on the dirt and the way the environment is kept, she can tell -- by having lived off the land -- whether or not the area is being occupied.
If she concludes that moose or caribou are inhibiting the land, she tapes it off, so that it can't be touched.
This is her way of preserving the land that she once grew up on.
When Apsassin is not working in camps, she's passing on her knowledge to the younger generation, and those who invite her to speak at gatherings and powwows.
"She's a very active person all over the Peace country and it makes me very proud," says Desjarlais.
Through her history, knowledge and cultural way of living, Apsassin has grown to be an influential figure to First Nation communities across the north, and even in southern B.C.
She still speaks and understands the Beaver language, which many call a lost dialect, and teaches those who want to learn.
"A lot of things have changed from when she was living in a tepee to now," says Desjarlais.
Apsassin carries on, sometimes with the help of a walking stick, to ensure that the First Nations' culture is never lost.