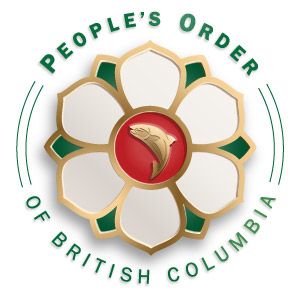 "There are billions of galaxies in the observable universe, and each of them contains hundreds of billions of stars. In one of these galaxies, orbiting one of these stars, lies a little blue planet. And this planet is run by a bunch of monkeys."
So begins Ernest Cline's poem, "Dance, Monkey, Dance," which holds a mirror to the petty squabbles and obsessions of all of us monkeys here on earth.
Cline claimed that because of our freakishly large monkey brains, we are a species cursed with self-consciousness and worries.
"The monkeys worry about everything, but mostly about what all the other monkeys think. Because the monkeys desperately want to fit in with the other monkeys."
To ease our fears, we do funny things like "make trophies" and then give them to each other "like it means something."
And that's what we monkeys did here at The Tyee a couple of weeks ago. We launched a new award called The People's Order of B.C., a cheeky response to the controversy surrounding this year's actual Order of B.C. selections where we asked you to nominate and then vote for your favourites.
And now we're going to give it to some deserving folks (see below) and, yes, we're going to act like it means something.
Because while Cline is right -- that the concerns of us monkeys down here on this forested corner of this little blue planet don't amount to much in an indifferent universe -- this is where we live.
And we live with each other. And meaning comes from the consensus of the crowd. It always has.
So, when an award purports to broadly represent us and our values, the selections can't really be controversial because, to us monkeys, these things actually kind of mean something.
Is The Tyee's People's Order of B.C. any better?
That's for you to decide.
We're proud to have received more than 100 nominations and more than 600 online votes. We're also aware that this is a miniscule fraction of the 4.5 million people who live here. But we're hopeful it broadens in a positive way the definition of who we are as a people.
Of course, every process has blind spots, this one included. For example, the only information most voters had to base their choices on was stories provided by the people nominating. Two or three paragraphs to represent a life's work is clearly inadequate, especially for those lesser known. And there was a risk that those savvy in the dark arts of Internet campaigning could control the outcome, though we didn't notice any obvious web hijinks.
All to say, we think everyone nominated deserves serious recognition, not just those who garnered the most votes.
And in the end, it was a worthwhile experiment, if only to give more credit where it's due, to channel frustrations directed at the Order of B.C., and to continue the conversation about what we want our awards to say about us.
So, to the top five and to all the nominees, a heartfelt congratulations -- not so much for being selected, but for life well lived. And we hope the recognition helps spur you to even more great work.
You make us proud.
And the top five are...
Alexandra Morton -- 425 votes
Originally from Connecticut, Alexandra Morton is a marine biologist best known these days for her studies focusing on the impact of salmon farming in the waters off British Columbia. Not only did Morton garner the most votes, but she also garnered the most nominations -- 20 in total. Many of them echoed these sentiments:
"Alexandra Morton has for many years sustained a selfless but articulate struggle against governments, industry and other financial beneficiaries of questionable ocean science. Her recent focus has been on fish farming techniques but she began living in isolation on the B.C. coast more than 30 years ago to study the marine environment of Orca whales. Her views have consistently called for preservation of natural ecology and application of the precautionary principle favouring preservation of natural order. She is a scientist, an author, an activist and, perhaps most importantly, a symbol of an individual's ability to peacefully confront larger and more powerful forces over issues of conscience."
Dave Barrett -- 365 votes
Known for his quick wit and sharp oratory, Dave Barrett, a former social worker, became the 26th premier of British Columbia in 1972, the first from the New Democratic Party.
Among many progressive reforms, his government created the Agricultural Land Reserve to protect the small percentage of arable land left in the province, a guaranteed income plan for senior citizens, a public automobile insurance program (ICBC) and the British Columbia Human Rights Board. It also introduced a question period and full Hansard transcripts into legislature proceedings.
Like Alexandra Morton, Barrett garnered multiple nominations from Tyee readers, with many sentiments like these:
"Dave presided over a government that made more progress in three years than B.C. had in the previous 20 under WAC Bennett... It was a very productive time, and although Barrett lost the 1975 election to the new coalition, the NDP vote actually went up by four per cent, not down. So despite what the right wing pundits always claim, the 'people' did not reject the Barrett government..."
The People of Hartley Bay -- 255 votes
Seven minutes after the Queen of the North ferry hit Gil Island just after midnight on Mar. 22, 2006, eight boats from nearby Hartley Bay were racing to the scene, while the people back in that small village were getting ready to take care of the survivors.
As Margo Pfeiff described in detail in, of all publications, Popular Mechanics:
"Six miles to the northeast, in the aboriginal settlement of Hartley Bay, Bruce Reece was awakened by the ferry's Mayday, relayed by the Canadian Coast Guard station in Prince Rupert on the marine distress channel, which northern communities monitor around the clock. Within seconds, phones were ringing throughout the village of 200. Men ran to the dock for their trawlers and skiffs, while women began preparing food and hot drinks, collecting blankets and warm clothes and heading to the community center to await survivors."
Along with a nearby Coast Guard ship, all the passengers and crew but two were brought back to Hartley Bay where they were kept warm and safe.
May Apsassin -- 238 votes
We don't know a lot about May Apsassin, save for what we learned in her eloquent nomination, which began:
"May Dominic, a Beaver Indian, was born May 7, 1940, in Doig River Reserve, BC. Her parents were Charlie Dominic and Jean Succona. Late Charlie Yahey, our late dreamer and the Great Chief Succona were her grandfathers."
Without making too many assumptions about people's motivations, it no doubt felt good to vote for someone who didn't seem to seek out the spotlight and was described as "a tremendously valuable resource for the Blueberry community as a traditional teacher, a spiritual counselor and [someone who has been] encouraging our younger generation to complete their education and to learn about our traditional [values], which will lead the young people to live the good life and not to become dependent on alcohol or drugs."
Jean Swanson -- 195 votes
Jean Swanson is coordinator of the Carnegie Community Action Project in Vancouver, an organization dedicated to the welfare of the Downtown Eastside, one of Canada's poorest neighbourhoods, and has been an anti-poverty activist for more than 30 years.
Swanson is a strong proponent of the idea that poverty is neither a choice nor a failure of the individual but more so a failure of a political and economic system. And she's found innovative ways to bring the issue to the forefront of the political agenda.
In the lead up to the Olympic Games, she appealed to the U.N. Special Rapporteur on Adequate Housing, to intervene on behalf of the Downtown Eastside "with the Vancouver municipal government, the government of British Columbia, and the government of Canada, to urge them to end homelessness and improve housing conditions in our neighbourhood, the city, province and country."
To this nominator, though, it was as much the how as the what:
"Jean has also always made a point of working collaboratively with low-income people in order to ensure they are as involved as possible in issues that effect them... She endeavors always to ensure that poor people have a voice in the public policy issues that directly impact their lives... She is widely respected. Jean Swanson is principled, tremendously hard working and very inspiring."
Congratulations all!
The truth is, we had an embarrassment of good candidates. Should we have selected more? Could we have structured things differently? Let us know what you think because (who knows?) maybe we'll do it again next year.
Regardless, thanks for all the time and thought you all put into your nominations and selections. And congratulations again to everyone nominated.