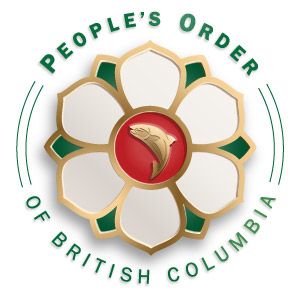 [Editor's note: Launched on Monday, we have already received nearly 70 entries. Keep them coming!]
Because of the controversy surrounding this year's Order of B.C., we've decided to start our own Order.
Well, that's not quite accurate.
We don't want this to be our award. We want this to be your award.
That's why we're calling it The People's Order of B.C.
Here's how we see it working:
1. Think of someone you think deserves the People's Order of B.C.
2. Fill out this simple online form
From there we'll select a shortlist everyone can vote on.
The winners will be awarded the just-invented honour of People's Order of B.C. (some here are calling it "The Order of the Fish") and will be profiled in The Tyee.
The nomination period ends on Sept. 30.
Who's eligible?
Eligibility is exactly the same as the regular Order of B.C., documented here. That means, essentially, you can nominate anyone who lives in British Columbia, or has lived in British Columbia for a significant period of time. That person must be alive and not holding political office at the time of nomination.
The online nomination form is straight forward. Unlike the Order of B.C., we're not requiring multiple letters of reference. We just want to know who you think should get such an award.
Why this? Why now?
Selections to the Order of B.C. include some of the brightest lights in the province. And this year is no exception.
But three selections triggered outrage from a number of quarters.
Gordon Campbell was selected to receive the honour mere days after he left office as one of the most unpopular premiers in Canada, ostensibly for having introduced the Harmonized Sales Tax without public consultation.
Ken Dobell was selected to be honoured despite being Campell's "master fixer," as described by the Vancouver Sun, who eventually pled guilty to violating lobbying laws.
David Emerson was selected to receive the honour after a long corporate career and a shorter stretch as (arguably) one of the most hated MPs in B.C. history after running as a Liberal vowing to oppose Stephen Harper's Conservatives and then, almost immediately upon winning his Vancouver riding, crossing the aisle to join Harper's team.
In response to those three Order of B.C. choices, some started petitions and online protests.
Others, like Bill Tieleman in these pages, criticized the apparent political nature of the honour.
"Regardless of Campbell's failings," wrote Tieleman, "he has made a long contribution to public service as a Vancouver councillor, mayor, MLA and premier.
"But it's the undue haste and obvious political nature of giving him this honour that stinks. Last year Campbell was giving out the Order of B.C.; this year he'll be receiving one."
That puts Tieleman and other critics at odds with Premier Christy Clark, who has said Campbell deserves the Order of B.C. right away.
Then again, when Tieleman analyzed the selection committee, he noted that it helps to belong to a club that includes Clark as well as Campbell:
"If you notice a common element in this selection committee it would be that most members have political or governmental connections to the former Campbell government."
What about the arts?
Canada's former poet laureate and an Order of B.C. and Canada winner, George Bowering, had different concerns.
In a recent letter to the Vancouver Sun, Bowering wrote about this year's selections:
"My main concern is that while politicians are being welcomed into the Order, people in the arts are not."
He went on to write: ". . . in the nine provinces that are not British Columbia, 18 per cent of recipients are in the arts. In British Columbia, the figure is zero per cent."
Think outside of the official box
So, here's your chance to nominate and select the people that make you proud to be from this place.
Maybe it's someone who's a guiding light in your field, your job, your community -- you nominate, you choose.
It doesn't have to be a pop singer who made it big in L.A. in the '80s. It doesn't have to be a politician. It doesn't have to be someone who seeks the public spotlight.
It could be the local fiddler who's been leading a local string group for the last 30 years, the former punk rocker who's Canada's alternative ambassador to the world, the 30-year volunteer at the local women's shelter, the local historian. It could be the mountain biker or skateboarder who pushed the sport and industry in a new direction. It could be your grandmother, your grandfather.
Think outside the frame of officialdom. This is the award that validates your values.
Who makes you proud to be a British Columbian, not based on the values of the establishment but on the swelling of your own heart?