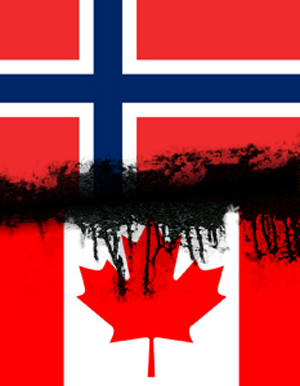 The University of Stavanger boasts something that is absent from most other college campuses: a 30-story oil rig. Of course no one is expecting to find oil in the barren granite under the cafeteria. It was a gift from Shell Oil in 1985 and has been used for the last 28 years to train Norwegian petroleum engineers.
So why would an oil company do such a thing? The same reason that a teenager would bring a bouquet of flowers for his prom date's protective mother -- to buy some goodwill.
The so-called Goodwill Agreements in the 1980s required that foreign oil companies transfer proprietary knowledge to Norwegians and fund training facilities like the simulation drill rig on the Stavanger campus. In return they received not oil concessions or money, but "goodwill" from the Norwegian government.
Far from fleeing Norway after the country's hard bargaining in the 1970s, the oil industry 10 years later was lining up to do business there. Why? Because they knew the Norwegian government had the same motivation that they did: to make money from Norwegian oil.
Instead of charging royalties as Canadian provinces do, Norway makes their money by taxing the profits of both foreign- and Norwegian-owned oil companies. Norway also has an equity stake in about 30 per cent of Norwegian oil production through their state-owned oil companies like Statoil providing another significant source of revenue and control.
Oversight, transparency drilled in
Ottawa and the provinces have virtually no ownership share of our oil production. Canada is the only country besides the U.S. of the world's top 10 oil producers without a state-owned petroleum company.
While oil profits in Norway are taxed at close to 80 per cent, legitimate business expenses are also tax deductible at a similar rate. Through this lens, the oil rig on the Stavanger campus was mostly paid for by the Norwegian taxpayer. Likewise, exploration and development costs are largely written off with an important caveat: all deductions are carefully scrutinized by Norwegian authorities who have a high degree of technical knowledge.
Experts employed by the Norwegian Petroleum Directorate (NPD) review almost every exploration and production decision made by foreign and domestic oil companies. They do this not merely as a regulator, but as a full business partner.
This public oversight extends into even private technical meetings between foreign oil companies. If Shell and ConocoPhillips were planning how to develop a jointly held Norwegian oil lease, representatives of the NPD would be allowed by law to be in the room.
So committed is Norway to transparency that they also require that expensive and typically secret drilling and seismic data collected by private companies to be made public after a certain number of years. This ensures that Norwegian or foreign companies looking for new deposits have access to all existing information, even if they didn't pay for it.
'Radical' safety protocols
The end goal of these policies is to closely align the interests of Norwegians and oil companies as much as possible. Put another way, Norway wants companies to make large profits from their oil because the Norwegian taxpayer will make four times as much.
Likewise, both companies and the government want to avoid needless exploration and production expenses since they cost shareholders, and Norwegians, since they are tax-deductible.
Oil companies are expected to justify their technical and budget proposals to experts employed by the NPD, whose role is not so much as a regulator but a senior business partner. There is a strong incentive to maintain good relations with Norwegian regulators since this will affect future access to promising oil concessions.
And while it can be a challenge for the NPD to attract top technical talent when private industry offers significantly higher wages, Norwegian public servants seem to relish the satisfaction of working on behalf of their own country. The two senior engineers I met with in Stavanger seemed happily employed and well paid by the NPD for more than 50 years between them.
This collaborative model is also seen in the unique system of safety pioneered in Norway. Rather than itemizing and enforcing rules, Norwegian regulators work together with industry and unionized workers in a "tripartite" system where all players have a responsibility to improve safety practices.
In contrast to the top-down management style seen elsewhere in the oil industry, safety delegates elected by unionized workers are empowered to shut down any practice that they deem to be dangerous. While this model was deemed "radical" by American oil companies when they arrived in Norway, it was non-negotiable and has since resulted in a superb safety record.
Once a year representatives from regulators, companies and workers come together to share ideas on improving safety practices. I crashed this annual meeting when in Stavanger and noticed a surprising lack of animosity that often defines North American labour relations. As a casual observer it seemed impossible to guess the affiliation of participants based on where they were sitting in the room or how they behaved to each other.
This unique Norwegian approach might well have prevented the Deepwater Horizon accident in 2010 where 11 workers lost their lives and almost five million barrels of oil spewed in the Gulf of Mexico.
Assessments done on the disaster showed that senior rig managers were preoccupied giving a safety tour to four visiting VIPs during a critical drill test just prior to the blowout. Numerous red flags were seen in the control room before the explosion and the VIPs were themselves drilling experts, but whatever safety protocols were in place failed completely. On a Norwegian rig, workers would be expected to halt the cascading catastrophe even if their bosses were absent.
Canada's spotty record
Here in Canada, our record of safety and oversight is far from perfect. The Enbridge pipeline rupture in Kalamazoo Michigan was effectively ignored for 17 hours in the Edmonton control room. U.S. regulators compared the company's bumbling non-response to the "Keystone Cops."
A recent study itemized 1,647 pipeline failures in Alberta between 2006 and 2010. Last year saw the largest spill in 35 years when 28,000 barrels poured from a ruptured pipeline near Little Buffalo. The provincial Environment Minister dismissed public criticism, stating "sure there are incidents from time to time, but I would put our record up against any other."
Canada's record on revenue oversight is similarly spotty. The Alberta government has steadfastly refused to raise petroleum royalties in spite of several independent calls to do so. Former premier Ralph Klein famously said he didn't give a "tinker's damn" about such expert recommendations or whether Alberta was getting its fair share of oil revenues.
An Auditor General report from 2007 found that Alberta was failing to collect about $1 billion in royalties annually that were owed to the provincial taxpayer.
Rather than aligning interests, our system of resource management seems to create conflicting motivations for Canadian regulators. Governments are often highly dependent on short-term revenues from provincial resource sales, forcing ministry staff into the undignified role of industry cheerleader even when the facts point elsewhere.
Norway instead acts as a senior business partner. And if you are going to do business there, you better make sure you bring flowers, or an oil rig.
Next Wednesday: How Norway's approach to managing oil wealth put it $1.2 trillion ahead of Canada. (Find the whole series so far here. )