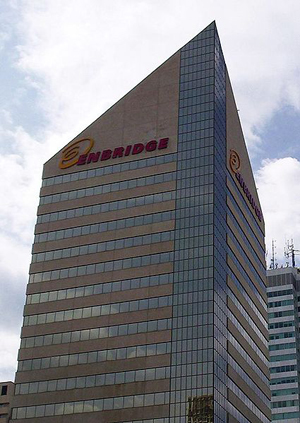 Hours after alarms began going off in an Enbridge control room indicating a major pipeline rupture near Kalamazoo, Michigan, ill-trained workers could not agree that something was very wrong, and in fact one Enbridge employee's response was to tell another, "Whatever, we're going home and will be off for few days."
That scene is described in damning U.S. regulatory reports portraying Calgary-based Enbridge as a company that ignored safety protocols and warning alarms as well as the recommendations of previous safety audits in what amounted to a botched response to one of the continent's largest freshwater pipeline spills.
On July 25, 2010 a 40-foot long segment of Line 6B ruptured in Michigan and spilled more than 1 million gallons of diluted bitumen (more than 20,000 barrels) into 38 miles of the Kalamazoo River. To date the large bitumen leak has cost Enbridge $725-million and U.S. taxpayers another $37-million in clean-up bills.
The US National Transportation Safety Board, which has been investigating the dramatic spill, has released more than 200 documents related to the incident including three "factual reports" that detail different aspects of the company's failures and errors in matter-of-fact prose.
'Ten minute rule' turned into 17 hours
A 51-page report on the company's Edmonton-based control room, for example, found that operators working for the pipeline giant failed to uphold the company's 10-minute rule. 
The company rule says that any operator finding pressure or flow abnormalities must shut down the affected pipeline within a 10-minute period. The rule was established after a 1991 pipeline rupture in Minnesota wasn't detected for hours and nearly sent 40,000 barrels of oil into the Mississippi River.
However, Enbridge operators did not detect the 6B Line rupture or attempt to shut-down the 30 inch wide pipeline for a full 17 hours despite repeated alarms and low pressure readings. In fact the company didn't shut control valves until phone calls from a Michigan gas company alerted the company to extensive odor complaints in the high impact marshy region.
"The initial and subsequent alarms associated with the rupture were not recognized as a line-break throughout two start-up attempts and over multiple control centre shifts," says the report.
According to the NTSB factual report, Enbridge's control room operators, who open and close pipelines and monitor adequate flow rates, did not know how to respond to alarm warnings or even read warnings on their console system without a trained analyst in the room. At the time they were attempting to execute a scheduled shutdown of the bitumen-carrying line.
The report documents confusion, miscommunication and indifference in the computerized control room that manages some of the world's longest pipeline systems. (Enbridge's control room is routinely staffed by 25 personnel that work a 12-hour shift.)   
At one point the report documents this dramatic scene in the control room:
"Operator B2 said he has never seen this problem before and that it was interesting. Operator B2 stated that the situation looked liked a leak, and Operator B1 stated that they could pump as much as they wanted but could never over pressurize the pipeline. Operator B2 stated that eventually the oil has to go somewhere. Operator B2 said that it seemed as if there was something wrong about the situation. Operator B2 said to Operator B1 'whatever, we're going home and will be off for few days.' Operator B1 stated they were not going to try this again, not on their shift."
System failures
The control room not only misdiagnosed the rupture as a "column separation" or pressure loss due to vapor build-up but then tried to start up the ruptured pipeline two times while ignoring repeated alarm systems. Column separation was not even a problem associated with the 6B Line. 
A factual report on pipeline integrity management (how the company managed leaks and corrosion) painted an equally disturbing history of negligence and repeated warnings to the company from both U.S. and Canadian pipeline regulators.
A 2006 inspection by the US Department of Transportation Pipeline and Hazardous Materials Safety Administration (PMHSA) even highlighted a variety of system failures that eventually all played a role in the Michigan debacle. The PMHSA found a "lack of a periodic evaluation process was indicative of the Enbridge approach to integrity management."
The same 2006 inspection report by the PMSHA also found a lack of communication between monitors and risk assessors: "Utilization of available information/risk analysis information appears to be limited... and is not well integrated with key... decisions."
Moreover Canada's pipeline regulator, the National Energy Board (NEB) identified seven major weaknesses in the company's ability to detect cracks, leaks and corrosion in a 2008 audit including hazard identification, team communication, competency of training, threat assessments and repair records. The NEB also found numerous areas of non-compliance "in the Enbridge pipeline integrity management program."
Scramble to find scarce resources
A third NTSB report on emergency and environmental responses documents a chaotic spill response that found the company mostly unprepared for the scale of the disaster.
On-scene coordinators told NTSB investigators "that they determined during the initial hours of the response that Enbridge did not have the resources on site to contain or control the flow of oil into Talmadge Creek and the Kalamazoo River."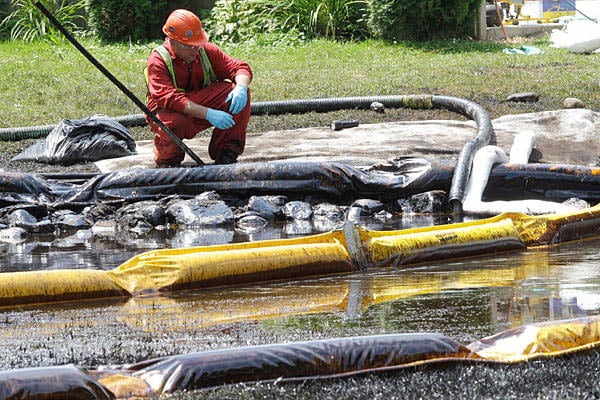 The U.S. Environmental Protection Agency added that "Enbridge experienced significant difficulties locating necessary resources, due primarily to its lack of familiarity with contractors located anywhere in Region 5 other than Minnesota. Resources were readily available in the local geographic area, but went untapped by Enbridge until EPA provided contact information for available contractors."
At the peak of the spill containment a month after the rupture the company deployed 2,011 workers on the river along with 176,000 feet of booms. As of Nov. 2011 the company recovered 15 million gallons of waste water along with 1,140,339 gallons of oil or more than Enbridge estimated had been spilled into the river system.
We 'met or exceeded... standards': Enbridge
The environmental response report describes diluted bitumen as a "Class 3 flammable hazardous material" with toxic constituents including benzene and hydrogen sulfide.
Unlike conventional oil the heavy bitumen sank to river bottoms while its toxic solvents evaporated into the air forcing the evacuation of local citizens. Most clean-up workers wore respirators. Bitumen is so thick that it can't move through a pipeline unless diluted with solvents. Bitumen pipelines must also be highly pressured.
According the NTSB the majority of Enbridge's pipeline failures between 1984 and 2010 were due to manufacturing defects (26 per cent) equipment failure (20 per cent), construction defects (15 per cent) or external corrosion (14 per cent). Stress corrosion cracking accounted for another three per cent of the company's pipeline failures.
The PHMSA is currently investigating two pipeline cracking incidents that occurred in Enbridge pipelines in 2012.
In response to the publication of the NTSB factual reports, an Enbridge press release says the company has made a number of changes in its operations and "will continue to carefully examine the NTSB factual reports to determine whether any further adjustments are appropriate. Enbridge believes that at the time of the accident it met or exceeded all applicable regulatory and industry standards in its operations."
The company adds that it has "made several changes to the structure and leadership of functional departments such as pipeline control, leak detection and system integrity."
The NTSB is expected to release its final report on the cause of the Michigan pipeline rupture sometime this summer.
The Michigan bitumen spill cost 18 times more to clean up than conventional crude. Property damage and spill response cost approximately $36,000 a barrel for diluted bitumen compared to $2,000 a barrel for light crude.
On June 19 Enbridge reported yet another 1,400 barrel spill on a bitumen pipeline near the town of Elk Point, Alberta.