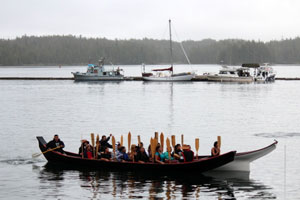 Preparing to attend and deliver testimony at the Northern Gateway hearing in Shearwater, B.C. this morning, Heiltsuk paddlers canoed across Lama Pass from Bella Bella, only to learn that Enbridge representatives had been unable to travel today.
The news was delivered by National Energy Board lawyer Andrew Hudson who said "their flight was delayed." Hudson told the crowd at the Denny Island community hall that Enbridge would have the opportunity to submit objections after reviewing today's transcripts.
The Heiltsuk are in Shearwater to continue testimony before the NEB's Joint Review Panel (JRP), a body convened by the federal government to study the impacts of the proposed Northern Gateway pipeline.
"We're really disappointed in Enbridge," says the Heiltsuk's elected Chief Councillor Marilyn Slett.
"We've accommodated the JRP panel, we've worked hard to understand their rules, we've worked hard to convey to them the importance of our very sacred lands and waters," says Slett. "For [Enbridge] not to come out here today to listen to what we have to say is very disrespectful. It tells us that our voice isn't being heard."
A Pacific Coastal Airlines staffer in Bella Bella reports that both flights yesterday and both flights today took off on schedule from Vancouver. Pacific Coastal is the only airline offering regular service to the area.
Calls to Enbridge for comment were not immediately returned.
Heiltsuk lawyer: 'Just the latest incident'
In April, the Joint Review Panel flew into Bella Bella and was greeted by a peaceful protest. After a local man holding a sign rapped on the window of the van transporting NEB staff, the group headed across the water to Shearwater, on Denny Island.
Fearing an unspecified security threat, the federal agency cancelled the hearings. The Heiltsuk maintain that their community poses zero risk to the Joint Review Panel. At the time, an RCMP spokesperson offered public support to the Heiltsuk, denying any danger to Enbridge or NEB representatives.
The Heiltsuk were eventually able to convince the panel to go ahead with hearings in Bella Bella, although a day and a half was lost. Today's session was scheduled to make up for the lost time. However, for reasons that are still unclear, the NEB decided to book a small hall in the predominantly white community of Shearwater.
Despite weeks of wrangling, the panel refused the Heiltsuk's request to move the hearings to a larger, more accessible venue in Bella Bella. Tribal Council lawyer Carrie Humchitt says "this is a violation of our cultural protocol. It is very disrespectful to our people, and this is just the latest incident."
In a letter addressed to Humchitt and Slett, JRP secretary Sheri Young wrote "in selecting locations for hearings, the Panel considers which locations would be conducive to a respectful, accessible, efficient and effective process in which to receive evidence."
Young goes on to write: "the Panel has concluded, using the above criteria, that Bella Bella is not the optimal location for collecting the remaining oral evidence and oral statements from the Heiltsuk."
Bearing witness
Heiltsuk Tribal Council chartered boat transport for community members who were not able to paddle over. Humchitt explains "we have to have our people over here to witness even though it's a hardship for them to be here."
"We have a responsibility as Heiltsuk people to express our ancient rights, our ancient laws," adds Slett. "We have a responsibility to go on record, to express that, and we're participating in good faith."
The process, however, is taking a toll. Community members offering testimony this morning were at points visibly emotional as they described the impact an oil spill would have on their way of life.
"Emotionally," says Slett, "it's tough to be a part of this process. We have so much on the line, so much at stake."
Heiltsuk leaders say they are studying their legal options should the NEB eventually approve Northern Gateway -- an outcome they view as all but inevitable.