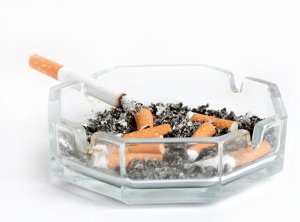 A new report by Harvard researchers raises more questions about whether British Columbians gain enough benefit from the provincial government's $25 million expenditure on anti-smoking products.
But doing well by the program are three pharmaceutical companies that donated tens of thousands of dollars to the BC Liberal party, and manufacture the controversial taxpayer-funded smoking therapies.
The anti-smoking program, started in September, fills a promise Premier Christy Clark made while running to lead the BC Liberals.
A smoker herself for 17 years, Clark quit cold turkey, but wanted to give people whatever help she could to quit, she has said.
Those options include nicotine replacement therapies, and starting Sept. 30, 2011, B.C. began paying providing nicotine gum or patches to people for up to 12 weeks. The province also fully funds prescription anti-depressant drugs people use to quit smoking.
Cold turkey vs. patch: same relapse rate found
A study released this week says paying for nicotine replacement therapies (NRTs), in particular, is a waste of public money. It adds to an earlier report that found it was not cost effective for governments to pay for NRTs or the anti-smoking drugs.
"This study finds that persons who have quit smoking relapsed at equivalent rates, whether or not they used NRT to help them in their quit attempts," said a summary of the this week's study from Harvard School of Public Health researchers Hillel Alpert and Gregory Connolly and University of Massachusetts researcher Lois Biene.
The study followed for six years 787 adults in Massachusetts who had recently quit smoking. Each time the researchers checked in on the people in the study, nearly a third had relapsed. People who had used NRTs such as the patch or nicotine gum while quitting were just as likely to have relapsed as people who had not.
Among heavy smokers, people who had used NRTs but not received counselling were most likely to start smoking again. The researchers suggested those smokers might be looking at the therapies as "magic pills," but once they discovered they were not they felt doomed to failure.
The findings have implications for jurisdictions like B.C. that pay for the therapies. As the report put it, "Funding ineffective services that aim to change individual behaviour may be resulting in the loss of scarce resources from public health programs that have proven to be effective in changing social norms and reducing smoking."
Mass media counter-marketing campaigns, comprehensive smoke-free laws, higher prices for tobacco and restricted advertising are all examples of better ways to spend anti-smoking money and are proven to work, it said.
Province says clinical studies guide policy
"We are aware of the study and will read it along with other research material to best inform how we support British Columbians who want to quit," B.C. Health Ministry spokesperson Ryan Jabs said in an email.
The ministry tries to offer various options to help people quit smoking, including counselling, NRTs and prescription drugs, he said.
"In providing these options for smokers we consulted with stakeholders and quit experts in the health-care system (within and outside of government), to ensure we had a broad number of perspectives to inform the program," he said.
Supporters Jabs listed include patient groups, health NGOs and provincial health authorities, but also pharmaceutical manufacturers, the BC Pharmacy Association and the Canadian Association of Chain Drug Stores.
The ministry also based its decision on clinical studies that support using the therapies, he said. There are plans to review the program on an ongoing basis, he added. "We always want to make sure we are offering the most cost-effective and evidence-informed program."
The main study to support the decision was from the Canadian Agency for Drugs and Technologies in Health, Jabs said. That study, Pharmacologic-based Strategies for Smoking Cessation, reviewed some 500 studies and reports related to smoking and quitting, he said.
That 548-page report did find that NRTs and the pharmaceuticals all helped people quit smoking, The Tyee reported in June 2011.
However, it also cast doubt on whether it was wise to spend public money on them, finding it was actually cheaper to treat smoking-related illnesses in the few who develop them compared to widely providing smoking cessation products. The health benefits were relatively small considering the expense, they found.
Liberal donors profit
A December 2011 press release noted that since the government implemented the smoking cessation program in B.C., some 60,000 orders for the patch and gum have been filled.
Those orders, filled through pharmacies in the province, are for products made by Novartis, which won a bidding process to provide them. The Health Ministry's Jabs said he couldn't say how much the government is paying for the NRTs due to an agreement with the company, but that it would be lower than the regular retail price.
Novartis has donated more than $11,600 to the BC Liberal Party since 2009, according to Elections B.C. records. In 2010 it also gave $3,250 to the NDP.
The pharmaceuticals the province pays for in the program are varenicline, sold as Champix and made by Pfizer, and buproprion, sold as Zyban and made by GlaxoSmithKline. While there are generic versions of buproprion, Zyban is the only one Health Canada has approved to treat smoking and is therefore the only one B.C. pays for, said Jabs.
"We're always looking to reduce costs if we can -- and generally cover any generic form when it's available -- so once Health Canada approves the generic versions, we will consider covering these forms instead," he said.
Pfizer has given the BC Liberals more than $28,000 since 2005, while GlaxoSmithKline has given the party over $32,000 in the same period. Premier Clark's new chief of staff, Ken Boessenkool, who was briefly her leadership campaign manager and begins his new job Feb. 15, has as recently as 2010 lobbied federally for GlaxoSmithKline, as well as many other clients.
'Another nail in the coffin': Cassels
Health researcher Alan Cassels said this week's Harvard study should cause the government to rethink its anti-smoking program. "It is another nail in the coffin of the whole policy," he said. Paying for anti-smoking drugs, one of which France stopped paying for last year due to safety concerns, was already questionable, he said. *
Funding the NRTs was less controversial, but the government needs to take another look, he said. "Now we find out it doesn't work either."
It's significant that the study was funded by the American National Cancer Institute, not by the manufacturer of any anti-smoking products, he said. "You have to put a lot more credence in the independent research."
* Paragraph corrected, 2:20 p.m. Jan. 13, 2012.